Winter Olympics 2018: Lizzy Yarnold criticises GB Bobsleigh over funding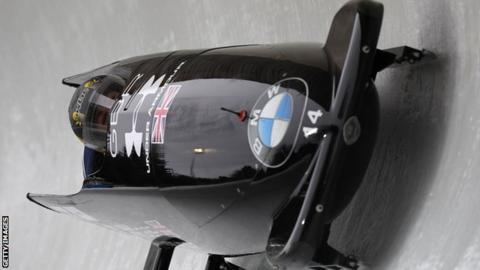 Olympic skeleton champion Lizzy Yarnold has accused British Bobsleigh of "mismanagement" over its decision to withdraw funding for a women's team five months before the Winter Games.
The British Bobsleigh and Skeleton Association (BBSA) said it was instead focusing funding on "winning medals" but would seek more commercial backing.
"It's hard to see talent and hard work go to waste," said Yarnold.
"Everyone deserves their moment to make their dreams come true."
The BBSA, the country's best-funded winter sport governing body, intends to continue supporting three men's teams on its performance programme.
But it is unclear as to whether Great Britain will be represented in the women's bobsleigh competition when the Winter Games start in Pyeongchang in South Korea on 9 February 2018.
Former Olympic heptathlete Kelly Sotherton said the BBSA's funding decision was "absolutely disgusting from a national governing body".
Mica McNeill - Britain's top female driver - has started a crowd funding page where she aims to raise £30,000 in order to compete at the games and over £10,000 has been donated.
In a passionate plea for help, McNeill states she has "even bought my own bobsleigh" and adds the "mismanagement of British Bobsleigh" has led to her predicament.
She has achieved the qualifying standard for Pyeongchang but needs to compete this season to achieve a world ranking.
UK Sport, which distributes funding to governing bodies in the UK, said it would be "inappropriate" to comment while the BBSA addresses the issue.
The BBSA received £10m in funding from UK Sport in the four-year cycle to Pyeongchang 2018 but suffered a £50,000 cut this summer after the BBC revealed a group of elite athletes complained of a "toxic atmosphere" in the sport.
An independent review was launched into allegations of bullying, racism and sexism.
In the last month, both performance director Gary Anderson and head coach Dominik Scherrer have stepped down. There is no suggestion of any wrongdoing by either.
Shadow sports minister Dr Rosena Allin-Khan has questioned the existing funding system. She told BBC Sport: "If British Bobsleighing can afford the funding for three men's teams, they can fund one women's team.
"They may say the reason is due to medal success potential at the Winter Olympics but if we don't fund our women's team then they won't have the chance to develop and be successful.
"We have a very dangerous system where the most successful sports get the greatest funding opportunities and the least successful get minimal amounts. It's simple logic that if you properly fund a sport, it will get results. The system needs to evenly distribute its resources. The women's team deserve the opportunity to succeed."