Bobsleigh: Aleasha Kiddle refuses to give up Winter Olympics dream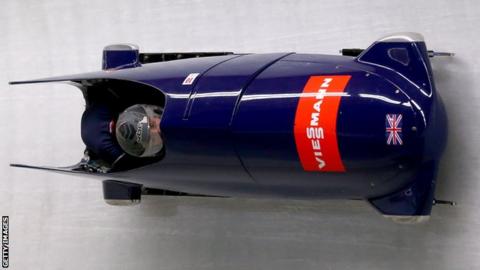 Aleasha Kiddle is refusing to give up her Winter Olympics dream despite the withdrawal of funding from the British Bobsleigh women's team.
The 25-year-old is hoping to be chosen as driver Mica McNeill's partner in Pyeongchang next year.
And the female members of the British team are looking to raise about £30,000 for the season beginning in November.
"I've given my all to bobsleigh, and don't want to give everything and not get anything out of it," said Kiddle.
The British Bobsleigh and Skeleton Association (BBSA) has said it is focusing its funding on "winning medals" and will continue supporting three men's teams on its performance programme.
McNeill, who won gold at the junior world championships earlier this year, began a crowdfunding campaign earlier this week and almost £23,000 has already been donated.
The female team are also seeking corporate sponsors and backing from businesses.
However, it is not yet clear whether Great Britain will be represented in the women's competition at the Winter Games in South Korea next February.
"We've been really overwhelmed by how much support we've got so quickly," Kiddle told BBC Essex.
"We had selection testing a couple of days ago and it's been very stressful to keep training and also think about how we're going to get out of this situation.
"You go through stages of being angry, shocked and upset but now we're thinking we can do this if we all work together and get as much help as we can, and I think we can do well potentially at the Olympics."
'The athletes will have to pay'
The female athletes are continuing to receive help from BBSA staff behind the scenes, in terms of marketing and medical support.
"It's just that once the season begins and competitions start, the costs then fall to us, accommodation and race fees, travel and food," explained Kiddle, from Braintree.
"General costs like that won't be sent to the BBSA, it'll be down to the athletes."
McNeil has met the Olympic qualifying standard, but Kiddle admitted that going to the Games without prior competition would "make no sense".
"Last season I was learning to drive, but I worked with Mica for two years prior to that and was her spare athlete at the World Championships last year.
"My main focus is being a brakewoman with Mica because she is such a talented driver.
"I am confident we will get there one way or another. I just hope we can keep everyone's interest and get as many people on board as possible."