Scotland skip Eve Muirhead wants greater curling uptake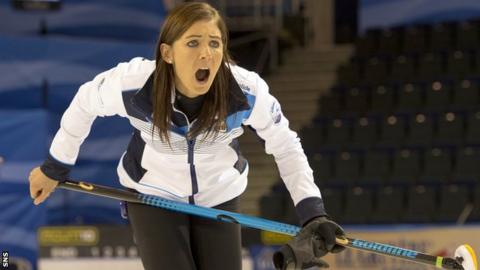 Olympic medallist Eve Muirhead is eager to see more people taking up curling and believes she could help play a part in that.
"As an athlete one of the main things I can do to get the sport out there is produce medals and do well," she said.
"That's when you get the media attention and you get a lot of the publicly of the sport.
"That's exactly what Andy Murray has done in tennis. He's won the Grand Slams, he's done well."
Muirhead believes her sport also suffers from a misconception.
"I think it's always been perceived as an older people's sport." she confessed. "I would love to get it away from that.
"I'm only 27 years old but now I'm known as one of the most experienced older ones in the curling circuit now. But there's so many young people coming through from all the different nations, so that's great. So believe me, it's not an old person's sport at the high level."
And in terms of encouraging more, especially younger people, to try their hand at the sport, Muirhead believes improvements are being made. She's a big fan of the idea of 'come and try' days regularly on offer at Braehead's curling rink near Glasgow.
"You can be of any ability - a beginner, you could have done it before, it's really just about getting on there and having a laugh with your friends and get some coaching tips," she said.
"All you need is a warm woolly jumper, all the equipment is provided for you, so what an opportunity for young people especially to get involved in the sport.
"The sport is massive in Canada and I think it's really for all ages.
"I was competing out in Canada two weeks ago and the ice rink was packed, you couldn't get a seat. There were families there with their children, with their grandparents, but all of them know about the game, if you listen to them their knowledge of the game is fantastic.
"But the difference over there is that it's publicised so well. I walked into a McDonald's for a coffee and it's on the TV. Where does that happen over here in Britain? If it was even on in any sports bar no doubt it would be changed and the football would be put on straight away."
Muirhead and her rink of Anna Sloan, Vicki Adams and Lauren Gray have a busy schedule looming, including playing in Sweden, Canada and Japan as well as heading to Switzerland for the European Curling Championships - the last major tournament before next year's Winter Olympics in Pyeongchang.
"It's really important that we get on so well as a team and really work hard as a unit," Muirhead added. "Things have been going really well. We know when to switch on to curling and business mode, but we also know when to switch off and talk about nails and shopping - girl talk.
"That's what we do well, but if we can keep progressing of what we do well, everything hopefully will come together.
"Hopefully we can do well at the Olympics and that will spur on a lot of people to give it a shot.
"If we can get as many people coming along and getting involved in curling it would really up the sport."