Scotland beat Canada 8-5 to win World Mixed Curling Championship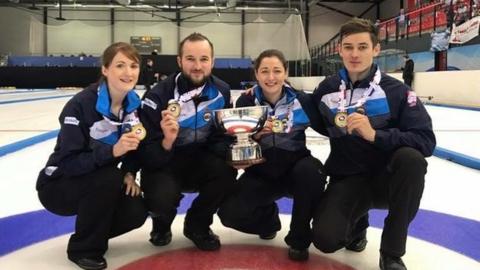 Scotland defeated Canada 8-5 in an extra end to win the World Mixed Curling Championship at the Palladium de Champery in Switzerland.
The Scots led 5-4 going into the final end but Trevor Bonot's rink drew level, forcing the extra end.
Skip Grant Hardie took out two Canadian stones with his final shot to score three points and win the world title.
"I had the line and the guys swept it through to make it. It is absolutely brilliant," said Hardie.
"The whole team played brilliant all week and especially during the play-offs they came to the fore.
"I'm absolutely delighted. They came at us really hard at the end. They're obviously a great team to get to the final and we just managed to hold on.
"I'd thrown that line, four or five times in the game, so I was pretty confident but obviously with it being for the win you're always a little on edge."
Hardie was backed by lead Barbara McFarlane, second Billy Morton and third Rhiann Macleod, Scotland's vice-skip.
Bonot spoke of his pride in his Canadian team-mates but admitted it would "take a minute to settle in that it's only silver because we came so close".
He said: "We had the belief to fight back, the ice was a little different from what we had this morning, so we were just trying to get to grips with it. We missed a couple of opportunities early and didn't capitalise.
"The whole week they played great, I'm very proud of the team, it was a great run we had there."
Czech Republic won 7-6 in the bronze medal match against Norway.