Winter Olympics 2018: GB skier Lloyd Wallace back in training two months after coma
By Caroline Chapman
BBC Sport
Last updated on .From the section Winter Sports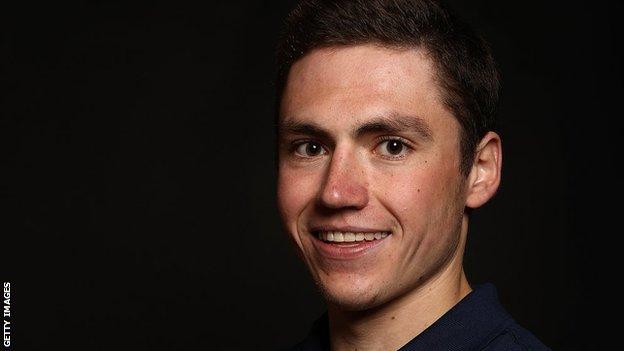 British aerial skier Lloyd Wallace doesn't remember what happened on 17 August 2017.
He doesn't know what he had for dinner the night before, and also doesn't remember anything about the few days that followed.
But the 2018 Winter Olympic hopeful knows he had a lucky escape.
The 22-year-old was undertaking a routine training day in Mettmenstetten, Switzerland, when everything went a little blurry.
"I was halfway through my session and I was coming down the ramp. As I was coming into the transition, I caught an edge," he told BBC Sport.
"I was completely off balance, and because I wasn't prepared I buckled into the jump and hit my head. I was knocked out immediately and fell into the water."
Aerial skiers land in water instead of snow during summer training, and Wallace had to be hauled unconscious from the pool by Ukraine and Russian team doctors who happened to be nearby.
"They dived in immediately after they saw what happened. The paramedics were called and I was airlifted to Zurich hospital and put into an induced coma for 24 hours," he added.
"I don't remember waking up for a couple of days after that."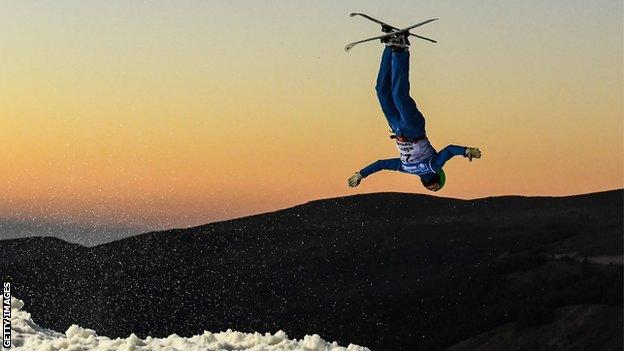 Remarkably, Wallace suffered no other injuries save for serious concussion and was released from hospital soon after the accident.
After a period of rest and rehabilitation at Bisham Abbey National Sports Centre, he was back training within two months.
"I was lucky I got over it so quickly. I've got friends who have had smaller head knocks in rugby and have been out for longer," said the world junior bronze medalist.
"Not remembering it meant I wasn't petrified when I got back into it.
"There were butterflies in my stomach when I stood at the top of the jump. But as soon as I did my first flip and got to the bottom, I got a big cheer because everyone knew it was a huge step for me.
"It was a moment of euphoria, realising I could do it and I was fine. It felt great."
Wallace's focus has now returned to qualifying for his first Winter Olympics in Pyeongchang, which start in 100 days.
The Briton, who trains full-time with the Swiss team, is aiming to become the first male aerial skier since Richard Cobbing in 1998 to compete for Team GB at a Games.
He has used a crowd-funding site to help his bid to reach the Winter Olympics.
Wallace needs enough points from six World Cup events to finish inside the world's top 25 and earn a place in the field in South Korea.
"As an athlete, when you hear about the Winter Olympics you get that little tingle. I think that tingle has been exaggerated since I've come back from my injury," he said.
"Representing GB and wearing the flag would be an honour. There were a few days when I was scared I wasn't going to be able to make the Games.
"Coming back into it and realising I can still fulfil the aim I've been working on for the last six years is going to be huge."