Russian doping: Wada gets new intelligence around state-sponsored programme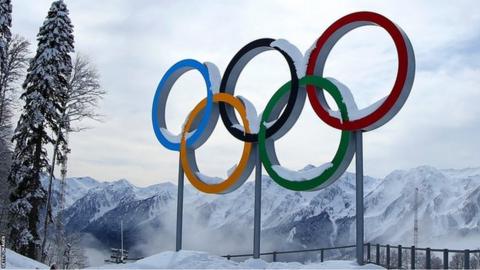 The World Anti-Doping Agency (Wada) has told Russian authorities the "best solution" would be to "work with them" after receiving intelligence it hopes will provide proof of systematic state-sponsored doping.
Last year, a report commissioned by Wada found evidence Russia operated a programme from late 2011 until August 2015 across the "vast majority" of summer and winter Olympic sports.
Now Wada has what it believes is a copy of a Moscow anti-doping laboratory's database.
BBC Sport understands that file corroborates the testimony of whistleblower Gregory Rodchenkov, who was director of Russia's anti-doping laboratory during Sochi 2014.
However, Wada wants the Russians to allow them access to the Moscow lab, which they have maintained is inaccessible because of a criminal investigation.
Wada director-general Olivier Niggli told BBC Sport: "Now that we have it [the file], maybe the criminal investigation should reconsider their position.
"They should work with us in terms of finding out what is in the lab, dealing with that and moving forward. That would be be the best solution."
What happens next?
Allowing access to the lab is one of two outstanding criteria that Russia must meet to be compliant with Wada's 'roadmap' - the reforms they want met before Russia are allowed to compete at February's Winter Olympics in Pyeongchang.
The other is to publicly accept that senior sports ministry figures were complicit in an organised cover-up.
Wada concede that both are "slightly outside the operational part of Rusada" - the Russian anti-doping authority which had staff accused of covering up drug use in the McLaren reports.
However, the decision will ultimately be taken by the International Olympic Committee (IOC), which has had two commissions investigating the findings.
Sanctions are expected to be announced on 5 December, with a Russian team being banned from the Winter Games one potential outcome.
Niggli told BBC Sport that Wada "expects fully" that the IOC "will deal with it".
"We have put the facts on the table and then it's then up to others to decide," he said. "The IOC has said they will deal with it, and we have to trust that they will."
Russian track and field athletes were banned from the Rio Olympics last year, despite the Russian Olympic Committee appealing against the decision to the Court of Arbitration for Sport.
However, 271 Russians were granted permission to compete as neutrals.
Analysis
BBC sports editor Dan Roan
This revelation could significantly increase the chances of Russia being banned from the 2018 Winter Olympics in Pyeongchang.
With Wada's Foundation Board likely to conclude that Russia remains code non-complaint next week, the IOC will come under more pressure to get tough in a way it failed to do last year before the Rio Games.
IOC president Thomas Bach had hoped to find a compromise solution - such as a hefty fine - rather than a ban. But this breakthrough could leave him with little choice but to expel Russia and only allow athletes who can prove they are clean to compete under a neutral flag.
However, with an election to fight in March, that may prove an unacceptable outcome for Russian president Vladimir Putin, and he may order his athletes to boycott the Games entirely.
There is much at stake over the coming weeks.
Why were Russian athletes banned?
Russia was suspended from track and field events by the IAAF in November 2015 following the publication of the independent Wada report.
Sports minister Vitaly Mutko apologised for Russia's failure to catch the cheats, but stopped short of admitting the scandal had been state-sponsored.
However, the McLaren report contained more damaging allegations and suggested senior figures in Russia's sports ministry were complicit in an organised cover-up.
The report implicated the majority of Olympic sports in the cover-up and claimed that Russian secret service agents were involved in swapping positive urine samples for clean ones.