David Poisson: French alpine skier dies after training crash in Canada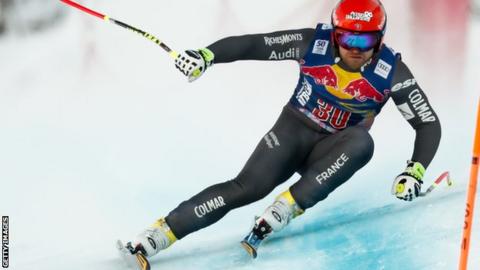 French Olympic skier David Poisson, a downhill bronze medallist at the 2013 world championships, has died following a crash in training.
The 35-year-old was killed at the Canadian resort of Nakiska, the French skiing federation said in a statement on Monday.
"Devastated by this news," the statement added.
Poisson was training with team-mates before World Cup events at Lake Louise on 25-26 November.
Poisson had finished on the podium at a World Championship and World Cup.
He represented France at the 2010 and 2014 Winter Olympics.
Poisson finished seventh in the downhill at Vancouver 2010 before coming 16th at Sochi 2014.
The French skiing federation said it would provide additional information "as soon as possible".
Poisson is the first alpine World Cup skier to die since France's Regine Cavagnoud was killed in a training accident in 2001.