Elise Christie wins first World Cup title of season in Seoul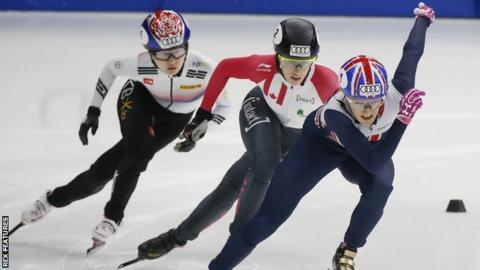 British Winter Olympics gold medal hopeful Elise Christie won her first World Cup short track speed skating title of the season with victory in the 500m in Seoul, South Korea.
Christie, who made a false start, overtook Italy's Martina Valcepina before winning in 43.27 seconds.
"It's nice to know when I'm not at my best I can still win," said the Scot.
South Korea's Choi Min-jeong was second and Canada's Marianne St-Gelais third.
Earlier this year, Christie became the first British woman to win a World Championship gold.
She is considered one of Great Britain's strongest medal contenders at the 2018 Winter Olympics in Pyeongchang - also in South Korea - in February.
"I feel like I'm only 50% right now," Christie added. "I won and I have two, three months to turn that around now.
"I'm not injured now so all I have to do is go home and train hard, get my fitness back. If I can do this now then what can I do when I'm at my full fitness?"