Russian doping: Country not to blame for Sochi scandal, says Vitaly Mutko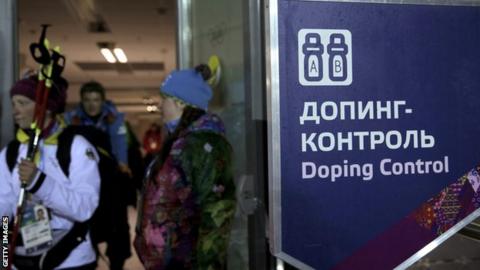 Russia is not to blame for the doping scandal that tarnished the 2014 Winter Olympics but rather the victim of an attempted "brainwashing", the country's deputy prime minister has claimed.
Vitaly Mutko said the World Anti-Doping Agency (Wada) and International Olympic Committee (IOC) were to blame instead.
He said they failed "responsibilities" to keep the Games in Sochi clean.
The IOC will rule on whether Russia can compete at the 2018 Winter Olympics at its next meeting from 5-7 December.
"People have been so brainwashed that Russia is to blame for everything that nobody remembers Wada's responsibility, nor that of the IOC," former sports minister Mutko told Russian news agency R-Sport.
"What were they doing there? Sleeping?" he added.
In September, 17 national anti-doping organisations demanded Russia be banned from the 9-25 February Games in Pyeonchang, citing "proven corruption of the Sochi 2014 Games and continuing failure in its obligations to clean sport".
It followed last year's publication of the independent McLaren report - which found evidence of state-sponsored doping in Russia.
The report, commissioned by Wada, implicated the majority of Olympic sports in a cover-up and claimed that Russian secret service agents were involved in swapping positive urine samples for clean ones.
The IOC has since launched its own investigation into the findings which will inform its decision on Russia's participation in South Korea.
It has also been re-testing all Russian athletes' samples from Sochi, with 10 life-bans consequently imposed in November.
Russia remains banned from the Winter Paralympics and its athletics federation is also still suspended from international competition.
And last week Wada said the country remains "non-compliant" with its code, because two key criteria had not been fulfilled: granting access to the Moscow laboratory said to be the hub of the suspected state-operated conspiracy, and a public acceptance that senior sports ministry figures were complicit.