Russian doping: IOC bans three more Winter Olympic athletes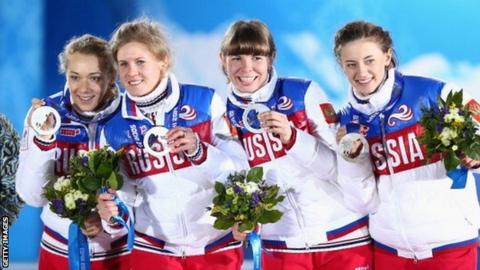 Three more Russian athletes have been banned from the Olympics for life as a result of the International Olympic Committee's investigations into the country's doping scandal.
They are cross-country skiers Yulia Chekaleva and Anastasia Dotsenko, as well as biathlete Olga Zaytseva.
Zaytseva was part of Russia's biathlon relay team at the Sochi Winter Games in 2014 that won a silver medal.
Two of that team had already been punished by the IOC.
The IOC announced the first Russian bans, based on the findings of the 2016 McLaren report, on 1 November.
Twenty-five Russian athletes have now been suspended from the Olympics for life since that date.
The McLaren report said Russian athletes benefited from a state-sponsored doping programme between 2011 and 2015, speaking of "a cover-up that evolved from uncontrolled chaos to an institutionalised and disciplined medal-winning conspiracy".
In explaining its decision to punish Alexander Legkov, one of two Russian skiers banned on 1 November, the IOC said the athlete had "sought to argue that no evidence could be drawn from the McLaren report" but it had "come to a different conclusion".
It said the authority of the report's author, Professor Richard McLaren, was "unquestionable" and it "can and will rely" on its findings.
The latest bans come with the IOC set to rule on whether Russia will be allowed to compete at the Winter Olympics in Pyeongchang, South Korea, which begin on 9 February.
The IOC will announce its decision at its next meeting, scheduled to begin on 5 December.
Russian Sochi Olympians banned
Gold medallists
Alexander Legkov, 50km cross country
Aleksei Negodailo, four-man bobsleigh
Aleksandr Tretiakov, skeleton
Dmitry Trunenkov, four-man bobsleigh
Aleksandr Zubkov, two-man and four-man bobsleigh
Silver medallists
Olga Fatkulina, 500m speed skating
Yana Romanova, biathlon relay
Olga Zaytseva, biathlon relay
Olga Vilukhina, biathlon relay and 7.5km biathlon
Maksim Vylegzhanin, 50km cross country
Men's 4x10km cross country
Men's team sprint classic cross country
Bronze medallists
Elena Nikitina, women's skeleton
Others
Evgeniy Belov, cross country
Yuliia Ivanova, cross country
Sergei Chudinov, skeleton
Alexey Petukhov, cross country
Evgeniya Shapovalova, cross country
Maria Orlova, skeleton
Olga Potylitsyna, skeleton
Olga Stulneva, bobsleigh
Alexander Rumyantsev, speed skater
Yulia Chekaleva, cross country
Anastasia Dotsenko, cross country
Aleksandr Kasyanov, four-man bobsleigh
Ilvir Khuzin, four-man bobsleigh
Aleksei Pushkarev, four-man bobsleigh