Russian doping: 'Nation must be banned from Winters'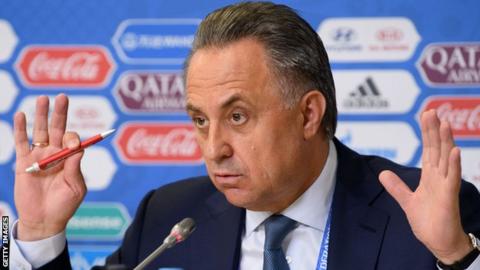 Russia must be banned from February's Winter Olympics because "the long, cold winter of doping continues to maintain its icy grip" in the country, says a whistleblower.
Vitaly Stepanov urged the International Olympic Committee (IOC) to ban Russia from the 2018 Games in Pyeongchang when it decides on the matter on Tuesday.
In his testimony to the IOC commission investigating claims of state-sponsored doping, Stepanov wrote that "hundreds of Olympic dreams have been stolen by the doping system" in his homeland.
The testimony - obtained by the BBC - added that there are many Russian athletes competing now only because their government blocked access to evidence.
Stepanov added: "If these athletes compete in the 2018 Winter Games it will add to the injustices suffered by clean athletes and your commission can prevent this.
"If you can have the courage to do this, yours will be one of the most cherished triumphs and legacies in Olympic history."
What else is in Stepanov's testimony?
Former Russian anti-doping agency worker Stepanov and his wife, Russian 800m runner Yuliya Stepanova, were the main whistleblowers in a series of German television documentaries in 2014 which alleged "99%" of Russian athletes were doping.
They are now in hiding in the United States.
Their claims led the World Anti-Doping Agency (Wada) to commission the McLaren report, which in 2016 found Russian athletes benefited from a state-sponsored doping programme between 2011 and 2015.
The report said there had been "a cover-up that evolved from uncontrolled chaos to an institutionalised and disciplined medal-winning conspiracy" across the majority of Olympic sports.
Stepanov's written testimony to the IOC supports the conclusions reached in the McLaren report, while he also claims that:
former Sports Minister Vitaly Mutko "created and ran" Russia's "state-directed doping program"
Mutko "received help from other state officials" including "Vladimir Putin's authorisation of a decree that required urine and blood samples carried by foreign anti-doping inspectors to be approved"
Russia's anti-doping programs between 2010 and 2015 had the "fundamental goal" of "concealing doping from the international community"
anti-doping employees were directed to protect doped athletes and not to test elite athletes who were understood to be doping
the "key players involved in the doping era" still enjoy "power and influence over Russian sport"
there have been been "direct threats" to his and his wife's safety, which has made it "impossible" to return to Russia
law enforcement authorities in the USA told the pair they "have received credible information of threats to our lives"
Part of Stepanov's testimony relays a conversation Mutko allegedly had in December 2010 during a Ministry of Sport meeting.
Stepanov claims that after being asked why Russian doctors suspected of facilitating doping weren't dismissed, Mutko said: "We got rid of them in biathlon and now we don't have any medals this season."
Stepanov also claimed that he approached Wada and the IOC with information he had gathered several times but by 2013 "could not understand" how they still "refused to act on the information".
He said he "felt naïve and stupid that I was willing to continue fighting a fight that seemed pointless" and "began to believe what Russian sports officials had been telling me since 2008: that everyone in sport is doping and Wada and the IOC turn a blind eye to those doing so".
He said former Wada investigator Jack Robertson encouraged them to take their evidence to German television station ARD - as it could be "the best opportunity to expose the Russian doping system".
In a statement to BBC Sport, Wada said it "does not agree that it didn't act on allegations" and that it "certainly did not turn a blind eye to the Russian doping regime", pointing to its commissioning of the McLaren report and the Pound Commission, set up to investigate the claims made in ARD's 2014 documentary.
"Both investigations were conducted in total independence and the Reports were made public as soon as they were completed," a Wada statement read.
"We don't know what else could have been done/be done to prove the accountability and independence with which Wada acted in both cases."
The IOC did not respond to a request for comment.
However, it has consistently highlighted its efforts in the fight against doping, stating on its website that it has taken "firm actions with regard to the findings of the McLaren report".
Mutko, who is now deputy prime minister and a key figure in the hosting of the 2018 Fifa World Cup, did not respond to a request for comment from the BBC.
In the past, he has repeatedly denied any accusations of state-sponsored doping.
Speaking before Friday's World Cup draw he told reporters: "I'm happy to go to any court or disciplinary committee. There has never been any state-sponsored doping in Russia. We do not need to do that and we have never done it."
Will the IOC ban Russia?
A total of 25 Russians have so far been banned from the Olympics for life on the recommendation of the IOC commission set up to investigate the findings of the McLaren report.
The first part of the McLaren report was published in July 2016, when Wada called on the IOC to ban Russia from the Rio Olympics that took place in August of that year.
The IOC decided against imposing a blanket ban, instead asking individual sporting federations to rule on their participation. In total, 271 Russians competed in Rio.
Russia was banned from the Paralympics - and remains banned from the 2018 Winter Paralympics.
Wada has not called again for the IOC to ban Russia, but recently declared that the country remains 'non-compliant' with its code.
Its director general Olivier Niggli told BBC Sport in November: "We have put the facts on the table. It's then up to others to decide. The IOC has said it will deal with it, and we have to trust that it will."
Even if the IOC was to ban Russia, its athletes could still compete in Pyeongchang under a neutral banner - as was the case at the World Athletics Championships in London in August.
However, it has been claimed President Vladimir Putin would not allow them to do so.
What has Russia's reaction been?
Russian authorities have never acknowledged any involvement in doping, and President Putin has suggested the allegations are an attempt to sow discontent in the build-up to March's presidential elections.
Olympic Committee president Alexander Zhukov, who said in September he expected the country to have a team in Pyeongchang, reiterated the state's innocence and said Wada's recent judgement "cannot be accepted" and denied state-sponsored doping.
Sports minister Pavel Kolobkov has said the criteria for reinstatement have a "political character". He added: "[The] committee has been inventing reasons not to reinstate Rusada; the accusations are a joke."
Stepanov believes that the Russians have been resistant to change and that the "resolve to challenge Russia has not fully materialised".
"I understand how much power and influence Russia wields in international sport circles," he added in his testimony to the IOC.
"Russia's powerbrokers think that they can ride out this storm with only minimal harm and without changing their doping system. It is likely that the only way to convince them to change is to deny their entry into the Olympic Games and other international competitions until true changes are made.
"This is the historic challenge faced by your committee. You will have to be unique and very strong indeed in order to stand up to it."