Lizzy Yarnold finishes 13th as snowy conditions hit Skeleton World Cup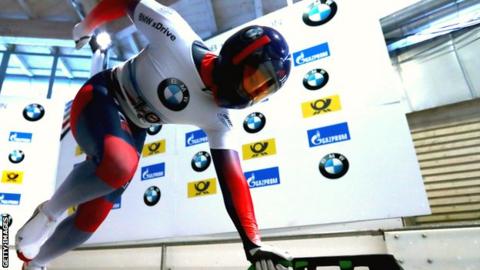 Bobsleigh & Skeleton World Cup
Venue: Winterberg, Germany Dates: 8-10 December
Coverage: Watch live across the BBC Red Button Connected TV, the BBC Sport website and mobile app.
Lizzy Yarnold's poor run of results continued at the weather-hit Skeleton World Cup race in Winterberg, Germany.
The 2014 Olympic champion, who came 23rd in Canada two weeks ago, had the worst of the snowy conditions and had to settle for 13th place.
"What can you do in a snow storm?! I did the best I could in the tricky conditions and I'm pleased I slid well," Yarnold said on Twitter.
Fellow Briton Laura Deas was seventh in a time of one minute 56:68 seconds.
She stays stay sixth in the overall standings, four places ahead of Yarnold.
Germany's Jacqueline Lolling won the race on her home track.
Britain's Ashleigh Pittaway missed out on a second run after posting a score of 1:00:08 in heat one.
The men's race was reduced to one run as the weather worsened prior to the start of the second heat.
Dom Parsons finished ninth but Jerry Rice and Jack Thomas had to compete in blizzard-like conditions and came 29th and 33rd respectively.
South Korea's Sungbin Yun won the race, ending Martins Dukurs' run of victories on the track dating back to the 2008/09 season.
The build-up to February's Winter Olympics in Pyeongchang will continue in Innsbruck in Austria before the Christmas and New Year break.