Lindsey Vonn: American withdraws from World Cup with back injury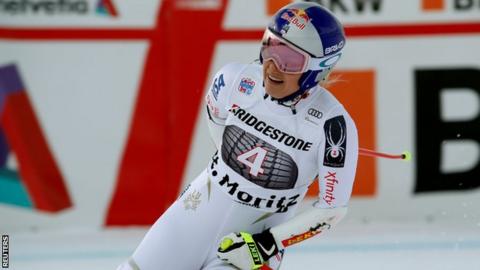 Lindsey Vonn has withdrawn from the World Cup in St Moritz, Switzerland, with a back injury - just two months before the 2018 Winter Olympics.
The American former Olympic downhill champion "compressed her back" on the fifth gate during Saturday's Super-G race, finishing in 24th place.
Vonn missed the 2014 Games in Sochi with a knee injury.
"I am extremely disappointed but my biggest goal this season is the Olympics," said the 33-year-old.
The four-time overall World Cup champion posted on social media on Saturday to say she had "an acute facet [spinal joint] dysfunction", adding: "Just need the joint and the muscles to calm down so I can move again."
But on Sunday, she posted again to say she would miss the alpine combined and Super-G events.
"Unfortunately, I will not be able to race today," said Vonn, who has won Olympic gold and bronze medals. "I need to take care of myself now so I can be ready for next week and, more importantly, for February."
The Winter Olympics begin in Pyeongchang, South Korea, on 9 February.