Russian doping: Alexey Voevoda receives lifetime ban from IOC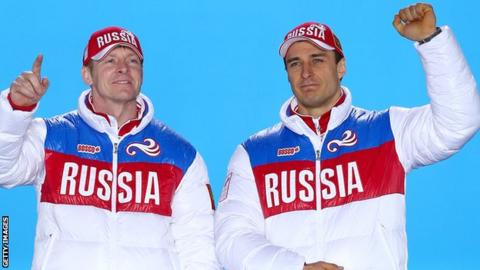 Russian double Olympic gold medallist Alexey Voevoda has been banned for life for doping at the 2014 Winter Games.
Voevoda, 37, won in the four-man and two-man bobsleigh in Sochi.
But Russia was already disqualified from both events after Voevoda's team-mate Alexander Zubkov was also banned for doping in November.
The International Olympic Committee's decision means 32 Russian athletes have been banned for life for doping violations at Sochi 2014.
Russia has been banned from the 2018 Winter Olympics in Pyeongchang for "systematic manipulation" of the anti-doping system detailed in the McLaren Report.
Russian Sochi Olympians banned
Gold medallists
Alexander Legkov, 50km cross country
Aleksei Negodailo, four-man bobsleigh
Aleksandr Tretiakov, skeleton
Dmitry Trunenkov, four-man bobsleigh
Aleksandr Zubkov, two-man and four-man bobsleigh
Alexey Voevoda, two-man and four-man bobsleigh
Silver medallists
Olga Fatkulina, 500m speed skating
Yana Romanova, biathlon relay
Olga Zaytseva, biathlon relay
Olga Vilukhina, biathlon relay and 7.5km biathlon
Maksim Vylegzhanin, 50km cross country
Men's 4x10km cross country
Men's team sprint classic cross country
Bronze medallists
Elena Nikitina, women's skeleton
Others
Evgeniy Belov, cross country
Yuliia Ivanova, cross country
Sergei Chudinov, skeleton
Alexey Petukhov, cross country
Evgeniya Shapovalova, cross country
Maria Orlova, skeleton
Olga Potylitsyna, skeleton
Olga Stulneva, bobsleigh
Alexander Rumyantsev, speed skater
Yulia Chekaleva, cross country
Anastasia Dotsenko, cross country
Aleksandr Kasyanov, four-man bobsleigh
Ilvir Khuzin, four-man bobsleigh
Aleksei Pushkarev, four-man bobsleigh
Anna Dyubanok, ice hockey
Ekaterina Lebedeva, ice hockey
Yekaterina Pashkevich, ice hockey
Anna Shibanova, ice hockey
Yekaterina Smolentseva, ice hockey
Galina Skiba, ice hockey