Russian doping: IOC bans 11 Winter Olympic athletes
Last updated on .From the section Winter Sports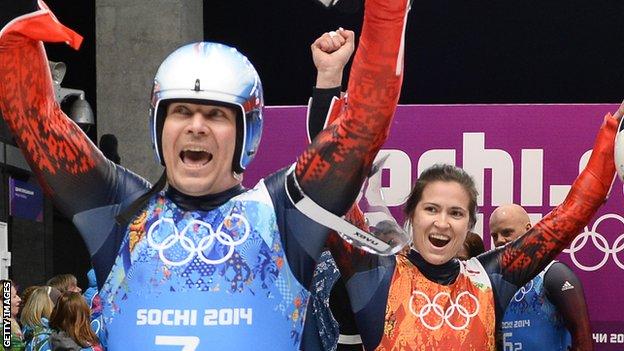 Eleven Russian athletes have been banned from the Olympics for life after committing doping offences at the 2014 Sochi Winter Games.
Silver medal-winning lugers Tatyana Ivanova and Albert Demchenko are among those to have been disqualified.
The others include bobsledders, speed skaters and ice hockey players.
The bans come as a result of the International Olympic Committee's (IOC) investigations into the country's doping scandal.
The IOC announced the first Russian bans, based on the findings of the 2016 McLaren report, on 1 November.
"To date, the number of cases opened by the [IOC] disciplinary commission [for Sochi 2014] has reached 46 after additional findings from the re-analyses," the IOC said.
"All 46 of them have been handled, of which three have been filed. As some investigations are still ongoing [notably the forensic analysis of the bottles], it cannot be excluded that there might be new elements that would justify opening further new cases and holding more hearings."
The 11 athletes banned on 22 December:
Tatyana Ivanova and Albert Demchenko, lugers
Ivan Skobrev and Artyom Kuznetsov, speed skaters
Nikita Kryukov, Alexander Bessmertnykh and Natalia Matveeva, cross-country skiers
Liudmila Udobkina and Maxim Belugin, bobsledders
Tatiana Burina and Anna Shchukina, ice hockey players