Winter Paralympics: Great Britain's team for Pyeongchang
Last updated on .From the section Disability Sport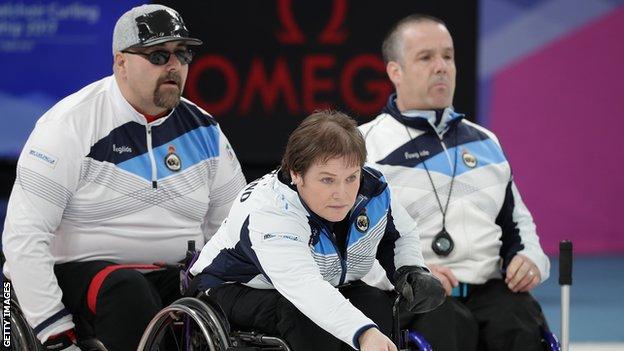 XII Paralympic Winter Games
Venue:
Pyeongchang, South Korea
Dates:
9-18 March
Coverage:
Coverage on the BBC Sport website and app and on BBC Radio 5 live
The 2018 Winter Paralympics will be held from 9-18 March in Pyeongchang, South Korea.
Great Britain will be sending a team of 17 athletes to the event, the biggest representation since the Turin Games in 2006.
The Games will feature up to 670 athletes, who will compete in 80 medal events across six sports.
Four years ago in Sochi, the ParalympicsGB team had their most successful Games of modern times, winning six medals.
Skier Kelly Gallagher won Britain's first Winter Paralympic gold medal, team-mate Jade Etherington claimed three silvers and a bronze to become GB's most successful Winter Paralympian of all time, and there was also a wheelchair curling bronze.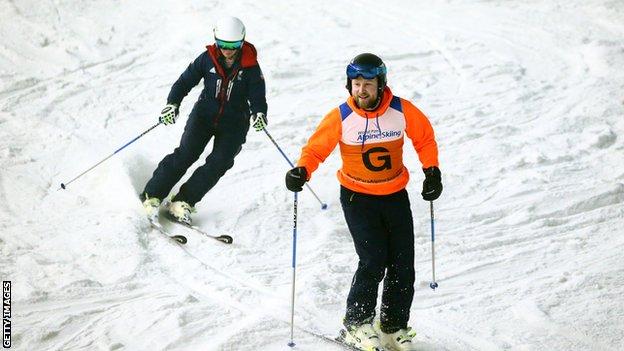 World champions Millie Knight and guide Brett Wild will be among the GB squad for this year's Games after winning gold and silver in last year's World Championships in Italy.
Snowboarders Owen Pick, Ben Moore and James Barnes-Miller will become the first athletes to represent Great Britain in the sport at the Paralympic Games as it builds on its successful debut in Sochi.
Four of the five wheelchair curlers who won a medal four years ago will also be back in action, while Britain will also be represented in Para-Nordic skiing for the first time since 1998.
Wheelchair curling
| | Date of Birth |
| --- | --- |
| Gregor Ewan | 28 June 1971 |
| Angie Malone | 27 May 1965 |
| Robert McPherson | 12 November 1968 |
| Aileen Neilson | 15 August 1971 |
| Hugh Nibloe | 9 January 1982 |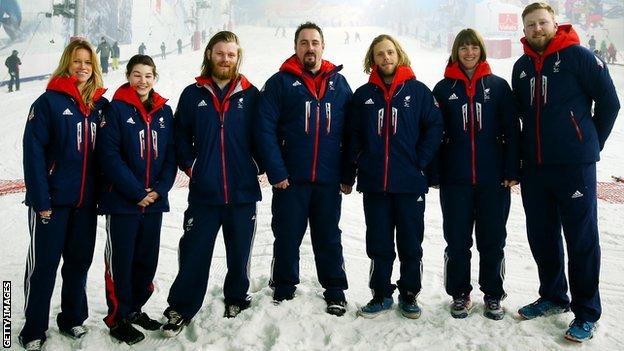 Para-skiing
| | Date of birth | Classification | Event |
| --- | --- | --- | --- |
| Millie Knight | 15 January 1999 | Visual impairment | Slalom, Giant Slalom, Super-G, Super Combined and Downhill |
| Brett Wild (Millie Knight's guide) | 24 December 1992 | N/A | Slalom, Giant Slalom, Super-G, Super Combined and Downhill |
| Menna Fitzpatrick | 05 May 1998 | Visual impairment | Slalom, Giant Slalom, Super-G, Super Combined and Downhill |
| Jennifer Kehoe (Menna Fitzpatrick's guide) | 15 November 1983 | N/A | Slalom, Giant Slalom, Super-G, Super Combined and Downhill |
| Kelly Gallagher | 18 May 1985 | Visual impairment | Slalom, Giant Slalom, Super-G, Super Combined and Downhill |
| Gary Smith | 24 March 1984 | N/A | Slalom, Giant Slalom, Super-G, Super Combined and Downhill |
| James Whitley | 17 November 1997 | Standing | Slalom, Giant Slalom, Super-G, Super Combined |
| Chris Lloyd | 31 January 1974 | Standing | Super Combined, Super-G, Downhill |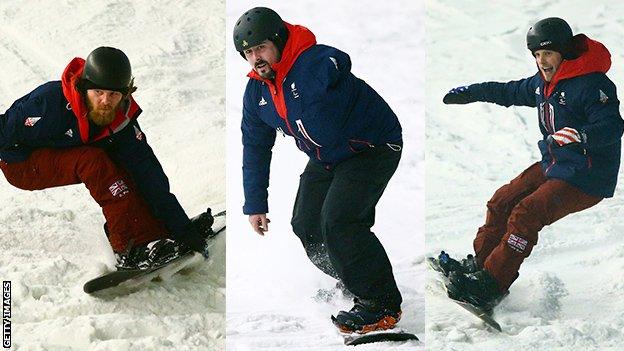 Para-snowboard
| | Date of birth | Classification | Event |
| --- | --- | --- | --- |
| Owen Pick | 09 July 1991 | SB-LL2 (Lower limb impairment) | Banked Slalom, SBX |
| Ben Moore | 01 March 1986 | SB-UL (Upper limb impairment) | Banked Slalom, SBX |
| James Barnes-Miller | 31 August 1989 | SB-UL (Upper limb impairment) | Banked Slalom, SBX |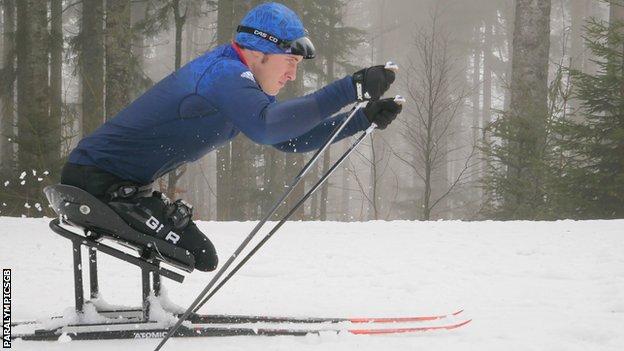 Para-Nordic skiing
| | Date of birth | Events |
| --- | --- | --- |
| Scott Meenagh | 16 September 1989 | Biathlon: Men's Sitting 7.5km, 12.5km & 15km. Cross-Country: Sprint, Sitting 7.5km & 15km |
Britain's Winter Paralympic medallists
2014
Gold: Kelly Gallagher and Charlotte Evans (guide) (women's VI Super-G)
Silver: Jade Etherington and Caroline Powell (guide) (women's VI downhill, women's VI slalom, women's VI super combined)
Bronze: Jade Etherington and Caroline Powell (guide) (women's VI Super-G), wheelchair curling team (Aileen Neilson, Gregor Ewan, Robert McPherson, Jim Gault, Angie Malone)
2006
Silver: Wheelchair curling team (Frank Duffy, Tom Killin, Angie Malone, Michael McCreadie, Ken Dickson)
1994
Bronze: James Barker (LWX1 men's downhill), Matthew Stockford (LWX men's Super-G), Richard Burt (B3 men's giant slalom, B3 men's Super-G), Peter Young (B1 men's 5km Classical Technique)
1992
Silver: Richard Burt (B3 men's giant slalom)
Bronze: Richard Burt (B3 men's Super-G), Matthew Stockford (LW10 men's downhill, LW10 men's giant slalom, LW10 men's Super-G)
1984
Silver: Ken Robertson (Gr1 ice sledge speed racing men's 300m), Denise Smith (Gr1 ice sledge speed racing women's 100m, women's 300m, women's 500m)
Bronze: John Watkins (LW5/7 men's alpine combination), Peter Young (B1 men's short distance 10km cross country), Ann Peskey (Gr1 ice sledge speed racing women's 100m, women's 300m, women's 500m), Ken Robertson (Gr1 ice sledge speed racing men's 100m)