Russians still competing in bobsleigh & skeleton 'a joke' - John Jackson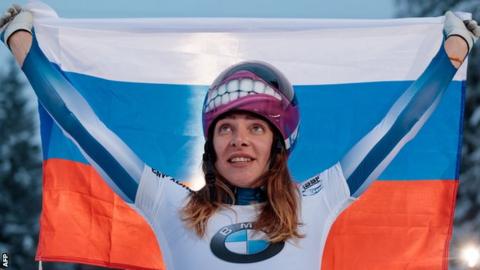 Russian athletes being allowed to compete internationally in bobsleigh and skeleton despite their Olympic ban is "a joke", says former Great Britain bobsleigher John Jackson.
Dozens of Russians were banned for life by the International Olympic Committee (IOC) after an investigation into allegations of state-sponsored doping at Sochi 2014, and the country is banned from February's Pyeongchang Winter Olympics.
However, athletes from the country are still competing at skeleton and bobsleigh events where Olympic qualification is at stake while the International Bobsleigh and Skeleton Federation (IBSF) has been doing what Jackson describes as "arguing against itself" in court over the matter.
"A circus is a good clean way of putting it, an absolute joke," said Jackson, who along with team-mates Bruce Tasker, Joel Fearon and Stuart Benson is in line for a bronze medal after the disqualification of two Russian teams from the 2014 Games.
"Morally I don't think any of the Russians should be sliding because of the IOC ruling.
"Winter sports are not putting up a strong enough fight for clean athletes, they are letting politics away from the sport takeover, it is a complete mess."
The IBSF had provisionally suspended the athletes, only for them to have their bans lifted by the federation's doping hearing panel on appeal.
The federation then took its panel to the Court of Arbitration for Sport (Cas), which on Thursday said it "did not have the jurisdiction" in the case - so the athletes remain free to compete.
"It makes the IBSF look really weak and vulnerable that it is arguing against itself," Jackson told BBC Sport.
"Two elements fighting against each other and taking each other to court must have alarm bells ringing internally."
It is not just the IBSF which is allowing Russian athletes to continue competing.
Russian silver medal-winning lugers Tatyana Ivanova and Albert Demchenko were banned by the IOC on 22 December, but on Tuesday the International Luge Federation's (FIL) disciplinary commission decided not to impose sanctions.
The International Skating Union is also yet to sanction any athletes.
Adam Pengilly, a vice-president of the IBSF, said the legal system was letting down clean athletes.
"These Russian athletes have cheated and should not be competing and continuing to defraud sport. There is a significant volume of evidence that proves.
"We set up an independent legal structure - a principle central to democratic functioning and sound governance; and a principle which also reduces the power of the IBSF.
"Regrettably, the independent panel didn't take into account important forensic evidence and applied principles of criminal law when this is a civil law case. Therefore, we disagreed and appealed to CAS, who have subsequently dodged responsibility and avoided hearing the appeal. What more can we do?
"I am frustrated and saddened that cheats are being painted as victims and our sporting legal system is letting down clean athletes."
IOC stands strong
The IOC will allow those Russians who can prove they are clean to compete at next month's Winter Olympics in South Korea under a neutral flag.
The decision by Cas not to consider the IBSF appeal has led Russia's bobsleigh federation Aleksandr Zubkov, one of those banned for life by the IOC, to say Russian athletes now have a "chance" to compete in Pyeongchang.
The IOC has been strong in its response, saying it "could not understand nor accept the conclusions of the IBSF doping hearing panel and FIL's disciplinary commission".
In a statement to BBC Sport, the IOC said it welcomed the IBSF executive's appeal to Cas, adding: "It should be studied now if further legal options exist."