Vanessa-Mae: Violinist ends Winter Olympics bid to protect music career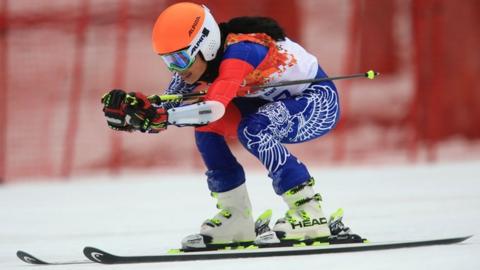 Violinist Vanessa-Mae will not compete for Thailand at the Pyeongchang Winter Olympics next month after a shoulder injury ended her qualification bid.
British citizen Mae, 39, raced under her father's surname of Vanakorn and for his nation - Thailand - at the 2014 Sochi Winter Olympics.
She was then suspended by the International Ski Federation (FIS) after results were manipulated to help her qualify for the Sochi Games, but she was eventually cleared of any wrongdoing.
The Court of Arbitration for Sport (Cas) said there was no direct evidence to implicate her in the fixing, but five officials were banned by the FIS.
The skier had hoped to qualify in less controversial circumstances for the 2018 Winter Olympics in South Korea, but sustained a shoulder injury in a skiing crash earlier this month.
She initially raced on with the injury to try to achieve the qualification standard, but was advised to take a break from all physical activity to ensure the problem would not affect her long-term ability to play the violin.
The rest period and lack of physical improvement meant she was unable to fulfil the Thailand Skiing Federation qualification standard by the required cut-off point, 14 January.
Thailand's berth for a female alpine skier at the Pyeongchang Winter Olympics could instead be taken by 21-year-old Alexia Schenkel.
Analysis
Since successfully overturning her suspension and gaining assurance from the International Olympic Committee that she could in fact still call herself 'an Olympian', Mae has typically only competed sporadically.
In the past six months however, she began aggressively chasing ranking points for the 2018 Winter Olympics as she had the genuine aim of qualifying and being able to banish the negativity which has followed her skiing career since the last Games.
Thai authorities made no secret of the fact they viewed the controversies around Mae's involvement in Sochi 2014 as embarrassing and, perhaps in response, set the skier much tougher qualification standards for the 2018 Games.
Although she was in contention to achieve the targets in both slalom and giant slalom events, the injury ultimately ended that dream and, aged 39, it is unlikely we will see her bidding for a place at the next Winter Olympics in Beijing 2022.