Winter Olympics 2018: Scottish curlers aim to better medal haul from 2014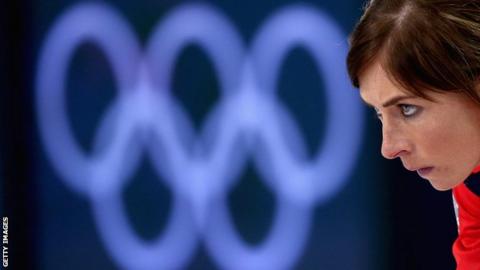 Team GB's all-Scottish curling teams believe they can help the country hit their target of at least five medals at next month's Winter Olympics.
The women's rink, skipped by Eve Muirhead, and the men, led by Kyle Smith, are both optimistic, if not expectant, that they can get on the podium in Pyeongchang.
For Muirhead, the goal is at least emulating the bronze earned in 2014.
"I'd be very disappointed if we didn't [make the] podium," Muirhead said.
"That's what we've been working hard for [during] the last four years, to get a medal round our neck."
Smith's rink are aiming for one better than the silver that Team GB won four years ago.
This will be Muirhead's third Olympics, but this time there's a twist, with her brothers Thomas and Glen, part of Smith's rink.
"Having been to an Olympic Games before and had a taste of medal success, it makes you hungry to hit the podium again," Eve Muirhead said.
"We've worked really hard to be in the best position we can be going into the Olympics and we'd be happy if we come back knowing we've played the best we can, and hopefully that'll mean hitting the podium.
"This one's going to be a little bit extra special, having the chance to compete along with my two brothers, and my mum going out to support as well, it's going to be really cool.
"Of course I'll have to concentrate on my own competition but I'll be keeping an eye out for their results and watching as many of their games as I can."
Thomas Muirhead admits that his big sister has been a role model, as he aspires to match her achievements.
"Through my whole curling career, I've watched Eve succeed at every level she's played at. That's put fire in my belly and made me want to succeed," he said.
They are not the only siblings involved, though.
Kyle Smith's brother, Cammy, plays lead for the men's rink and although they have competed together since 2013, including at last year's European Championships where they won silver, the Olympics will be their biggest stage yet.
"It's brilliant to be going to such a huge event, where the eyes of the world are on you and to get to share that with your brother really makes it a special moment for our family," Kyle Smith told BBC Scotland.
"There's a real pride we've managed to get this far together."
David Murdoch's rink won silver for Team GB in Sochi and Kyle Smith believes a similar achievement is not beyond them.
"It's definitely something we hope to be able to do. They had a brilliant Olympics and did very well to get the silver medal," he added.
The teams travel to Japan next week to acclimatise and put the finishing touches to their preparations at a holding camp before heading out to Gangneung, where the curling will take place.