Winter Olympics 2018: Elise Christie & Scottish curlers lead Team GB medal pursuit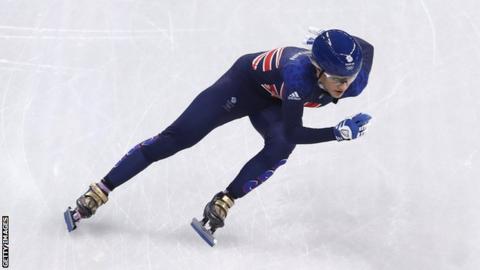 XXIII Olympic Winter Games
Venue: Pyeongchang, South Korea Dates: 9-25 February
Coverage: Watch live on BBC TV, Red Button, Connected TVs, BBC Sport website and mobile app.
From the mountains of Alpensia to the coastal city of Gangneung, final preparations for Pyeongchang 2018 are taking place in almost unbearably cold temperatures.
Organisers have been forced to provide seat warmers, hats, gloves and heaters for spectators at Friday's opening ceremony lest the paying public decide to watch the proceedings from the warmth of their homes and hotels instead.
In fact, the cold snap that has led to temperatures approaching -30C around the alpine venues is to relent somewhat ahead of the opening ceremony. But although that will lift the mercury nearer to zero, the wind-chill is still likely to make it feel around 10 degrees colder.
This is a Winter Olympics in the wintriest of conditions, but one Team GB are looking forward to greatly.
The team has set its most ambitious medal target and if they are to better the five won in Sochi, it's likely that the Scots involved will be central to that success.
In the build-up to these Games, the weight of expectation has once again fallen on the shoulders of Elise Christie, perhaps even more so than four years ago in Sochi.
Most people are now familiar with how that unfolded for the short track speed skater from Livingston - three disqualifications, tears, disappointment and death threats from rival fans.
But she put that adversity well and truly behind her to become world champion and she maintains that she goes into this Olympics looking not for redemption, but with her sights very much set on striking gold.
She begins that quest on Saturday, in the qualifying for the 500m in Gangneung Ice Arena.
Christie and her team-mates have already been to practice at the venue, which is situated a few hundred yards down from the Curling Centre, where her compatriots and fellow medal-contenders will begin competition on Wednesday. But we'll come back to them.
Gangneung does not suffer from quite the same extreme cold as Alpensia, but it's all relative. It's still been well below zero since I arrived and yet the sun splits a cloudless sky from dawn until dusk.
Regardless, Christie and her fellow Scot Kat Thomson from Kilmarnock will be spared the worst of the cold inside the arena.
The same cannot be said for the cross-country skiers who, not content with competing in probably the most punishing sport in the Olympics, will do so in mind-numbing conditions.
Then again, Andrew Musgrave, Britain's best medal hope in the sport, professes to prefer the cold, often stripping off when the heat gets too much, so perhaps we will be spared that sight.
But if Musgrave can continue the form that took him to fourth place in last year's World Championship 50k freestyle and third in December in a World Cup 15k, he has a chance of earning a podium place and, frankly, can wear as many or as few clothes as he likes if he can become the first British cross-country skier to win a medal.
He competes in Sunday's 15k + 15k skiathlon, with his fellow Scots Callum Smith and Andrew Young also in the team.
But whereas Musgrave and Christie are simply medal contenders, Eve Muirhead and her rink go into these Games aiming to emulate or better their bronze from Sochi.
This is 27-year-old Muirhead's third Winter Olympics and her experience - along with the close-knit nature of the team (Anna Sloan and Vicki Adams have been team-mates for several years, while Lauren Gray was their alternate in Sochi) - makes another medal a very realistic possibility.
Interestingly, Team Muirhead start with a match against the rink of "Athletes from Russia" on Wednesday.
Muirhead's brothers Thomas and Glen (the alternate) are part of the men's rink, who also start on Wednesday with tough matches against Switzerland and Canada as they seek to go one better than the silver won in Sochi by David Murdoch's rink.
Kyle Smith's rink pipped Murdoch for Olympic selection this time round, but a medal of any colour would still be deemed a major success. Smith's brother Cammy is also in the team, along with Kyle Waddell.
They, along with the other Scots, will have a pivotal role if Team GB are to achieve their stated target.