Winter Olympics 2018: Team USA's first openly gay male Olympians march with pride in opening ceremony
Last updated on .From the section Winter Olympics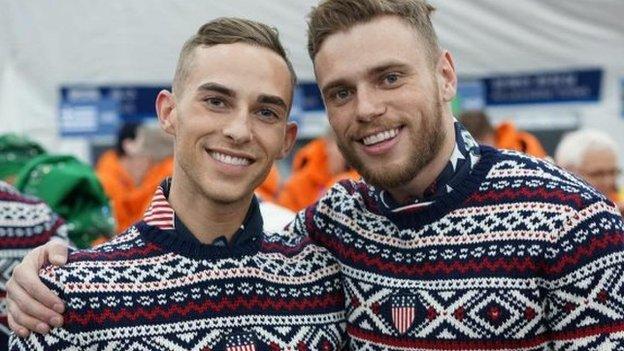 Four years ago, American freestyle skier Gus Kenworthy considered quitting the sport because he thought he was going to lose fans and sponsors for being himself.
Flash forward to the opening ceremony of Pyeongchang 2018 and the Sochi silver medallist walked into the Olympic stadium with Team USA as one of their first openly gay male Winter Olympic athletes.
He posted his delight on Twitter, posing for photos with team-mate and figure skater Adam Rippon.
"We're here. We're queer. Get used to it" was the message.
Kenworthy also posted on Instagram, "I'm so proud to be representing the LGBTQ community alongside this amazing guy! Eat your heart out, Pence", a message for the US Vice President who was present at the ceremony.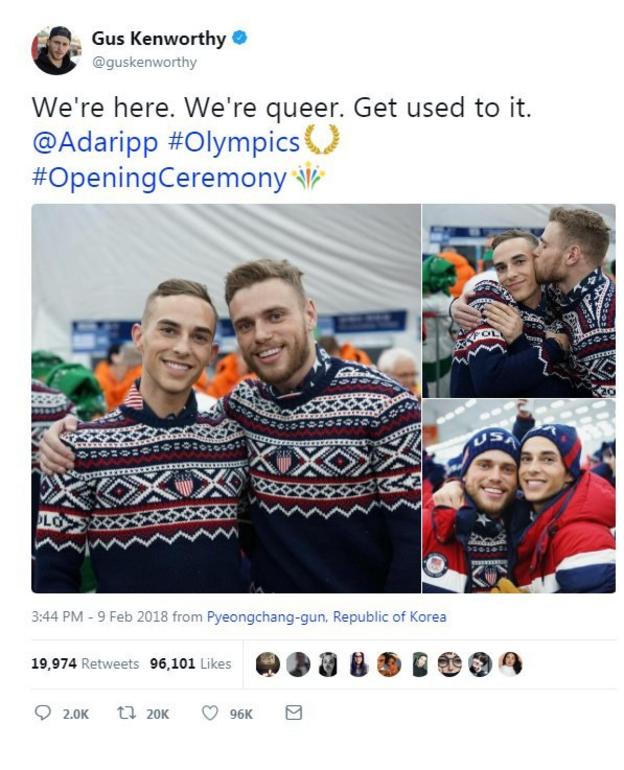 Skater Rippon had criticised Pence during an interview with USA Today for expressing anti-LGBT views and accused him of supporting gay conversion therapy, which Pence's aides have denied.
In an emotional interview with Ski Sunday in 2017, Kenworthy said of all the things he has done in his life, he was most proud of coming out.
"Before I came out, I thought I was going to start being judged worst at events. I felt like I had a lot to lose and was going to lose it all so I was scared".
But since then, he says he has received messages of support and even others saying he has helped them come out to their parents or friends.
Rippon has also received support from Hollywood actor and Oscar winner Reece Witherspoon.
He was cool about it...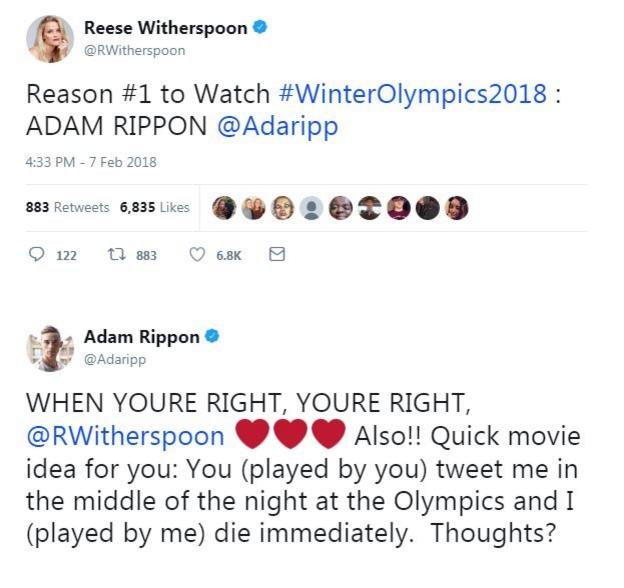 Rippon has also received support from Hillary Clinton, and Youtube star Tyler Oakley.
Kenworthy competes the men's slopestyle skiing on Sunday 18 February from 05:00 GMT and Rippon takes to the ice in the men's single event on Friday from 01:00.