Winter Olympics 2018: Elise Christie 'shocked' at pre-race nerves

By Alasdair Lamont
BBC Scotland in Pyeongchang, South Korea
Last updated on .From the section Winter Olympics
Speed skater Elise Christie says she was "shocked" by the nerves she felt before starting her Olympic medal quest at Pyeongchang 2018 in South Korea.
It was her first Olympic competition since the heartbreak of three disqualifications four years ago.
"I was so nervous because I feel like I got a lot of judgement from what happened in Sochi," she told BBC Sport.
"I don't want to repeat that so it was the first time in a long time I've been nervous going into a race.
"It was weird for me but it's exciting.
"It shocked me by how nervous I was, I'm not going to lie but I think now I've done the first race, the jitters will have gone a bit and I can just focus on what I'm doing now.
"It's so weird to be at the Olympics again. I didn't think I would be after what happened so it's just an amazing feeling to get out there again and it went fine."
Winter Olympics: Christie into 500m short-track quarter-finals
Christie progresses to Tuesday's quarter-finals at Gangneung's Ice Arena and she feels her performance in the heat augurs well for the latter stages.
She said: "I felt like I went really hard off the first lap and a half because I've been practising my start a lot and then it felt like I settled down into my skating, so I didn't feel like it was as fast as I could go.
"I didn't feel like I was at max speed so that was good and it just felt nice and smooth, and I felt I have a bit more in the tank for Tuesday, which is always nice. Yes it was comfortable."
Despite adding the Olympic record to her world record over 500m, she didn't hold it for long. Minutes after Christie's record-breaking race, Korea's Choi Minjeong took a further two hundredths of a second off her time.
"I think it's gone," she acknowledged. "It's quite funny but it's good we're all breaking it because it's been there since Vancouver, so I'm just happy to see it get broken and we'll see what happens in the next few days.
"I normally get faster through rounds as well so I definitely feel like I've got more speed out there."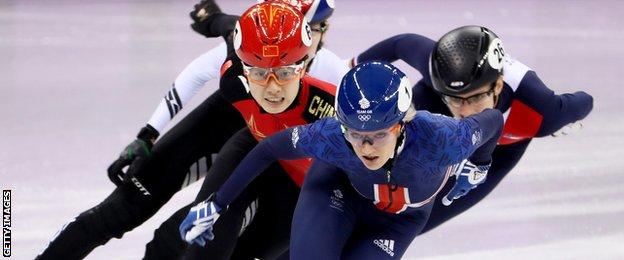 It wasn't such a rewarding evening for Christie's compatriot Kat Thomson from Kilmarnock, who was making her Olympic debut.
After an aborted start, during which the 22-year-old fell over a rival skater, she slipped while placed third and missed out on a place in the quarter-final.
She admitted she was thrown "a little bit" by the false start, but that was not the only issue.
Thomson said: "It was all very overwhelming having such a big crowd and in the back of your mind how many people are watching hoping you do well.
"I was feeling very nervous. Normally it settles quite quickly, but I think out there I was just a little bit too on edge. I think I'd just built up the anticipation a bit too much and I was just a bit wobbly-legged.
"So that and the fall did unsettle me. And then I didn't get a good start and it just all kind of fell apart from there.
"I'm really disappointed because I have been working on my start and stuff, but I do prefer the other two distances so hopefully I can impress some people there."