Winter Olympics: 'We proved point in a nice way' - Mica Moore
Last updated on .From the section Winter Sports
Mica Moore says she and bobsleigh partner Mica McNeill "proved a point in a nice way" by out-performing Great Britain's men at the Pyeongchang Winter Olympics.
Moore and McNeill crowd-funded their campaign after GB's governing body for the sport withdrew backing while continuing to fund three men's teams.
The top men's team finished 12th at the Games with Moore and McNeill eighth.
"We did make a point in a nice way of doing it," Moore told BBC Radio Wales.
The Welsh competitor added: "There is no animosity between us and the guys and we all get along well.
"I was gutted for them with their results and they wanted to do much better."
The British Bobsleigh and Skeleton Association (BBSA) went to South Korea as the winter sport with the highest UK Sport financial backing of £5m.
The 25-year-old from Newport said of competing on the back of crowdfunding: "In the end it kind of worked out well for us.
"We were able to book accommodation that suited us and made sure we had the best nutrition, get our sled to places, extra runs on tracks because that costs money.
"So I think we've made the best out of a bad situation."
However, she admits it would be unsustainable to continue in the same vein.
A fresh round of funding will be decided in April, 2018 and Moore hopes bobsleigh again receives significant official support.
'A very expensive sport'
She said: "Bobsleigh is a very expensive sport and we hope the funding can cover to help us achieve what we want to achieve.
"It is very important to get that funding, not just for myself but the next generation as well.
"Without that funding you can't justify going away for six months of the year.
"It is vital for people to stay in the sport.
"We are so grateful to people who donated and shared our story last September, but we don't want to have to rely on people having to do that next season.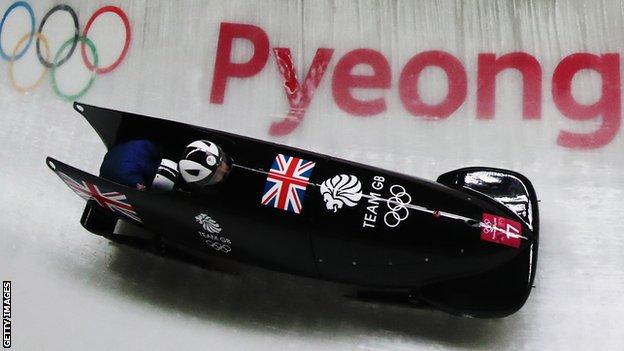 "That's not the people's job to do that and you can't keep asking people to do that."
Moore, from Newport, has yet to decide whether to target the 2022 Beijing Winter Games and will continue to compete as an athletics sprinter during the summer.
However, she missed out on hopes of going to the forthcoming Gold Coast Commonwealth Games with Wales after prioritising her bobsleigh ambitions.
"I am realistic with my goals and Beijing is four years away. It would be super cool to go to another Olympics," said Moore.
"There is a lot of planning that needs to be done and I still do track and field.
"I am not saying no to another Winter Olympics. I will have to get back into training and see how it goes."
'The focus was Pyeongchang'
She added: "Last season I tried to get the qualifying time for the Gold Coast as well as trying to go to Pyeongchang.
"Obviously it didn't happen and we didn't have a relay team to have a chance of qualifying for that either.
"So it was gutting at the time, but the focus was Pyeongchang and I was really glad that I was able to go and experience that.
"There's always opportunity for possibly the next Commonwealth Games (2022 Birmingham), which is going to be a home games again."