World Men's Curling Championship: Bruce Mouat eyes gold at first attempt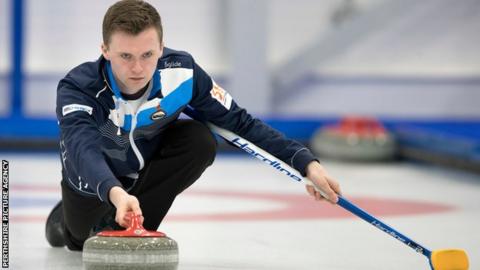 Scotland skip Bruce Mouat is targeting gold at his first World Curling Championship in Las Vegas this month.
The 23-year-old from Edinburgh led his rink to victory against Kyle Smith's Olympic quartet in a play-off for the right to represent Scotland in the USA.
"If we play the best that we know we can, which we have done this season, we can definitely win gold," said Mouat.
"We'd obviously be really happy to reach the podium but I'm not going to aim any lower than gold right now."
The Worlds run from a week on Saturday, 31 March to Sunday, 8 April at the Orleans Arena.
Every member of the Scotland team is under 26, with Hammy McMillan Jr the only one with World Championship experience.
But they have experience in abundance in the shape of coach David Murdoch, an Olympic silver medallist from 2014 and a two-time winner at the Worlds.
"We'll definitely lean on Dave a lot," Mouat told BBC Scotland.
"He's played the Intercontinental Cup over in Las Vegas, so he knows what the arena is going to be like. He's obviously got that experience of playing in major championships and even winning them, so we'll definitely utilise all of his knowledge.
"We have experience on our team. We've all played international championships before. Grant (Hardie) has won a world title already this season [World Mixed], Hammy has been to the Worlds before, Bobbie (Lammie) and I have won the world juniors, so we know what these events have to offer."
Murdoch, 39, has also picked up two silver and two bronze medals at World Championships, as well as six European medals, including three golds, in an impressive collection.
And he is confident he can guide Mouat's rink in the direction of a top-three finish in Las Vegas.
"I'd like to think the podium is possible for these guys," he said. "That's probably where they've been punching this season, that's the level they're at.
"The thing that makes it tough for them? It's their first time so we have to see if we can replicate the level that they're on and, if we do that, then they have that opportunity, and it's a case of 'can they grasp it?'"
Murdoch hints at possible retirement U-turn
Murdoch offered a hint that after the Worlds, he may revisit his own decision to retire last year to take up his coaching post with British Curling.
Could he be enticed back onto the ice?
"You never know, I'll never say never," he added. "We'll see what comes of the next few weeks, and where I'm going to go in regard to my future for the next few years.
"You speak to any ex-athlete, no matter what the sport; you always miss that adrenaline rush and the buzz that comes with being part of a team."