Mia Brookes: The 'hippy in a motorhome' tipped for snowboarding greatness
By Anna Thompson
BBC Sport
Last updated on .From the section Winter Sports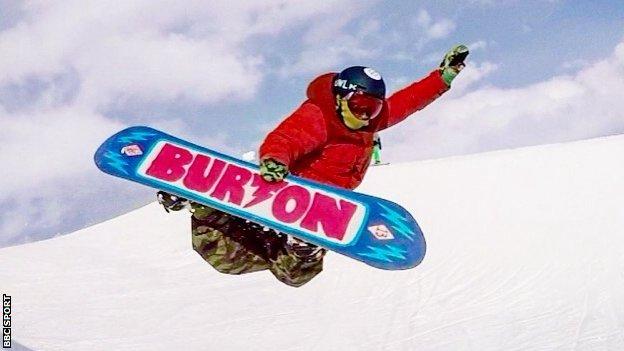 Mia Brookes has a cherished signed poster on her wall with 2018 Olympic snowboard champions Chloe Kim and Anna Gasser the prized autographs.
She was gripped by the Pyeongchang Winter Games and dreams of competing at future Olympics for Great Britain.
And it is not merely a pipe dream for the 11-year-old as she is being tipped for greatness herself.
This week she will be competing at the Brits, the British freestyle skiing and snowboarding championships, in Laax, Switzerland, where youngsters rub shoulders against Olympians including Pyeongchang big air bronze medallist Billy Morgan and X Games medallist James Woods.
"She is very, very good. As good as you can be for an 11-year-old," GB Park and Pipe programme manager Lesley McKenna told BBC Sport.
Ski Sunday commentator Ed Leigh has seen Brookes at first hand on the slopes and is equally impressed.
"It is difficult not to get really excited about Mia because she is undoubtedly one of the most exciting young talents not just in the UK, but in snowboarding globally.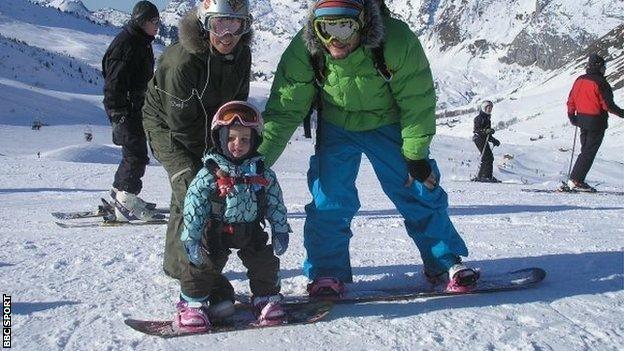 "Think about the talent the UK has produced: Jenny Jones who dominated women's slopestyle for six years and Billy Morgan who claimed two world firsts and an Olympic bronze and Mia is easily in their league."
Brookes lives in Sandbach in Cheshire and her first taste of snowboarding was when she was 18 months old at Kidsgrove Ski Centre in Stoke where her grandfather David Dick was a ski instructor.
Her parents Vicky and Nigel are snowboard enthusiasts and lived in Chamonix in France for five ski seasons. When Mia was born she soon fitted into their lifestyle.
"We would spend about six weeks on snow when Mia was little and she was soon snowboarding at our level with us and always loved the snow parks, the jumps and the rails," dad Nigel said.
She is mainly a slopestyle rider but does also compete in halfpipe. At the age of six she began entering indoor events in the UK and has won numerous national titles.
This season she has stepped up to the World Rookie Tour (WRT) where she goes up against top snowboarders from around the globe who are under the age of 15.
"It is another level and everyone is a lot more serious," Nigel said. "We were just three hippies who rocked up in our motorhome!"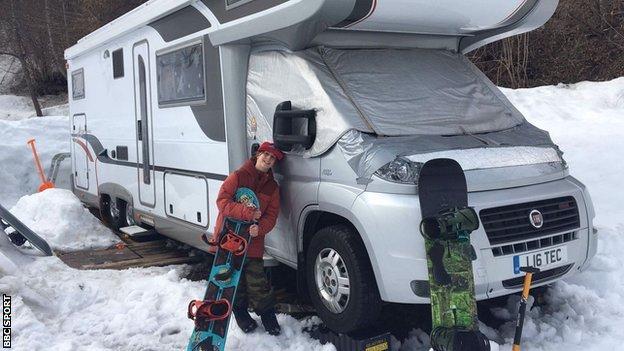 The Brookes family invested in a motorhome to cut down on hotel and travel costs as they visit various resorts in Europe for competitions and training.
Her first WRT event was in Corvatsch in Switzerland and she finished third in slopestyle, but her father said: "She looked the most unhappy third in the history of the WRT!"
Mia explained: "I was pleased but I felt I should've finished higher."
She duly did when she won the next event in Livigno, Italy. She has also topped the podium at the Davos junior slopestyle competition and the Laax Grom Open this year.
Brookes is part of the GB Park and Pipe pathway programme, which was set up thanks to increased UK Sport funding after Jenny Jones won Britain's first Olympic medal on snow with her snowboard slopestyle bronze at Sochi 2014.
The programme enables GB Park and Pipe to identify and support freestyle skiers and snowboarders whom they believe will challenge the podium at the Beijing 2022 Winter Olympics and the 2026 Games.
She has access to a coach, Ben Kinnear, as well as advice on nutrition, on and off snow training and fitness and the Laax Academy, an indoor facility with trampolines and foam mats where new tricks are honed.
"Mia has had a huge head start but it is really important to remember that she is only 11," Leigh said.
"The road to the top is very long, there is more and more pressure on athletes at younger ages and as we saw with Katie Ormerod's injury in Korea, the sport can be cruel."
Her parents are extremely supportive and as far removed as "pushy parents" as any could be.
"Mia's parents are brilliant," Leigh said. "They know and understand snowboarding so are able to look out for her and, most importantly, keep it fun.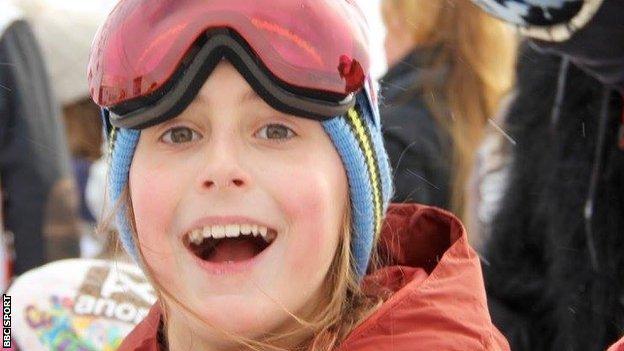 "There are a lot of different paths Mia can follow in snowboarding, with guidance from the team at GB Park and Pipe she could easily end up at the Olympics.
"But I also feel that if she wanted to Mia could follow the more creative, less competitive filming route and become a Travis Rice, she certainly has enough personality. Right now the possibilities are endless, it's just a question of what Mia wants to do."
McKenna said Brookes enjoys learning and the GB Park and Pipe ethos which has brought success at both the 2014 and 2018 Games is down to four values - fun, passion, progression and collaboration.
Charting the worldwide development of new tricks and skills and then applying that to making sure the British athletes can learn them is down to enjoyment - or as McKenna said: "In sports science speak, they call it intrinsic motivation.
"We can qualify it, we can measure it, it's evidential but they [the athletes] have to do it for their own reasons and that way they are more likely to reach their goals."
In the past Brookes has won her age group at the Brits and been on the overall podium but has never won the main title, which is not surprising when she has been up against World Cup winner Katie Ormerod and Olympian Aimee Fuller.
"I'll definitely be giving it my all, this year," Brookes said.
Watch this space.