Zoe Gillings-Brier: Four-time Winter Olympian inspires future champions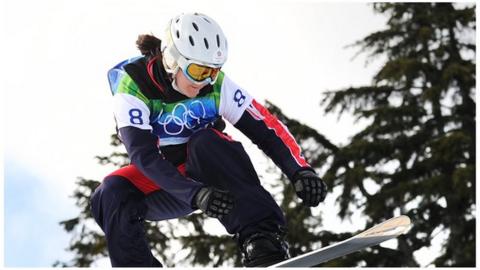 Manx snowboarder Zoe Gillings-Brier has given some of the island's most promising athletes an insight into life at the top of her sport.
The 32-year-old became the first British snowboarder to compete at four Winter Olympics in Pyeongchang in February, reaching the quarter-finals.
She previously finished 15th at her first Games in 2006, aged 20, eighth in 2010 and ninth in Sochi four years ago.
Gillings-Brier also has one win and six podium finishes in World Cup events.
She was invited to give a talk by the The Isle of Man Sport Aid Academy, which was launched in 2015 and delivers a programme of education and training to athletes aged between 13 and 17.
She said: "It was very rewarding to speak to some of our young sporting talent.
"Creating the right home and sporting environment and the importance of family support cannot be underestimated and many of these young people will no doubt find themselves in scenarios similar to those I encountered growing up and during the early stages of my sporting life.
"I was extremely impressed and if some of what I had to say can benefit them in the future, then it is extremely worthwhile."