UK Sport: Four winter sports have funding cut; Elise Christie gets individual investment
Last updated on .From the section Winter Sports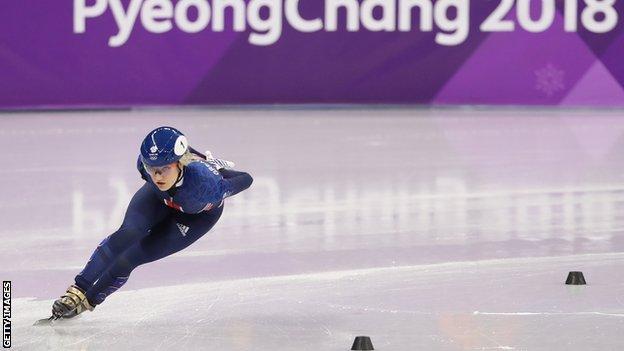 Triple world champion Elise Christie said she was "gutted" after short-track speed skating was one of four winter sports to lose funding for the Beijing 2022 Olympic and Paralympic cycle.
Christie will, however, receive UK Sport investment through a 'medal support plan' despite not winning a medal at the Pyeongchang Olympics.
"I am gutted for our sport," she said.
UK Sport will invest £24m into winter sports during the 2018-22 cycle, down from £32m for 2014-18.
Bobsleigh, figure skating, and wheelchair curling are the other three sports to be "transitioned off funding".
Christie missed out on a medal in Pyeongchang in February, but will be funded because of her "significant and consistent world-level success".
"We fully understand the huge significance of our decisions," said UK Sport CEO Liz Nicholl.
"We are committed to managing this with appropriate care and will be working closely with those affected by these decisions to help support them in their transition."
| Sport | 2014-18 funding | 2018-22 funding |
| --- | --- | --- |
| Bobsleigh | £5m | £0 |
| Curling | £5.66m | £6.35m |
| Figure skating | £1.24m | £0 |
| Short-track speed skating | £4.76m | £0 - medal support plan for Christie |
| Skeleton | £6.55m | £7.2m |
| Ski and snowboard | £5m | £6.75m |
| Para-ski and snowboard | £2.77m | £3.5m |
| Wheelchair curling | £1.14m | £0 |
After its athletes won three medals in Pyeongchang - including a second successive gold for Lizzy Yarnold - skeleton receives an increase in funding, as does ski and snowboard, following bronze medals for Billy Morgan and Izzy Atkin.
Curling also receives an increase, though no British competitors won medals in the sport in South Korea.
Team GB won a record five medals in Pyeongchang, matching their UK Sport target.
After the Games, chef de mission Mike Hay said that showed winter sport in the country is going "in the right direction".
Britain also hit its UK Sport target of seven medals - all of which came in the Para-Alpine skiing - at the Winter Paralympics in March.
Christie 'thankful' despite disappointment for sport
Christie, 27, was tipped to bring home multiple medals from Pyeongchang, having won 11 World Championships medals during the Olympic cycle.
But the Scot fell in the 500m final and 1500m semi-finals - damaging her ankle in the latter - and was disqualified from the 1,000m heats.
Despite her disappointment at her sport's funding cut, Christie said she was "thankful" UK Sport recognised her "medal potential".
"We'll be working on a plan in the coming weeks," she said. "I don't know exactly how that will look right now.
Short-track performance director Stewart Laing said: "We are very disappointed by the decision, and will be focusing on supporting our athletes, staff and their families before convening to discuss our next steps for supporting our world-class programme and developing an individual plan for Elise Christie."
Bobsleigh to 'demonstrate potential'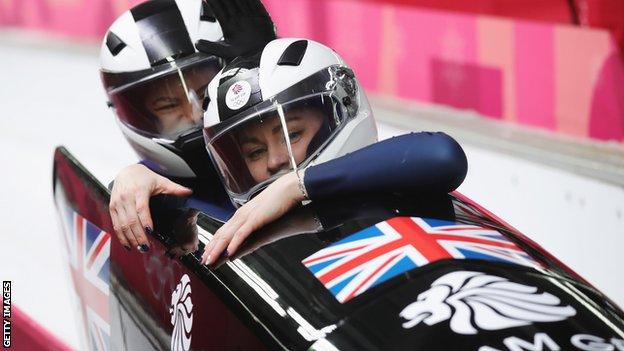 Bobsleigh received more than £5m in funding during the Pyeongchang Olympic cycle but won no medals in South Korea.
Seven months prior to the Winter Olympics, the sport had its funding reduced after accusations of bullying, racism, sexism and discrimination in the sport.
World junior gold medallists Mica McNeill and Mica Moore had their funding withdrawn by the sport's national governing body, but raised £30,000 through crowdfunding to compete at the 2017-2018 World Cup. They went on to finish eighth at the Winter Olympics.
'Transition funding' will allow the women's bobsleigh and men's four-man to compete at next season's World Championships in Whistler, Canada.
The sport's governing body, the BBSA, hopes this will allow athletes to "demonstrate their potential" and "justify" funding.
"Last season was British Bobsleigh's most successful overall for two decades as they won medals on the World Cup circuit and achieved national and personal bests during and prior to Pyeongchang," said said BBSA chairman Christopher Rodrigues.
"As the national governing body, we will do all we can to ensure this group of hugely talented, highly committed and hard-working athletes and staff are supported in the best way possible."
'Disappointed but still optimistic' - the Paralympic chief's view
Tim Hollingsworth, chief executive of the British Paralympic Association, said his organisation "welcomed" the increase in funding for Para-ski and snowboard "following record-breaking performances at Pyeongchang 2018".
However, he added he was "disappointed that our wheelchair curlers are not to receive funding at this time" - though accepted the decision was made based on current performance.
"We remain optimistic that wheelchair curling will be able to demonstrate its potential for success at Beijing 2022 and return to world-class programme funding soon, as they did during the Pyeongchang 2018 cycle," he added.
"Our aim is always to work with all our member sports to take the best prepared team to the Paralympic Games, and our plans to build on the historic success of Pyeongchang 2018 are already well under way."