Ellie Soutter: British snowboarder's family start fundraiser for young athletes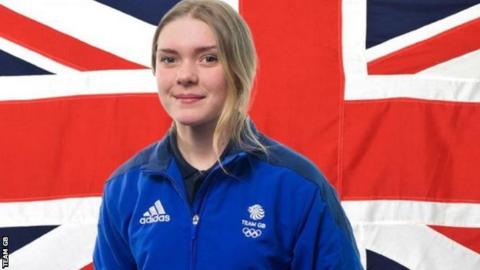 The family of British snowboarder Ellie Soutter, who died last week, have set up a foundation in her name which they hope will help young winter sports athletes needing financial support.
Soutter, who died on her 18th birthday, initially started the fundraiser to fund her own career.
Her family have taken it on, increasing the target to 100,000 euros (£89,000) with a view to helping other athletes.
The Go Fund Me campaign has raised more than 6,500 euros (£5,750.
"Since the tragic death of my beautiful daughter, we have decided to set up in her memory the Ellie Soutter Foundation," her father Tony wrote on Facebook.
"This is a fundraiser for young winter athletes like Ellie, to help enable them to achieve their potential and dreams."
No further details have been released about Soutter's death.
Soutter won bronze for Great Britain at the 2017 Youth Olympic Winter Festival, and carried the British flag at the closing ceremony.
This month she was named in the senior GB squad for the snowboard cross Europa Cup circuit, and was tipped for a place at the 2022 Winter Olympics.
"We, her family, have decided to continue fundraising under Ellie's name for young winter athletes that need financial assistance to achieve their potential and dreams, in much the same way as Ellie had looked for your help," added her father.
"As a junior athlete coming from a family without substantial wealth, Ellie often had to miss out on competing and training through lack of funds.
"She felt and understood the constant pressure to obtain the necessary funds for her training and events.
"A full season of required training to maintain this level of competition was in excess of £30,000 annually.
"At this time, as a junior GB athlete, there is minimal or no funding for travel or accommodation and athletes have to pay a subscription for coaching."
Tony Soutter also said his daughter's funeral - to be held on Thursday morning in Les Gets, France - would be "a celebration of her life".
"I would like to thank everyone for the overwhelming messages of condolence and prayers," he added.