Winter Paralympians Fitzpatrick and Kehoe back 'amazing' new UK slope plan
By Bruce Pope
BBC Sport Wales
Last updated on .From the section Winter Sports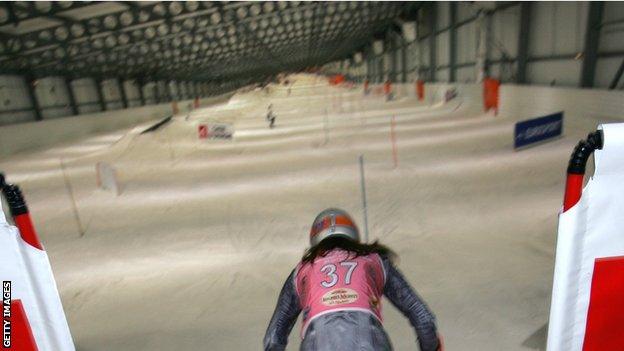 Paralympic skiing champions Menna Fitzpatrick and guide Jen Kehoe believe a proposed new indoor snow centre in Wales could transform their training.
The plan would create a 500m indoor ski slope, making it one of Europe's longest, at a site near Merthyr Tydfil.
That would allow the pair, who won gold in the women's visually-impaired slalom at Pyeongchang 2018, to remain based at home during the summer to train.
"It's going to be amazing," Welsh skier Fitzpatrick said.
"We know the guy who's running it, Robin Kellen [the chief executive of Snowsport Cymru Wales], he's very passionate about getting this snow dome up and running.
"He really wants to make it a place of excellence where the racers can really get the value out of an indoor snow dome and indoor training."
Chill Factore in Manchester is currently the UK's biggest indoor ski slope at 100m wide and 180m long, which is too short for training purposes.
That means Fitzpatrick and Kehoe, who also won two silvers and a bronze in South Korea to become Britain's most decorated Winter Paralympians, must currently travel to year-round indoor ski centres elsewhere in Europe.
Those sites include Landgraaf in the Netherlands which has a 520m slope, Alpincentre at Bottrop in Germany (640m) and Snowhall at Amnéville in France (620m).
"We think it's going to be really good for the UK to have a really long snow dome and have the steeper terrain than, say, Chill Factore... it would put GB on the map," Fitzpatrick, 20, added.
"It would be quite a lot more time at home during the summer, so instead of going off to Holland and Germany to indoor slopes there we would do it in Wales.
"Over the summer we were doing quite a bit of slalom stuff because there was no snow to do GS [giant slalom], so we went indoors to do slalom, but now we're onto the slalom skis."
The plans for the 575-acre development at Rhydycar West near Merthyr, 25 miles north of Cardiff, are under public consultation and include an indoor skate park, water park and mountain bike trails.
Centre of excellence
Kehoe agreed that the proposed skiing facility would make a huge difference to their future training.
"You could do a weekly programme, so you go to Wales for four or five days, go and train intensively and then go home for the weekend and spend time with your friends and family," the 34-year-old told BBC Sport Wales.
"That's the bit that people don't see; you're away, you miss birthdays, weddings, all the rest of it and that tales a toll, especially if you're doing it for a long time.
"So that would be amazing to have one at home."
British Ski and Snowboard has already indicated that the Wales snow dome could become a centre of excellence for its Olympic and Paralympic programme.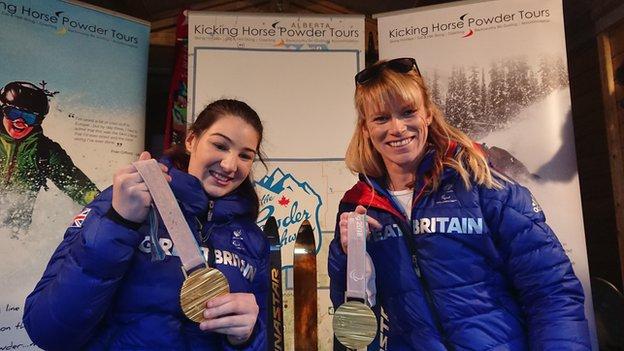 'All about World Championships now'
Fitzpatrick and Kehoe have already begun their winter on-snow training programme, as they seek to add a world title in early 2019 to their Olympic medals.
The World Para Alpine Skiing Championships will be held jointly in Sella Nevea, Italy, and Kranjska Gora, Slovenia, from 21 January to 1 February.
"This year it's all about the World Championships," Fitzpatrick, whose mother is from Deganwy, Conwy, said.
"It [the Paralympic success] has increased our funding a bit, which is amazing, because it means we're able to do a lot more training, focus on the important things and savour the time that we've got at home in the little time that we do.
"We've been really careful to say we're going to go out there and try our best, because skiing has so many variables in it and there's so many things that you as an athlete can't control.
"It's all about controlling the controllables, so if the results happen then amazing, if they don't then you've done your best that you can possibly do."
The speed disciplines will take place in Sella Nevea and the technical ones in Kranjska Gora, with the British pair likely to contest the slalom, giant slalom, super combined and super-G disciplines they competed in at Pyeongchang.
"I don't think it has changed our outlook to training really. We, I hope, are still pretty level-headed about what we're doing," Kehoe, 34, said.
"We set our goals on what we want to achieve and then we go and try to deliver that. We'll always go out there and try and do our best and if something happens on the day that means that we can't do that, then that's the way sport goes.
"No athlete is going to stand here and say 'oh yeah, I'm only in it to come fourth', but we're quite realistic.
"We also understand because we've both had serious injuries that took dreams away from us at various points, that if you go out there and say 'yes I want to win five gold medals' and then it doesn't happen - or you don't make it because of injury - then the disappointment is real."
Speed the priority
Fitzpatrick and Kehoe have just returned from a training camp in Switzerland and are happy with how their preparations are progressing for the new season.
The World Cup series begins on 17-22 December in Sella Nevea, giving athletes an early look at the slopes that will host the Worlds.
"We've had really good training out in Saas-Fee, the snow's amazing and we got to hang out with a lot of the World Cup able-bodied skiers, so that was nice to watch them and get some tips," Fitzpatrick added.
"We train speed whenever we can because there's not many chances or places that we can train speed with the lengths of the pistes and the size of them.
"So we try and do that whenever we can, because we know we can't get many chances in.
"There is probably a little bit more respect from some people. I think there has always been a reasonable amount of respect, but when you actually prove yourselves you become the ones to chase I suppose.
"The Para side we're all very good friends and everyone is very respectful of each other. We were training alongside the French and the Swiss, which we're quite good friends with, so it was really nice to train with them."
The World Cup series continues in Croatia on 16-17 January, before further rounds in Slovenia, Switzerland, two in Spain, and then the finale in Morzine, France, on 18-21 March.