European Curling: Eve Muirhead's Scotland miss out on play-offs after extra-end agony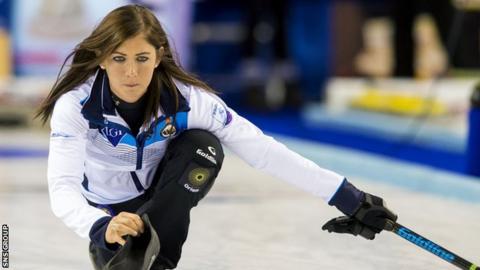 Scotland women's hopes of retaining their European Curling Championship title were dashed after a painful extra-end defeat by Switzerland.
Eve Muirhead's rink needed to beat Switzerland and for Germany to lose to take the last play-off spot in Tallinn.
Sweden beat Germany 7-3, but the Scots fell 6-5, despite going into the 10th end 5-3 up and having the hammer in the extra end.
The unbeaten Swiss meet Germany in the semi-finals, with Sweden facing Russia.
Muirhead has taken home a medal from each of the past eight European Championships but could only steer Scotland to four victories from nine round-robin matches.
The 28-year-old, recently returned from hip surgery, had the chance to win a tense encounter with the final stone but left it just short as she tried to find a way past Switzerland's three counting stones.
In the men's tournament, Scotland will take on Italy in the semi-final on Thursday evening, with unbeaten Sweden up against Germany.
Bruce Mouat's rink completed the group phase with a comfortable 10-4 win over Finland, leaving them second in the standings with a record of seven wins and two losses.
He said: "That was a good round-robin from our team, so we're pretty happy with that.
"We've got second spot, which is what you want - that gives us hammer in the semi-final. We had a good game against Italy in the round-robin, but they're playing well so we need to come out firing."
Scotland edged to a 7-6 win over Italy after an extra end when the teams met on Tuesday evening.