Erik Guay: Canadian skier retires after team-mate breaks leg in crash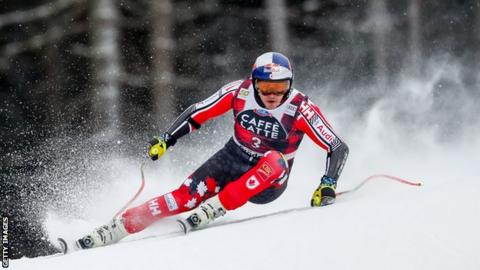 Canada's most decorated alpine skier Erik Guay has announced his immediate retirement from the sport after watching a team-mate's season end in a training crash.
Manny Osborne-Paradis broke his tibia and fibula in a training run for Saturday's World Cup season-opening downhill in Lake Louise.
Double world champion Guay was preparing for his own run at the time.
"I kind of put myself in his situation," Guay, 37, told CBC Sports.
"I was just thinking: 'Oh man, if that happened to me right now, I don't know if I have the energy to go through that rehab process again.'"
He added: "I probably made the decision in the start gate.
"It took everything for me to push out of the start gate and then I went back to the hotel and reflected, I didn't want to make any rash decision. It was already playing on my mind a little bit."
Three-time Olympian Guay was ruled out of February's Winter Games in Pyeongchang with back pain, and he has had six knee operations during his career.
He achieved 25 World Cup podiums with five gold medals across the downhill and super-G disciplines, as well as a World Championship title in the disciplines in 2011 and 2017 respectively.
His best finish at the Olympics came at the Turin 2006 Games where he finished fourth in the super-G.
"I was visualising what the season was going to be like and my skiing wasn't up to the level I wanted it to be so it would have been a grind," said Guay. "Ultimately, I wasn't willing to do that one more time.
"It's a sport that involves a lot of risk and I'm willing to put that risk out there if there's a shot at the podium.
"But if I'm not competitive it doesn't make any sense. So I came to conclusion it was time to move on to something else."