European Curling Championships: Scotland beat Sweden to secure gold medal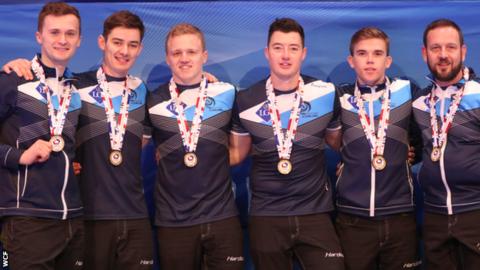 Scotland's men ended an era of Swedish dominance by winning gold at the European Curling Championships.
The Swedes were looking for a fifth successive title but Bruce Mouat's rink held their nerve in the 10th end to secure a 9-5 victory in the final.
Mouat, who was making his European debut, believes Scotland deserved their win after an intense match.
"We outplayed them," said the 24-year-old skip. "It's a great feeling right now, I'm so proud of the guys."
Niklas Edin, whose Sweden rink won gold at the World Championships in Las Vegas earlier this year, was not too downhearted by the loss.
"It was always going to come down to the last shot and they played really well so I'm not really that disappointed," said the six-time European gold medallist.
"You have to lose one of these one day."
Scotland, whose team consisted of Mouat, Hammy McMillan, Bobby Lammie and Grant Hardie, were 4-2 down after the fourth end.
But the Scots took advantage of a couple of rare errors by Edin to take a 6-5 lead in the eighth end, before adding gloss to the scoreline in the 10th.
The result gives Scotland's men their first European gold since David Murdoch's rink beat Norway in 2008.
Sweden's women added European gold to their Olympic title when they beat Switzerland by 5-4 in Saturday morning's final in Tallinn.