British Figure Skating Championships: Lewis Gibson & Lilah Fear on Olympic ambitions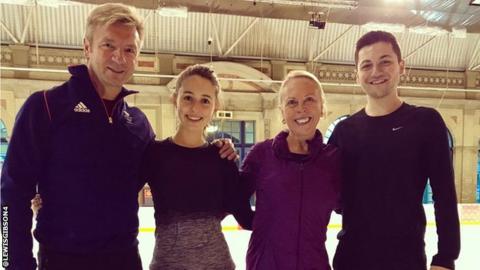 British Figure Skating Championships
Venue: Ice Sheffield Dates: 26 November-1 December
Friday, 30 November: 12:30-19:00 BBC Sport website and app, connected TV
Saturday, 1 December: 12:00-18:00 BBC Sport website and app, connected TV
Lewis Gibson played football as a youngster - until, that was, he watched the first series of Dancing On Ice.
An 11-year-old Gibson was enthralled by Jayne Torvill and Christopher Dean's ITV reality show. The Scot loved the thrills and the spills and wanted a piece of the action for himself.
"They just looked to be having so much fun," he tells BBC Sport. "I knew it was something I wanted to do."
In London, more than 400 miles away from Gibson's home in Prestwick, six-year-old Lilah Fear was already a natural on the ice.
The daughter of a skater and the niece of a Canadian ice hockey player, the ice rink was familiar territory for the US-born youngster. She had first learned to skate at the tender age of two.
Their sporting beginnings may have been different but, 13 years later, the 2016 British ice dance champions are ranked 28th in the world and have the same goal: to reach the Winter Olympic Games.
And judging by recent results, they are heading in the right direction.
'The strength and athleticism required is huge' - breaking misconceptions
Gibson, now aged 24, had been dancing for two years when he decided to take his moves on to the ice. The decision came naturally to him - despite it being far removed from the football he also played.
"It actually looked easy," he says of his Dancing On Ice inspiration. "I liked being able to watch them progress every week."
Indeed, it does look easy but Gibson soon found that his initial thoughts couldn't have been further from the truth.
"The problem with our sport is that it is a judged sport that is supposed to look easy," he says.
"But in the pursuit of making it look effortless, you have to be super strong."
Fear, 19, adds: "With football and rugby and all of those sports, you think the athletes are strong, but the strength and athleticism required for this sport is huge. Lewis has to lift me so it is very intense."
From learning the ropes to standing ovations
Both started as solo skaters before being partnered together in 2015 and even they admit they have been "surprised" by the speed at which they have improved.
The new kids on the block burst on to the scene in 2017, finishing 22nd at the World Championships, and 15th at the Europeans.
"I was very young for seniors in my first year. I think at our first World Championships I was the youngest person in our category," says Fear.
"But I think that really forced us to progress quickly because we were against such talented and experienced skaters and we had to immediately try and get up to that standard."
However, 2018 has been Gibson and Fear's breakthrough year. In October, they were invited to compete at Skate America, the first event of the ISU Grand Prix calendar.
They finished fifth in a field that included World Championship medallists, before going one better at the NHK Trophy in Japan in November. At the latter, they placed second in the free dance section to a standing ovation.
"We were thrilled to even get invited to the Grand Prix events in the first place," says Fear.
Disco dancing and Olympic ambitions
If you think of figure skating, the chances are you're imagining Bolero - and more specifically, Torvill and Dean skating around the Sarajevo 1984 rink to the orchestral tones of Ravel's most famous musical composition.
But not for Gibson and Fear. Their skating track features Michael Jackson's Don't Stop 'Til You Get Enough.
"A lot of the routines of recent times have been very slow and lyrical, but we wanted to do something fun and something that would stand out to help us make a name for ourselves," says Gibson.
"It's so much easier to skate with a smile on your face to that kind of music. There is a show side to it, just like Dancing On Ice."
As two of the youngest ice dancers on the circuit, Gibson and Fear - who will compete at the British Championships in Sheffield this weekend, having won the title in 2016 - are determined to use their youth "to their advantage" on the road to the Beijing 2022 Winter Olympics.
They got a taste for the Games in February when they travelled to Pyeongchang, South Korea as part of Great Britain's ambitions programme.
"It was great to learn the Olympics is just a competition like any other. It was just the environment outside the ice rink that was different," says Gibson.
"For 2022, that has really helped us. In the end, it's just ice."