Lindsey Vonn: US skier delays planned retirement at end of World Cup season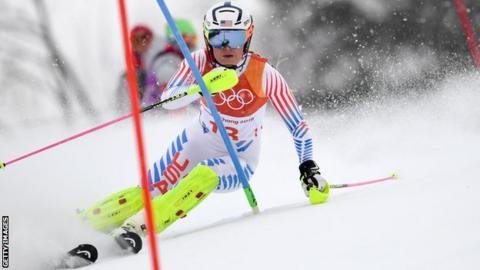 Three-time Olympic medallist Lindsey Vonn says she has postponed her plans to retire at the end of the season after injury ruled her out of the season-opening World Cup event at Lake Louise, Canada, this weekend.
Vonn said in October that she would retire after this season ends in March.
But speaking on Friday the 34-year-old said she wanted to race one last time at Lake Louise - her favourite venue.
"Getting injured again this season was not part of my plan," she said.
Vonn - who won downhill Winter Olympic gold at the 2010 Vancouver Games- said she sprained a ligament, bruised a bone and hyperextended a knee in a training crash last week at Colorado's Copper Mountain.
She said she will now retire after the Lake Louise event next season.
Vonn is aiming to break Ingemar Stenmark's long-time record of 86 World Cup victories. She is currently four adrift of the Swedish legend's total of 82.
"Whether I break the World Cup win record or not... if I don't break it at the end of this year, it doesn't matter," she said. "That really has nothing to do with me wanting to race in Lake Louise again. For me, Lake Louise has always been my spot.
"I would regret it for the rest of my life if I didn't take the chance to push out from the starting gate for one last time at Lake Louise."
Speaking in October, Vonn said she planned to enter every downhill and Super-G race of the 2018-19 season.