Jamie Anderson donates prize money to environmental group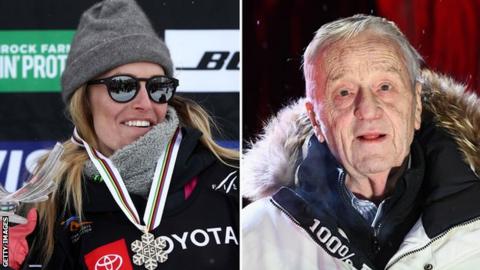 American snowboarder Jamie Anderson has donated her World Championship prize money to an environmental campaign group.
The donation comes after the president of the International Ski Federation (FIS), Gian-Franco Kasper said there was no proof of climate change.
Anderson, 28, said Kasper should "not share his unconstitutional ignorant opinions".
Kasper, the head of the FIS for more than 20 years, has since apologised.
In the interview with Swiss newspaper Tages-Anzeiger, Kasper also said he preferred countries run by dictators to host competitions as they "can organize [big] events... without asking the people's permission".
Anderson, who is the Olympic slopestyle champion, expressed her disappointment in an Instagram post.
"For him to be so reckless with his words, ignorant and such a negative influence breaks my heart," her post read.
"Instead, he should practice being a leader for a positive future.
"I thought of dropping out of The World Champs, but realized I'd rather share my thoughts with the media and fans and use my platform to share a more positive message."
Here are a few more examples of sports people donating their prize money to charities and non-profit organisations.
Andy Murray
In 2017, Britain's most decorated tennis star donated his earnings from the Aegon Championships at Queen's to families of the victims of the Grenfell Tower fire.
Murray earned £12,000 after losing to Australia's Jordan Thompson in the first round.
Bryson DeChambeau
American golfer Bryson DeChambeau donated the $25,000 (around £19,400) he won at the PGA Championship's long drive contest to the family of former Australian pro Jarrod Lyle, who died in 2018 after a long battle with leukaemia.
Mesut Ozil
After winning the Fifa World Cup with Germany in 2014, Mesut Ozil donated around £350,000 of his personal winnings to pay for 23 children's surgeries in Brazil.
During the same tournament, the Algerian national team, who reached the round of 16, donated their £5.25m prize money to the people of Gaza.
Tyson Fury
The former heavyweight world champion donated his earnings from his WBC title fight against Deontay Wilder to help the homeless in the United Kingdom.
"When I go home I'm going to build some homes for the homeless and set up some funds for drug addicts and alcoholics," said 30-year-old Fury.
Scotland Rugby Union team
In November 2018, the Scotland squad donated £10,000 to Doddie Weir's charity from their match fees against Argentina.
Former international Weir, 48, was diagnosed with motor neurone disease in 2017 and has been raising funds for research into the condition.
Kylian Mbappe
The teenage superstar donated his World Cup winnings -- reportedly as much as £380,000 to a charity that offers sporting opportunities to children who are hospitalized or have disabilities, based at the Stade de France.