Nordic World Ski Championships: Five athletes arrested over doping
Last updated on .From the section Winter Sports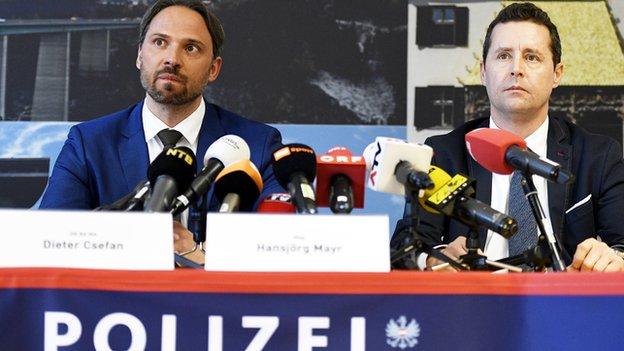 Nine people have been arrested as part of a crackdown on doping in skiing.
Austrian and German police conducted a coordinated action against what they describe as an "internationally active doping network".
The raids centred on the Austrian resort of Seefeld, which is hosting the Nordic World Ski Championships.
One Kazakh, two Austrian and two Estonian athletes have been arrested, a statement by Austria's federal criminal police office confirmed.
Austrian police say the alleged doping ring was based in Erfurt, Germany, and is "strongly suspected of carrying out blood doping of elite athletes in order to improve their performances in national and international competitions and to gain illegal profit from this".
Sixteen properties were searched on Wednesday, nine of which German prosecutors said were in Erfurt.
They added that a 40-year-old sports doctor, who was arrested in Germany on Wednesday, is believed to be at the centre of the organisation, and the action was prompted by claims by Johannes Duerr in a documentary called The Greed for Gold, which was broadcast in January.
The Austrian cross-country skier, who was convicted of doping after the 2014 Sochi Olympics, admitted to having blood transfusions, as well as taking EPO and growth hormones, at several places in Germany.
German journalist Hajo Seppelt contributed to the ARD documentary, and his previous work helped expose the Russian doping scandal.
Briton Musgrave 'shocked' by arrests
Britain's Andrew Musgrave, who finished a best-ever eighth in the men's 15km cross-country skiing in Seefeld on Wednesday, said he was "shocked" after hearing the news of the doping arrests.
In a social media post, the Scot said it had overshadowed one of his "best ever classic races".
He added: "Every ounce of my respect is gone".
The race was won by Norway's Martin Johnsrud Sundby, ahead of Alexander Bessmertnykh of Russia and Finland's Iivo Niskanen.
GB Snowsport said the news had been "shocking and disappointing".
Chief executive Vicky Gosling said: "The events which have transpired in Austria today are extremely disappointing and show that doping remains a serious issue in elite sport.
"The athletes and staff on the cross country skiing World Cup circuit all know each other very well so today's news has been both shocking and disappointing. It certainly takes the gloss off a fantastic 15km race today which featured historic results from Andrew Musgrave and Andrew Young (36th).
"Our sportsmen and sportswomen deserve to participate and compete in a doping-free environment, and GB Snowsport continues to work with UK Anti-Doping to ensure our athletes and team staff are aware of their responsibilities to keep sport clean."