GB wrestling chiefs plan for the future after surviving quit calls
By Nick Hope
BBC Olympic sports reporter
Last updated on .From the section Wrestling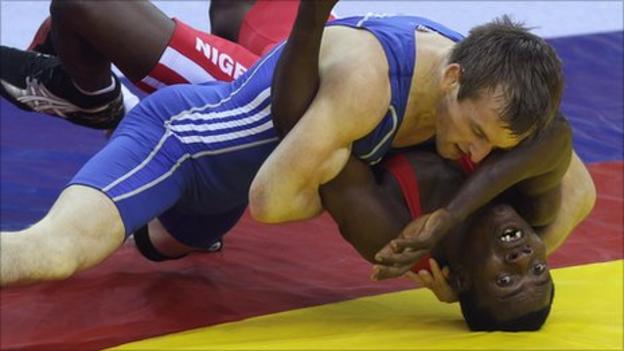 British Wrestling executives are free to focus on the 2012 Olympic Games after surviving a vote to remove them.
Scottish Wrestling called for the resignation of key figures after a row over selection at the recent World Championships, but failed to attain majority support at the AGM last week.
"As in the sport, a win is a win," said BWA chief executive Colin Nicholson.
"Hopefully now we can all get down to delivering the best Olympics British Wrestling can."
Nicholson told BBC Sport: "It's been a very difficult year to date with the dissenting voices distracting me - but I have offered them the chance to raise their main concerns which the board will consider and respond to in due course."
Scottish Wrestling president Gerry Malone stepped down from the BWA board following the AGM, but said that despite their calls for resignation failing to carry, Scottish Wrestling could draw positives from the results.
"The vote was split for many of the motions - we have certainly left them with plenty to think about," Malone told BBC Sport.
"We will work to create an environment which is to the betterment of British Wrestling, but we can't go on with these issues - we live in hope of change."
Scottish Wrestling had claimed they had been blocked by British Wrestling from entering athletes outside of the GB programme under the 'Scotland' banner in internationals.
However, Fila president Raphaël Martinetti confirmed that, after provisionally allowing Scotland and Wales to enter events, excluding World and European Championships, it was the sport's international governing body who withdrew this offer last month.
"It was decided that this would open the door to other complicated situations and other countries would have asked for the same rights [for example Ossetia and Dagestan, within Russia]," Martinetti told BBC Sport.
He also confirmed that despite previously raising concerns over the British programme, they now officially recognise authority of wrestling in Great Britain to the British Wrestling Association.
"This decision requires from the British Wrestling Federation a strong promotion of wrestling, without any kind of discrimination on the whole British territory [England, Northern Ireland, Scotland and Wales] - who must have the same voting and participation rights to elections and competitions," added Martinetti.
It has been a difficult year for British Wrestling, which achieved just one victory at the recent World Championships in Turkey and has faced criticism for including foreign sparring partners within GB international squads at other events.
However, they are now working with Sport England on a new domestic 'Talent Pathway' initiative, aimed at developing home-grown wrestlers.
Speaking on Radio 5 live on Monday, Sport England Director Phil Smith said: "Wrestling is demonstrating progress and additional funds will be a good investment towards sustaining a legacy for wrestling."