To have and to hold – British Wrestling
By Nick Hope
BBC Olympic sports reporter
Last updated on .From the section Wrestling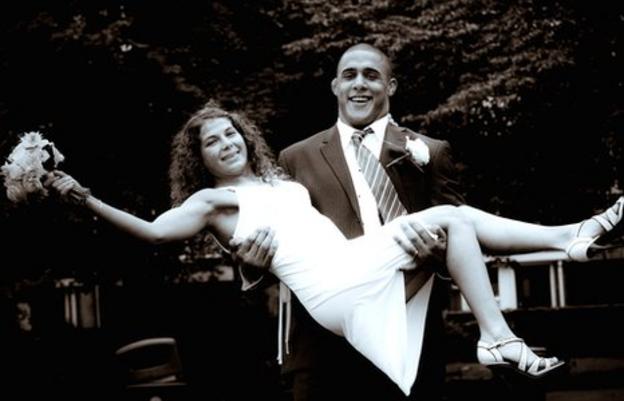 What was it that Winston Churchill said? "A riddle wrapped in a mystery inside an enigma" - he was of course referring to Russia during WWII, but the phrase is also appropriate for the situation British Wrestling finds itself in.
And it is a programme which has not been without numerous controversies.
Earlier this year several British wrestlers alleged that roles had been reversed and GB athletes were now acting as training partners to their foreign counterparts.
Speaking to BBC Sport at the 2012 wrestling test event this weekend, Raphaël Martinetti, president of the sport's international governing body [Fila], said he was disappointed the Olympic hosts do not have more home-grown talent and criticised British Wrestling for backing down on their plans to attend Fila approved training camps in the build-up to the London Games.
"For the future it's important that they need to maintain the promises they made before, not slowly eliminate the proposals," Martinetti said.
"Unfortunately for Great Britain the best wrestlers you have are not of British nationality, they're from Ukraine and other parts of Europe.
"I am very happy if the host country has a strong team and wins medals, but I don't know with the UK if they have the possibility to do this."
The latest controversy to surround the programme comes a week after it was revealed that Great Britain's Ukraine-born 2010 European championship silver medallist Yana Stadnik and British Champion Leon Rattigan were in a relationship, when in fact they have been married since July last year.
As many as five Ukrainian wrestlers, although not all officially part of the GB programme, have married British partners after meeting at the academy.
Why the secrecy surrounding Stadnik and Rattigan? Well, the Bristol-born Commonwealth bronze medallist is said to be a very private person.
Stadnik herself has been living in the UK since 2007 and is currently in the process of applying for British citizenship which will be possible in early 2012 - after five years of residency in the UK.
However, British Wrestling has confirmed that with the deadline for Team GB Olympic selection in June and anticipated delays in the application procedure, Stadnik will require a discretionary hearing and possible fast-track assistance from Home Secretary Theresa May.
Although naturalisation rules on individuals married to British citizens only require three years of living in the UK, British Wrestling have confirmed this is not the basis of Stadnik's application and that people should not look on the couples with suspicion.
"I would question motivations for questioning it," British Wrestling's chief executive Colin Nicholson told BBC Sport.
"At young ages people do get married and in a close quarters environment of athletes I think it's a well-known fact that people get married and love is in the air."
Stadnik herself told the Daily Telegraph newspaper she and Rattigan have been together for some time.
"I have fallen in love four years ago with Leon. Most of the time we spend training but the small time we have together [outside of training] we like going to the park. We have also been to Blackpool, Stonehenge, Liverpool," said Stadnik.
Despite her surprise first-round elimination at the Olympic test event, the 24-year-old has been dubbed British Wrestling's best prospect for success in London 2012 and the national governing body say they will do all they can to help their 'family' of athletes.
"Yana is a very special athlete who has given a huge amount to British Wrestling over a number of years," reflected Nicholson.
"Her aspiration appears to be to naturalise and become a British citizen having become ingrained in the fabric of Manchester and British Wrestling will do its best to support her in her aspirations."
British Wrestling would certainly benefit from this situation being resolved quickly.
Aside from the issues raised about foreign-sparring partners, there have also been calls from Scottish and Welsh wrestling factions for leading figures within the British set-up to quit, following a number of rows over GB team selection and funding.
They survived that bid, but it has not been an end to their problems.
On Friday, Fila president Martinetti branded British Wrestling weak and expressed frustrations there were no plans to utilise 25 wrestling mats donated for the Games, in the UK after London 2012.
"I am concerned with the legacy, the UK is not only the English people, I hope the British [Wrestling] are not stupid and give help to Scotland, Wales and other countries," Martinetti told BBC Sport.
"I hope after the Olympic Games that the equipment goes to all parts of the country and I also want to see more coaches, more interest from the media and I hope this legacy is important to British Wrestling."
Nicholson maintains that British Wrestling is doing its best to succeed with the modest £3.5m worth of funding it has received from UK Sport since 2005.
"We want to have quality international wrestling in the world class programme in Manchester - we haven't got plans to recruit further foreign training partners, but that policy will be under continual review," he said.