London 2012: India's Sushil Kumar Solanki targets wrestling history
Last updated on .From the section Olympics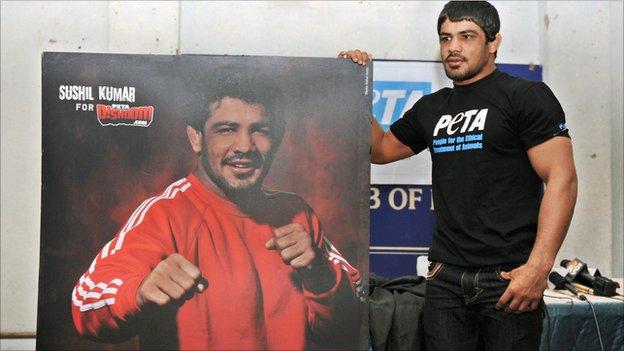 World champion Sushil Kumar Solanki is hoping the support of a billion people will help him become the first Indian wrestler to win Olympic gold.
At the 2008 Beijing Games the 28-year-old 66kg freestyler became the second Indian to win an Olympic wrestling bronze, after Khasaba Jadhav in Helsinki in 1952, and he hopes to climb two steps on the podium this summer.
"If my wrestling can make people happy then I consider that my greatest success," says Solanki. "Every time I step on that mat I know that I have a billion people praying and wishing me success, which brings the best out of me."
Solanki became the first Indian to win gold at a World Championships when he defeated Alan Gorgaev of Russia in Moscow two years ago, and a month later he became the Commonwealth Games champion on home ground.
That convincing 7-0 victory over Heinrich Barnes of South Africa in Delhi made the local boy a national hero.
Solanki started his career at the Chatrasal Stadium's wrestling school, or akhada, at the age of 14 under the guidance of Indian wrestling legends Satpal Singh, Yashvir Singh and Ramphal Mann, and his focus has now turned to the Olympic Games in London.
"The whole of India will be watching the London Games and I have got a lot of love among the spectators who will be expecting a great tournament from me," he says. "But hopefully with all their prayers and support, I will be able to make them proud."
To get into fighting shape, Solanki has moved away from his home village in Baprola, Delhi, to a small hostel room based at his training camp at the Chatrasal Stadium 20km away.
"I've moved away from home because it gives me the opportunity to focus and dedicate myself to my art," he says. "Here I can train without any disruptions. My daily training regime usually involves three two-and-a-half-hour sessions, six times a week. Sunday is my rest day.
"The sessions are normally split into three areas, which include conditioning work at the gym, practising and polishing my skills and technique, and a lot of one-on-one grappling to get me fight-ready.
"I have also been working on a new technique, which is a mix of both close and open stance, which is now being followed by all the top wrestlers in Europe.
"My guru, Satpal, has helped me to get to this stage of my career and I have enormous respect and total faith in his coaching ability."
Solanki's success has brought him India's most prestigious sports accolades, including the Arjuna award in 2006 and the Rajiv Gandhi Khel Ratna in 2009, and his life has changed dramatically.
"I am now recognised everywhere I go in India. I am regarded as an equal to our national cricketers, in terms of popularity now, and have been inundated with offers of endorsements.
"Although I feel lucky to have all this attention, I am normally a private person and avoid the media attention.
"I enjoy the company of my family and those closest to me and I realise that my parents made huge sacrifices to ensure that I could fulfil my wrestling ambitions.
"My father was a fantastic wrestler but he gave up a promising career to work on the buses so that he could provide for our family.
"I remember when I first joined the academy at the Chatrasal Stadium, I had to sleep in a dormitory with 20 other wrestlers.
"We didn't have much money so my parents brought me tinned milk, ghee and vegetables as I'm a strict vegetarian."
Solanki also worked as an officer for the Indian railways to earn some money to keep his dream alive, and he insists: "I will never forget my roots; I'm from a working-class background and know what it means to do a hard day's work."
Although times were very hard, he persevered and won gold at the World Cadet Games in 1998 at the age of 15.
His potential as an upcoming power wrestler, noted for his leg take-down moves, were evident even at that young age and he went on to become the Delhi State champion at the age of 18.
Many more titles have since followed as Solanki has risen through the ranks and this summer in London he will get the chance to complete the set.
"I know it's going to be very tough in London, especially with the fantastic wrestlers from Eastern Europe, Azerbaijan, Turkey and across the world. But I want to go home with the gold and become an Olympic champion."