Wrestling chief resigns following Olympics snub
Last updated on .From the section Wrestling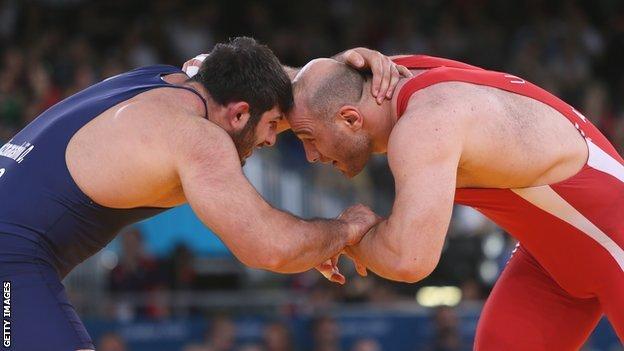 Wrestling's world governing body Fila has parted company with its president in the wake of the recommendation to drop the sport from the Olympics.
The sport must now vie with other fringe disciplines for a spot in future Games, following the International Olympic Committee's (IOC) decision.
Switzerland's Raphael Martinetti had been in the position since 2002.
He was issued with a vote of no confidence at a Fila executive committee meeting in Thailand.
"He has given his resignation," said Fila member Rodica Yaksi of Turkey.
"The bureau has selected an interim president for the extraordinary congress that will be held in Budapest in September, during the world championships.
"We voted and elected Mr Nenad Lalovic [from Serbia] as the interim president for the congress, not the Fila president."
Fila vice president Tomiaki Fukuda said the governing body would continue to discuss wrestling's plight during the annual gathering in Phuket.
"We will discuss in what ways we can bring wrestling back, but if nothing is decided today, we'll continue our discussions on Sunday," said Fukuda.
Modern pentathlon and taekwondo were thought to be the sports most at risk when the IOC met in Lausanne on Tuesday, but wrestling was the surprise choice.
It will now compete with seven other sports - baseball/softball, squash, karate, sport climbing, wakeboarding, wushu and roller sports - for a place in the 2020 Olympic Games.
Wrestling, which combines freestyle and Greco-Roman events, was included in the inaugural modern Olympics in Athens in 1896.
It has been in every Games since, apart from Paris in 1900. At last year's Olympics, it featured 344 athletes competing in 11 medal events.