Did Martin Luther King achieve his life's dream?

Presented byDr John A KirkDonaghey Professor, UALR
A visionary leader
Martin Luther King combined radical thought, political nous and oratorical brilliance. His I Have A Dream speech described a vision of racial equality in America that inspired millions. Despite provocation, he stayed true to non-violence.
King had great success in helping to end segregation and the disenfranchisement of African-Americans. Yet the economic gap between black and white America remained. Find out if King's dream was truly realised.
15 January 1929
Born to an influential family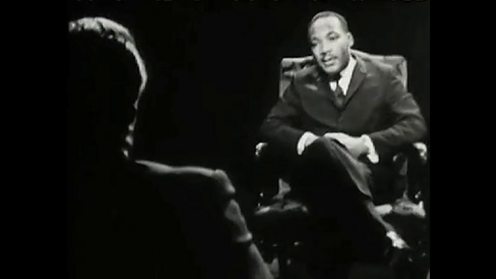 You need to have JavaScript enabled to view this clip.
Born in Atlanta, Georgia, Martin Luther King was the son of a Baptist minister, Martin Senior, and a schoolteacher, Alberta Williams King.
King grew up in the African-American business district of Sweet Auburn. He was originally named Michael like his father, but after attending a religious conference in Berlin in 1934 his father changed both their names to Martin in tribute to German theologian and reformer Martin Luther. Early on, King was inspired by his father's opposition to racial segregation and discrimination. Although he grew up in a system that treated him as inferior, his mother taught him he was "as good as anyone".
Who was Martin Luther?
Watch Martin Luther King talk about his childhood
1943
A victim of racial discrimination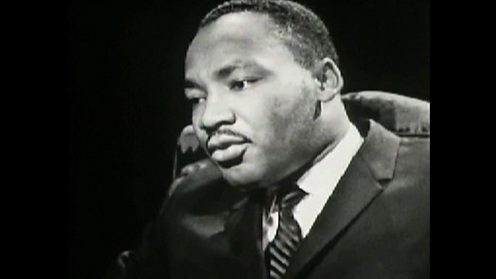 You need to have JavaScript enabled to view this clip.
King first came across discrimination, aged six, when he and a white friend were sent to different schools.
Aged 14, King was forced to give up his bus seat for a white passenger on a ride home from Georgia. He had just won an oratory contest, with a speech about equal rights. This humiliating episode spurred him on to confront the injustice of segregation. Although America abolished slavery in 1865, there was widespread economic and social inequality – in 1940 life expectancy was 64 for whites and 53 for non-whites. In the South segregation was enforced in schools, restaurants and many other places.
Racial segregation in the southern states
1948
Ordained as a minister
Getty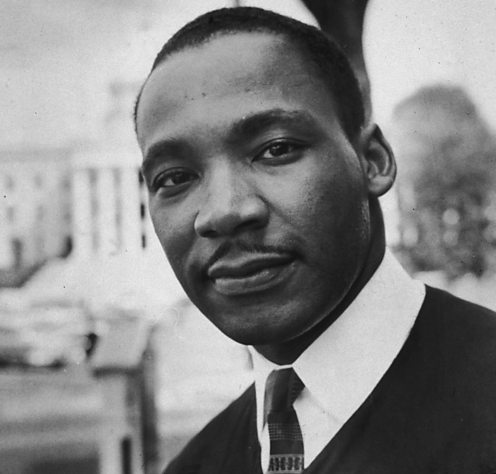 At 15 King followed in the footsteps of his father and grandfather to attend Morehouse College, which was accepting younger students.
Here King discovered the writings of Henry David Thoreau and became fascinated by his ideas of non-violent resistance. Inspired by his father and college president Benjamin Mays – a Baptist minister and influential advocate of racial equality – King was ordained into the ministry in 1948. After graduating he continued his training at Crozer Theological Seminary in Pennsylvania and received his doctorate from Boston University's School of Theology in 1955.
Who was Thoreau?
More on Crozer Theological Seminary
18 June 1953
Marries Coretta
Getty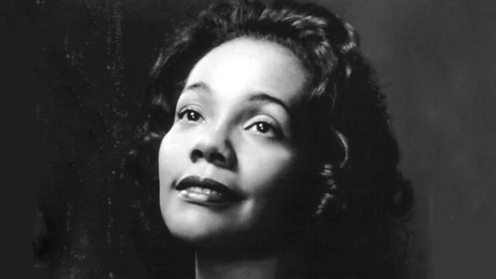 King met future wife Coretta Scott, a talented young singer, while in studying in Boston.
His father wanted him to marry into a more influential family but King was won over by Coretta's beauty and commitment to campaigning for social justice. They were married in 1953. King became pastor of Dexter Avenue Baptist Church in Montgomery, Alabama. Coretta gave up her ambition to become a classical singer to be a preacher's wife. Over the next 10 years the couple had four children, Yolanda Denise King, Martin Luther King III, Dexter Scott King and Bernice Albertine King.
Coretta Scott King
1955-1956
Leads the Montgomery bus boycott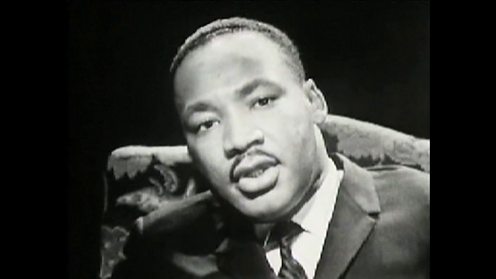 You need to have JavaScript enabled to view this clip.
In December 1955 Rosa Parks was arrested in Montgomery for refusing to move from her seat on a bus so a white man could sit down.
King was chosen to lead an African-American bus boycott that eventually lasted 381 days. The action was successful and in 1956, the US Supreme Court ruled that Montgomery's bus segregation policy was unconstitutional. News of this civil rights breakthrough spread and King became a household name in America. During the boycott Bayard Rustin, a prominent civil rights campaigner, tutored King and helped him commit to Gandhi's principle of non-violence as the way to resist authority.
Radio 4: Letter from America, by Alistair Cooke
1957-1963
Struggles to find direction
AP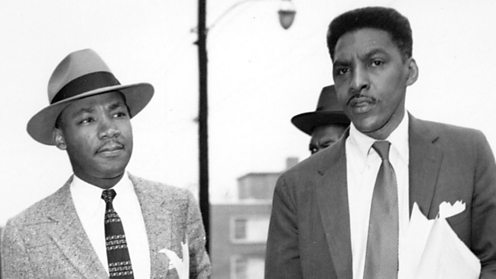 King worked with other civil rights activists to establish the Southern Christian Leadership Conference (SCLC).
King and the SCLC hoped to build on the success of Montgomery by expanding the bus boycotts across the south. But his plans were frustrated. In some places, the African-American population was too small to make a boycott effective. In others, whites quickly gave in to demands to forestall a protest movement developing. Elsewhere, whites allowed their bus services to go bankrupt and fail rather than desegregate.
The Southern Christian Leadership Conference today
1959
Travels to India to meet Gandhi's relatives
AP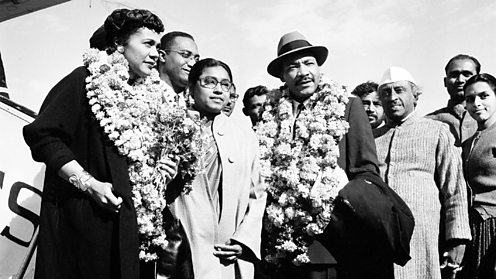 Seeking inspiration abroad King travelled to India to learn more about Gandhi's non-violent protest movement.
On a five-week tour of India he met with Gandhi's family and Prime Minister Nehru. He was struck by the parallels between India's treatment of members of the Untouchable caste and the treatment of African-Americans in the US. King returned home determined to translate non-violence into social change. Yet his protests in Albany, Georgia, in 1961-1962, were unsuccessful. The police did not confront the marchers but tried to diffuse the situation – starving the cause of valuable national publicity.
Gandhi: Reckless teenager to father of India
Hear Martin Luther King's speech in India
12 April 1963
Jailed during the Birmingham Campaign
Getty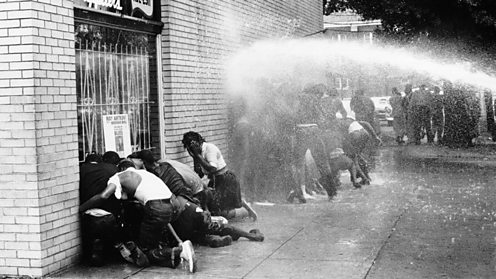 In 1963 King targeted Birmingham, Alabama, one of America's most segregated cities staging a massive programme of boycotts, marches and sit-ins.
King was imprisoned as a result. While incarcerated, he wrote the Letter from Birmingham Jail, a defence of non-violent direct action. In contrast to Albany, the city authorities used violence to break up the protests, deploying high-pressure fire hoses and police dogs against the demonstrators. Television footage of the events won wide public support for King's cause. Now an icon of the civil rights movement, King was invited to the White House where President Kennedy endorsed his cause.
Witness: Race riots in Birmingham, Alabama 1963
28 August 1963
'I have a dream'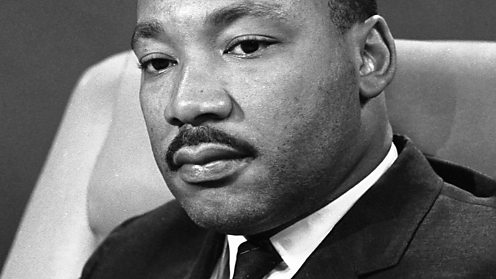 You need to have JavaScript enabled to view this clip.
King made his iconic I Have A Dream speech at the March on Washington for Jobs and Freedom.
A huge crowd of 200,000 people amassed at the Lincoln Memorial and millions more watched on television as King put forward his vision of a day when freedom and equality would be achieved in America. King's words resonated across the world, becoming symbolic of the civil rights struggle and are still widely quoted today. King also spoke of the economic gulf between black and white and the poverty that many African-Americans faced in the USA.
Read Martin Luther King's famous speech in full
Global figures read Martin Luther King's speech
15 September 1963
Four black schoolgirls killed in Birmingham
Getty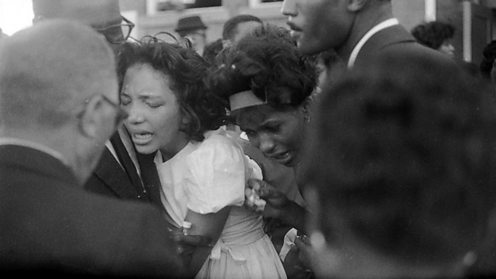 Less than a month after King's I Have A Dream speech white supremacists bombed a Birmingham church killing four young girls.
There was a huge public outcry and King was himself devastated by this act of violence. At the funeral he addressed more than 8,000 mourners. He knew there was still much work to be done if his dream was to be realised. The following summer, Congress passed the 1964 Civil Rights Act, ending segregation in public facilities and accommodations.
Read more about the Birmingham church bombing
1965
Campaigns for voting rights in Selma
Getty
King, aged 35, won the Nobel Peace Prize in 1964. He was its youngest ever recipient. His next campaign was for voting rights in Selma, Alabama.
Discriminatory practices, from literacy tests to physical coercion, meant only 2% of African-Americans had registered to vote in Selma. After a clash with state troopers at Edmund Pettus Bridge, activists from around the country took part in a five-day march from Selma to Montgomery. In events echoing Gandhi's Salt March, King led a group of 2,000 marchers which grew to a crowd of 30,000. That August, the Voting Rights Act removed many of the barriers that had disenfranchised African-Americans.
"Bloody Sunday": Selma's historic civil rights march
1967
Defeated in Chicago
Getty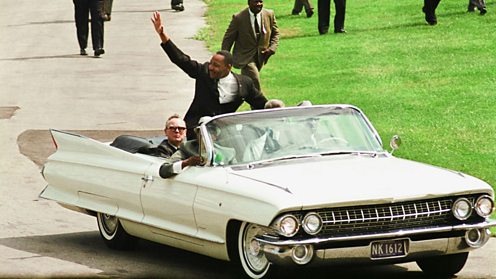 King turned his attention to the urban poor in the north of America. In 1966 he and his family moved to Chicago's West Side black ghetto.
King struggled to change the extreme social and economic inequality in Chicago. Despite his fame -as an outsider, it was hard to unite people behind his cause. While the city authorities initially agreed to promote fair housing, they went back on their promise. King began to find his message of non-violence marginalised, his popularity waning. Within the civil rights movement there was growing support for militant methods of opposition and the idea of 'black power' was gaining traction.
Martin Luther King's speech at a Chicago rally, 1966
Witness: Black Panthers
What was it like to be a Black Panther?
4 April 1967
Speaks out against the Vietnam War
Getty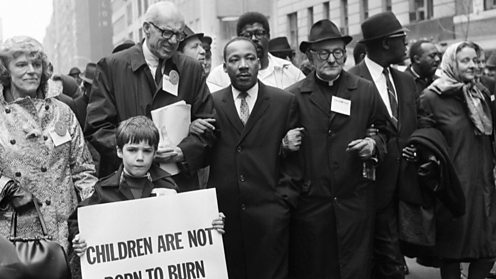 Despite failure in Chicago, King continued broadening his concerns to include US economic and social policy and even foreign affairs.
He made the controversial Beyond Vietnam: A Time to Break Silence speech in New York. Many regarded it as his boldest yet. It described a very different view of America from that evoked in I Have A Dream. He spoke out against a country that neglected its poor while spending money on war and an excessive material consumption. King vowed to fight for the oppressed of all races. In 1968 he instigated the Poor People's Campaign working to end economic inequality.
The Vietnam War: A History
On This Day – 1967: Thousands join the anti-war movement
4 April 1968
Martin Luther King is assassinated
Getty
King was in Memphis for a march backing striking sanitation workers when he was shot dead on his motel balcony by white supremacist James Earl Ray.
Riots broke out across the country and President Lyndon B Johnson called for a national day of mourning. Although King did not realise his dream of seeing peace and social equality in America, he is remembered as a man who stayed true to his religious beliefs, his principles of non-violent protest, and his vision of freedom and equality. He remains the only African-American with a US national holiday dedicated in his name. His example carries enormous moral weight to this day.
Long-lost video of Martin Luther King's killer is found