Face of Britain: Portraits that capture a changing nation

In collaboration withNational Portrait GalleryFace of Britain curators
Partnered byArt UKThe nation's art online
The face of Britain
Portraits are about more than how someone looks. They are snapshots in time that show intriguing insights into Britain. From the royals, to the infamous, to the ordinary, these images reveal what the country was like and what it was thinking about.
To coincide with Simon Schama's series The Face of Britain and the related exhibition at the National Portrait Gallery, we highlight 10 portraits that demonstrate how the nation has changed.
1592
Power politics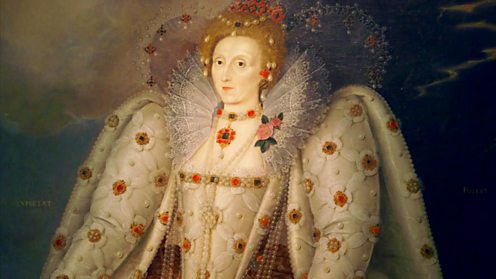 You need to have JavaScript enabled to view this clip.
The first portraits were usually only of royalty and nobility. These paintings were less about being realistic and more about making a statement.
Many portraits of the ageing Queen Elizabeth I were never meant to be an exact physical likeness of her. Elizabeth herself had set out in law how she should be represented. Portraits instead showed Elizabeth as she wanted to be perceived by her subjects. The true power of these portraits is that, long after her death, this is how future generations still continue to imagine the Virgin Queen – youthful, pale, regal and powerful.
National Portrait Gallery: Face of Britain exhibition
Simon Schama's Face of Britain series
Art UK: Elizabeth I (Ditchley) Portrait)
1600-1610
The Immortal Bard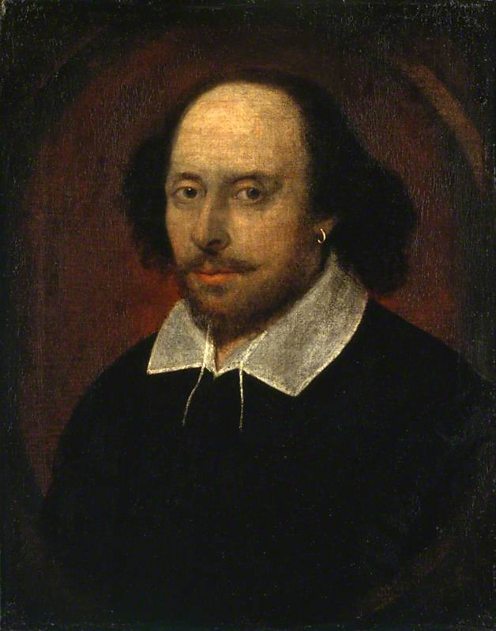 Occasionally exceptional individuals outside of the social elite sat for portraits and had their faces recorded for future generations to look upon.
This is the only portrait of William Shakespeare painted during his lifetime. A leading literary figure of the age, Shakespeare's brilliance elevated him above others born to humble backgrounds. This image is how we now imagine Shakespeare looked. The fact that his collar is undone is significant – this was a visual short-hand illustrating that he worked in the creative industries. It also stated that he had earned his portrait by work rather than by breeding. He was not part of the aristocracy.
National Portrait Gallery: More about this portrait
Art UK: Portrayals of Shakespeare in art
BBC History: William Shakespeare
1629
Flashing the cash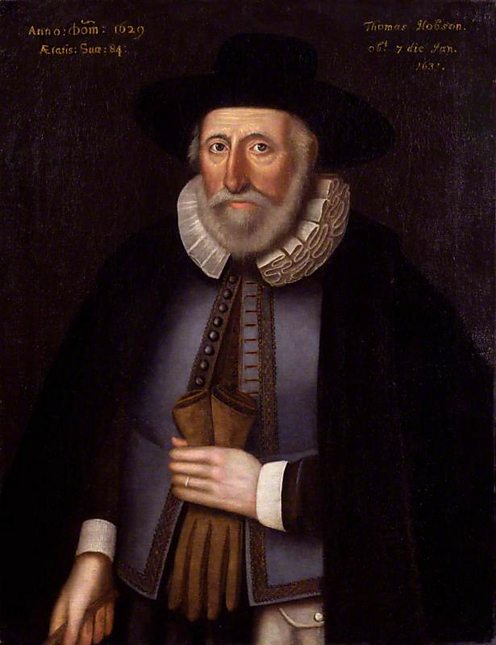 By the early 17th Century, portraits were often made of the burgeoning middle class that was emerging at the time.
Rich merchants and traders wanted their success to be seen but they were keen to show off more than just expensive clothes. These portraits are significant as they mark the point when this new class became a social force in Britain. This painting features Thomas Hobson, a successful stable owner. Hobson hired out his horses but would not allow his clients a choice of ride – they had to accept his terms or walk. This was the origin of the phrase Hobson's Choice – meaning no choice at all.
National Portrait Gallery: More about this portrait
Wikipedia: More about Thomas Hobson
1733
Crime and punishment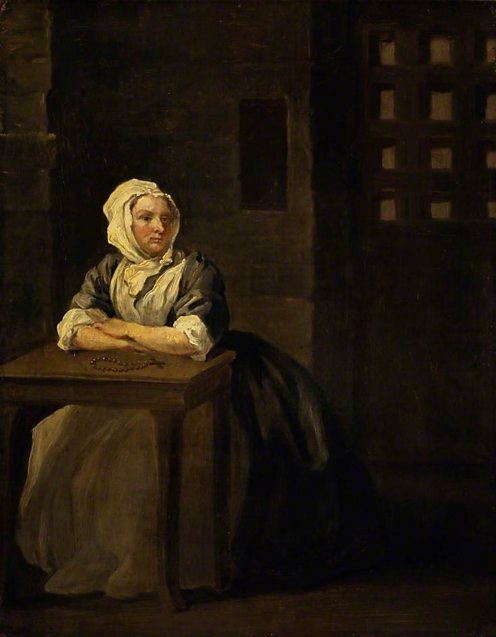 A century later and portraits were appearing of new faces – people who had achieved notoriety rather than fame.
One was Sarah Malcolm who was in prison as she awaited the hangman. She was a domestic servant convicted of triple murder and robbery in a crime that shocked the nation. William Hogarth, famed for his satires and morality pieces, sketched Malcolm in her cell. Hogarth captured the scene in gloomy, muted detail. He did these paintings as part of a project to document real-life events. Hogarth capitalised by selling prints to an eager public. For him, at least, crime did pay.
National Portrait Gallery: Read more about this painting
Art UK: See a slideshow of Hogarth's paintings
Find out more about Sarah Malcolm (murderpedia.org)
1765
The scarlet woman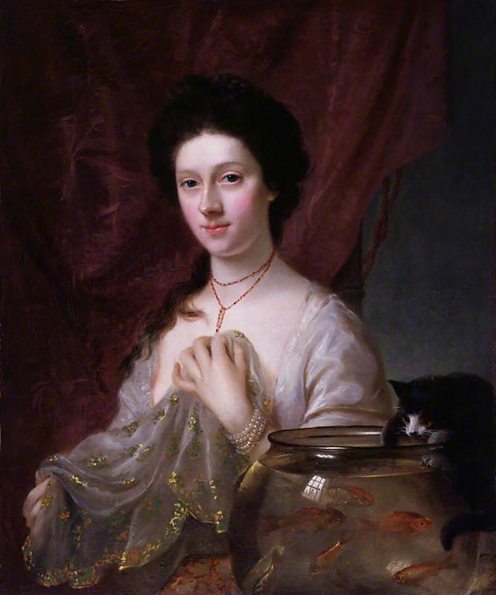 Notoriety didn't necessarily have to end badly. Kitty Fisher, a celebrity of the time, had her own picture painted to promote herself.
She was one of the world's first celebrities and famous for being famous. The 18th Century courtesan had a string of high profile affairs and became a fashion icon. Fisher used portraiture as a public relations tool to cultivate her image. Her portraits had a regal feel with luxurious fabrics and settings. She wanted to show that it wasn't just the high born who could have fame and wealth. Here the artist includes a kitten hunting a goldfish: 'Kitty' 'Fisher'. Great PR, Kitty!
National Portrait Gallery: More about this portrait
Art UK: See more paintings of Kitty Fisher
Telegraph: Kitty as forerunner of modern celebrity
1791
Party politics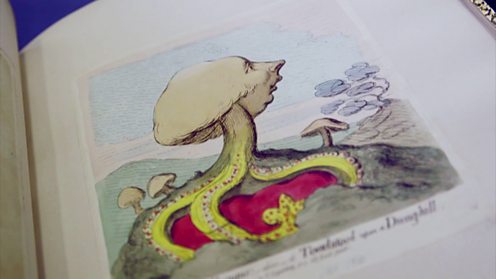 You need to have JavaScript enabled to view this clip.
As political parties emerged, so did a new art form – the satirical caricature. Here portraits were used to lampoon.
Caricatures were a popular way for artists to communicate their thoughts on politics to the general public and take arrogant politicians down a peg or two. The most famous caricaturist of the age was James Gillray. In one portrait, Prime Minister William Pitt was shown as a mushroom growing out of a royal dung heap, poking fun at Pitt over his dependency on royal support and patronage. Gillray's art could be savage but pointed out what many others thought.
National Portrait Gallery: Gillray's portrait of Pitt
Art UK: Portrait of Prime Minister William Pitt
BBC Arts: The biting satire of James Gillray
1815
The common people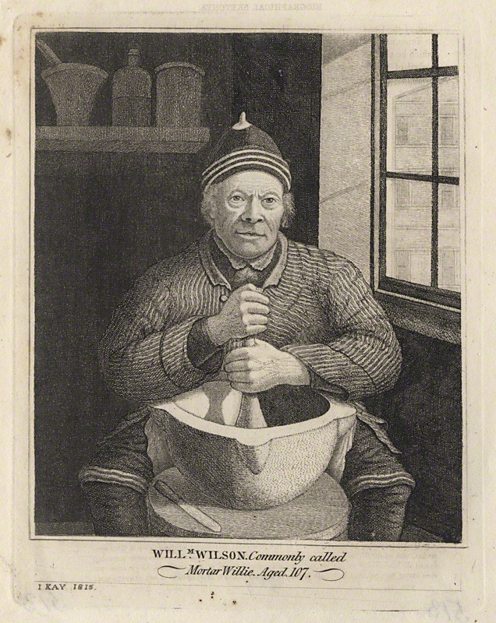 By the 19th Century ordinary people started to find their way into art in the form of sympathetic portraits.
At this time, the political voice of the common man was beginning to be heard. In art they were also starting to be seen as real people. John Kay depicted the common folk he spotted in his native Edinburgh regardless of rank and captured them in a simple, sketch-like style. This is an etching of Willie Wilson who, supposedly aged 107, worked as a chemist's assistant grinding medicines in a mortar. This picture is important as it showed the dignity and strength of the ordinary person in society.
National Portrait Gallery: More about Kay's engraving
Art UK: The art of John Kay
1826
The Brotherhood of Man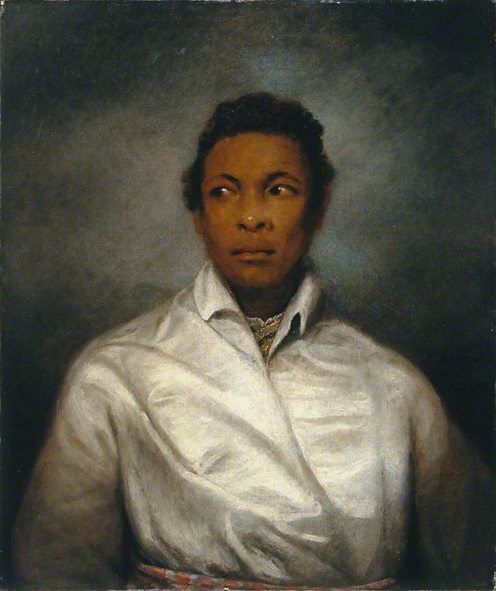 In the age of slavery, artists used their work to fight for the end in the trade of humans. This portrait showed a famous black actor of the time.
Ira Aldridge was the first major black actor on the English stage. He was born in New York but emigrated to England to find acceptance as an actor. He went on to become one of the highest paid actors in the world. This portrait of him as Othello is a rare example of a black man shown in a dignified, humane light which was at odds with how slaves were seen. Aldridge was a staunch opponent of slavery and the poster boy for an abolitionist movement that would soon end slavery across the Empire.
National Portrait Gallery: More on the Aldridge portrait
Art UK: Aldridge shown acting in 'Othello'
BBC History: The abolition of slavery
1912
A heart's desire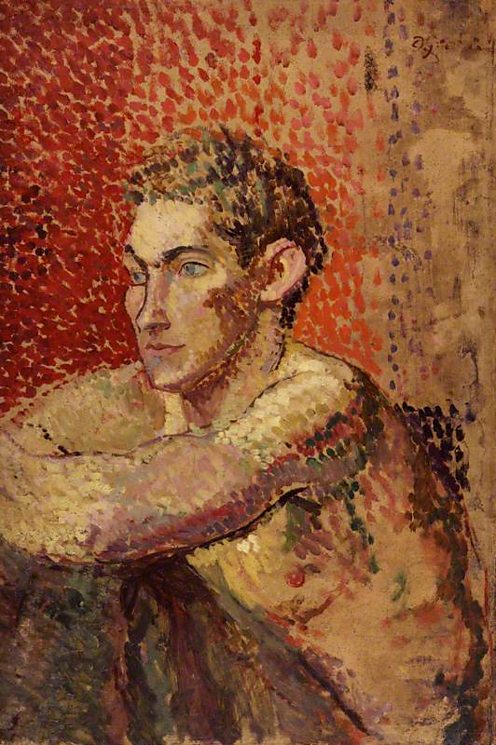 In an age where same-sex relations were still illegal, portraits offered glimpses into sexual politics. Art was a way to say what couldn't be said.
Mallory – the climber who died attempting Everest – was regarded as the ideal of male beauty with his tall, muscular and handsome frame. He became friendly with many of the artistic and literary members of the bohemian, free-spirited Bloomsbury Group that included the artist Duncan Grant. This sensuous portrait is one of many pictures that Grant painted of Mallory. It is bold in style as well as meaning, and hints at the painter's true feelings towards the subject.
National Portrait Gallery: Grant's portrait of Mallory
Art UK: See more artwork by Duncan Grant
Guardian: Letters show Mallory's flirty side
1963
Capturing the soul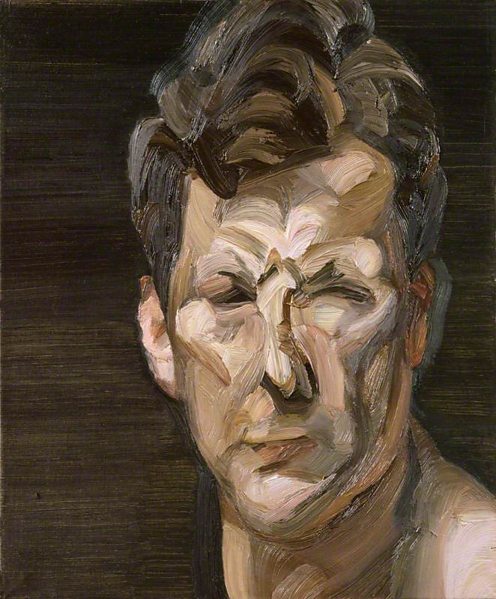 Portraits have come a long way from flattering royalty. Lucian Freud's art laid bare the essence of the sitter and captured more than physical form.
His forensic studies of the body made him the pre-eminent post-war British artist. Freud's candid and raw portraits built up the human body in thick layers of paint while at the same time attempting to strip away the subject's vanities. What was left revealed a psychological portrait of the person as he truly saw them. Freud had brought portraiture kicking and screaming into the modern world.
National Portrait Gallery: More about this self-portrait
Art UK: See a slideshow of Freud's art
BBC Culture: Alastair Sooke on Freud's nudes