Cool, quirky and collectible: 12 extraordinary album covers

ConsultantTravis ElboroughAuthor
A revolutionary idea
Over the years, album covers have become as much a part of music history as the records themselves. From its roots as a sales gimmick, the sleeve became an important element of both the musician's image and their music.
Artists were keen to design for this highly prized 12-inch space, with many album covers developing into works of art in themselves. So what are the album covers that defined an era? Or simply changed how album covers were made?
1940
Smash Song Hits by Rodgers & Hart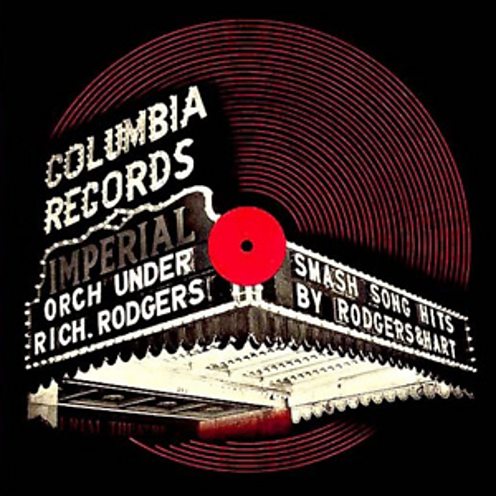 Early albums were covered in plain paper, to protect the record inside. Designer Alex Steinweiss suggested Columbia Records add images to the covers.
In this era of big band music the first illustrated cover was for an album by composers Rodgers and Hart and featured a theatre marquee with the duo's names in lights. The experiment was a success and more graphic covers followed. These reportedly increased the company's sales by over 800%. Meanwhile, advances in technology enabled more music to be included on an album. It not only revolutionised the music industry, but also increased the cover space available for artwork and sleeve notes.
Who were Rodgers and Hart?
Alex Steinweiss
Who the hell's going to buy this stuff? There's no attractiveness. There's no sales appeal. So I told them I'd like to start designing covers.
1956
Elvis Presley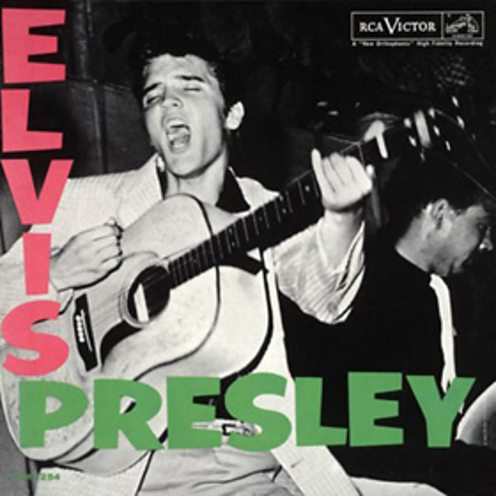 When his debut LP was released Elvis was already famed for his exuberance. The cover is notable for its unstaged photo which captures that energy.
Elvis broke barriers between black and white music, and went on to global stardom. His vibrancy, highlighted in the cover's image, was matched by the album's ground-breaking bold pink and green typography. This outrageously hip cover was just a taster of the culture-changing music inside. In 1979 The Clash paid homage to the iconic cover by replicating the distinctive typeface over a monochrome photo on their album London Calling.
BBC Music: Elvis Presley
Elvis's albums
1957
Blue Train by John Coltrane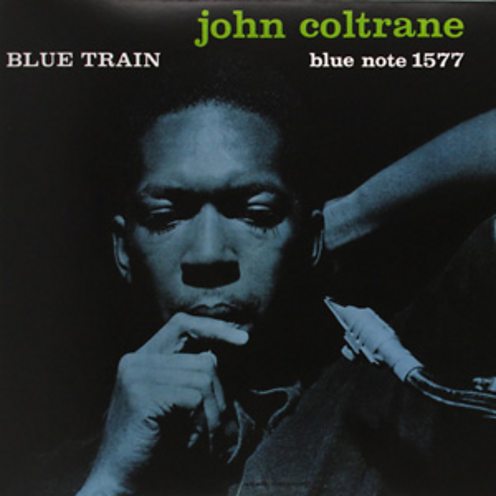 One jazz music label, Blue Note, created a cool, recognisable house style and this strong identity was summed up on John Coltrane's Blue Train.
The image encapsulates what music listeners found on the album: cerebral, stylish and complex nocturnal jazz. Graphic designer Reid Miles created over 500 covers for Blue Note and his work became synonymous with the label. Using an image on the cover that summed up the band's sound became something many other bands did in next decades, notably in progressive rock. But in the 1960s, the arrival of psychedelic rock would take album covers in a whole new direction.
BBC Music: John Coltrane
The Guardian: 75 years of the coolest visuals in jazz
His covers sound like [they know] what lay in store for the listener.
1967
Sgt. Pepper's Lonely Hearts Club Band by The Beatles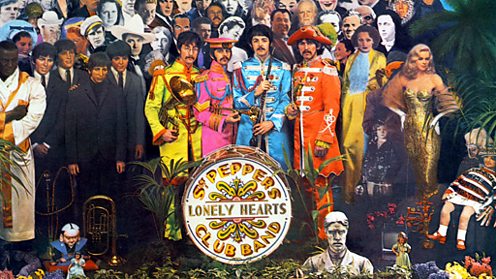 You need to have JavaScript enabled to view this clip.
The Beatles' Sgt. Pepper's Lonely Hearts Club Band experimented with music and had a cover that did the same.
Artists Jann Haworth and Peter Blake created a sprawling collage of famous faces from Marilyn Monroe to Karl Marx. The cover deliberately reached out to fans by giving them, for the first time, a cover they could pore over, one that could hold the attention as long as the record itself. This followed on from The Velvet Underground and Nico's Warhol-designed banana cover for their eponymous debut LP, which brought concept art into the mainstream.
BBC Music: The Beatles
BBC: Music from the Mersey archive
1968
Ogden's Nut Gone Flake by The Small Faces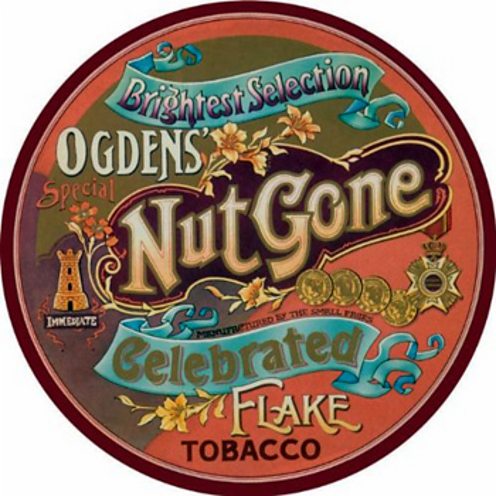 While bands experimented with artwork post Sgt Pepper, Small Faces played with the size and shape of packaging.
The LP was originally released in a metal, circular cover designed to replicate an over-sized tobacco tin. Unconventional and not entirely successful - the tins tended to roll off shelves - it was an expensive venture and later pressings of the album were released with an alternative gatefold cover. However it launched a series of unusually shaped covers, notably a whisky glass for Rod Stewart's Sing it Again Rod, and a hinged sleeve in the shape of a lighter for Bob Marley's Catch a Fire.
BBC Music: Small Faces
BBC Music: Review of Ogden's Nut Gone Flake
1971
Fragile by Yes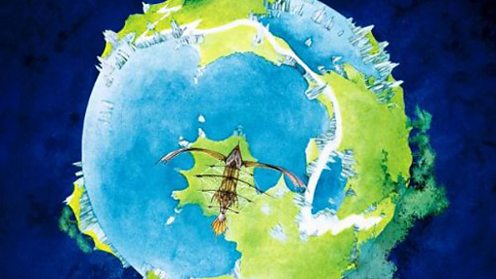 You need to have JavaScript enabled to view this clip.
Progressive rock was the sound of the early 70s as Sgt Pepper's influence extended musically and bands created longer songs and albums.
Yes were the biggest band of the day and created art that matched their sound. Artist Roger Dean designed a disintegrating planet for Yes's album Fragile. His futuristic landscapes sat easily with the experimental nature of the music and, like Sgt Pepper, were designed to be studied. Dean's work with Yes included 1973's Yessongs. On this, Dean expanded on the ideas introduced in Fragile by telling the story of a planet fragment landing on a new world and the creation of life around it.
BBC Music: Yes
Gallery of Roger Dean's artwork
1975
Horses by Patti Smith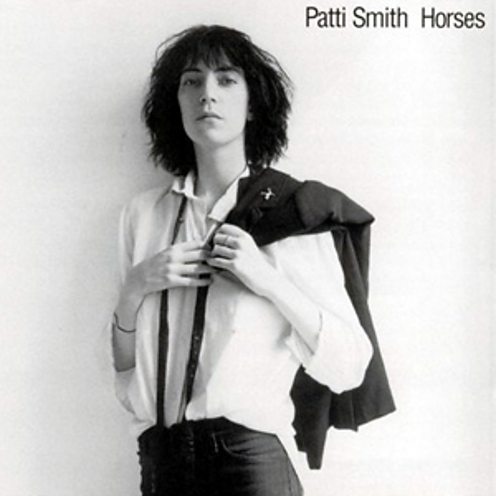 By the mid 70s, women's lives were changing so Patti Smith used a photo of herself to convey a powerful woman looking defiantly at the world.
Smith emerged from New York's creative underground. The Horses cover was a stark contrast to sleeves from other female artists of the era. In the same year it was released, Carly Simon posed in lingerie on the cover of her LP Playing Possum. Smith is unglamorous and androgynous, defiantly staring directly into the lens. This snapshot, taken by photographer Robert Mapplethorpe, became one of the defining images of women in rock. However, an even more startling cover was on its way.
BBC Music: Patti Smith
Patti Smith on Robert Mapplethorpe
I got my favourite ribbon and my favourite jacket, and he took about 12 pictures.
1977
Never Mind the Bollocks, Here's the Sex Pistols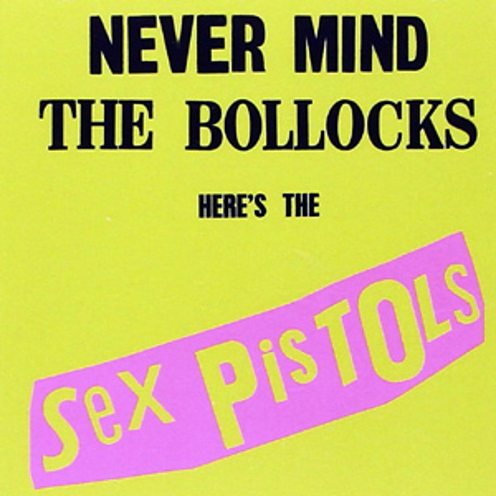 Punk music came in a time of mass unemployment and civil unrest. The Sex Pistols captured this moment of rebellion with one album.
The Sex Pistols aimed to shock and artist Jamie Reid's sleeve was as provocative as the band. The offensive language in the title added to the controversy surrounding the group. The furore inspired teenagers, outraged parents and contributed to the Sex Pistols' place in music history. Displaying the artwork led a record shop manager to be prosecuted under the Indecent Advertisements Act, though he was cleared of all charges.
BBC Music: Sex Pistols
Album review
1979
Unknown Pleasures by Joy Division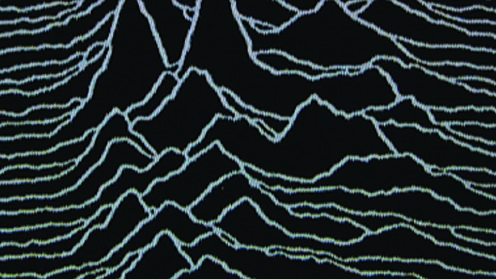 You need to have JavaScript enabled to view this clip.
In the aftermath of punk, Joy Division led a change in musical direction. The artwork on their first album mirrored their sparse sound.
The cover, by designer Peter Saville, showed a diagram of radio waves coming from a pulsar star. This artwork on this dark post-punk album contrasted with the post-hippie rainbow prism on Pink Floyd's Dark Side of the Moon LP. Saville's stylish work provided the perfect visual complement to Joy Division's moody, slightly industrial sound. In his later work for Factory Records he designed a cover for New Order's Blue Monday single which was so expensive to produce it lost the band money.
BBC Music: Joy Division
BBC Arts: Peter Saville's sleeves for Factory Records
It's both technical and sensual. It's tight... but it's also fluid.
1982
Rio by Duran Duran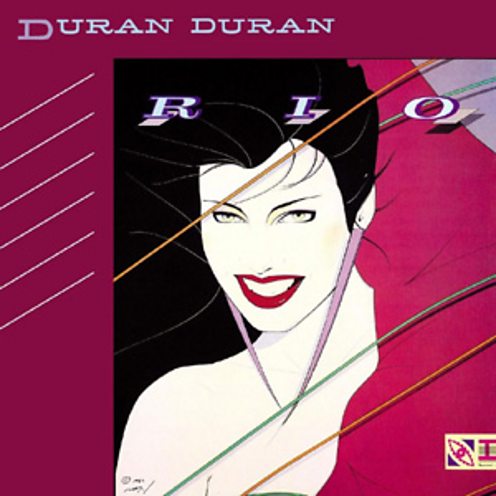 By the 80s, a new slick look and sound appeared and was summed up by one band – Duran Duran.
A new culture of style emerged. The visuals became as important as the music. Bands began to rely on videos and airplay on MTV. The cover of Duran Duran's Rio album has become as bound up with the 80s in the collective cultural memory as the Sony Walkman and shoulder pads. Designer Patrick Nagel's illustration of a glamorous woman combined with on-trend stylish graphics by Malcolm Garrett combined to make a look that is identifiably 80s and well suited to this image-fixated age.
BBC Music: Duran Duran
The Guardian: Quiz of album covers from the 80s
1990
Ritual de lo Habitual by Jane's Addiction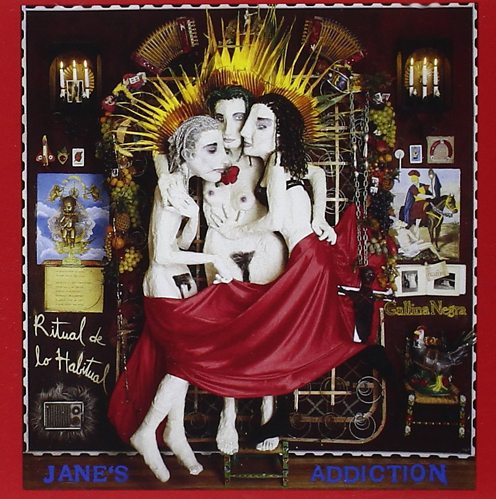 The 80s and 90s saw a rise in supposedly controversial covers, with the American citizens' censorship organisation protesting every new outrage.
Jane's Addiction had a history of controversial covers. Their previous album Nothing's Shocking featured an image of naked conjoined twins with their heads on fire. The artwork for Ritual de lo Habitual which featured male and female nudes was created by band member Perry Farrell. But it caused such an outrage that record stores insisted on wrapping the sleeve in plain paper. By the end of the 90s, album sales were generally in decline as individual tracks could now be downloaded digitally.
BBC Music: Jane's Addiction
Neatorama: Tipper Gore and the PMRC
2013
Yeezus by Kanye West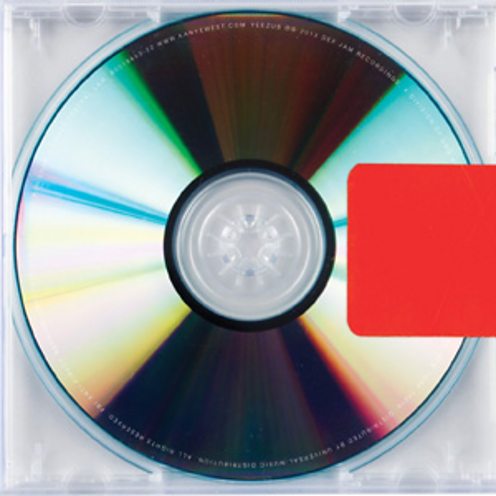 Kanye released his CD in a clear case with a single red sticker. Arguably, the lack of cover created a greater impact than traditional artwork.
But all is not lost for cover art. Albums are back, as artists release on both vinyl and CD. Sales of vinyl are at an 18-year high and many major artists including Taylor Swift are releasing their albums on vinyl as well as on CD and digitally. The resurgence of vinyl brings the return of the 12-inch cover meaning there may well be many more surreal, stylish and shocking sleeves to come.
BBC Music: Kanye West
BBC News: Vinyl record sales hit 18-year high
I'm a minimalist in a rapper's body.