GIs in Northern Ireland: The Friendly Invasion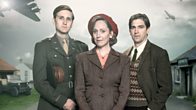 In association withBBC NI Drama
Strategic significance
During World War Two Northern Ireland's geographical location meant that it was of vital strategic significance to the United States. Crucial in the Battle of the Atlantic, it was also a staging platform for US forces preparing for combat.
Before D-Day, a peak of 120,000 GIs were stationed in NI at one time. However during the course of the war more than 300,000 US servicemen passed through on their way to fighting in the Atlantic, North Africa and mainland Europe.
June 1941
A first foothold in Europe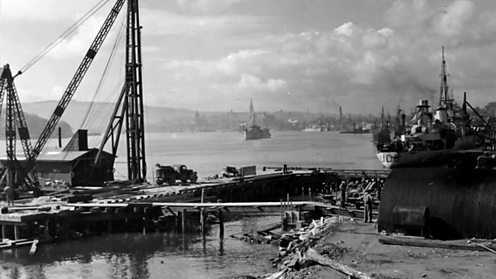 You need to have JavaScript enabled to view this clip.
Even before Pearl Harbour and the United States' official entry into World War Two the US was already building a military base in Northern Ireland.
Documents declassified by the American government reveal that five months before Pearl Harbour the US was preparing for war. In early 1941 the US Navy, looking for a strategic base on this side of the Atlantic, chose Londonderry as the place to build docks for its naval fleet and a vast military base to house hundreds of US servicemen. Code-named Base One Europe it was on a four acre site at Beech Hill and was the US's first military outpost in Europe during WWII.
January 1942
The GIs arrive in Northern Ireland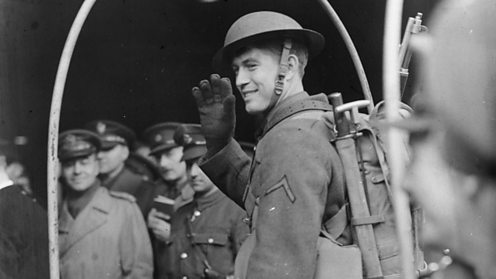 You need to have JavaScript enabled to view this clip.
Just a month after the United States officially entered World War Two - American GIs began to arrive en masse in Northern Ireland.
Although we now know that American military personnel had been in Northern Ireland for some time, the first official welcome of troops onto European soil took place on 26 January 1942 at docks in Belfast and Derry. In Belfast, Private First Class Milburn H. Henke, an American of German heritage was the first US soldier down the gang plank. In his interview with the BBC's Home Service, moments after he stepped onto land, Henke expressed a desire to get 'back some day' to his homeland.
July 1942
The royal seal of approval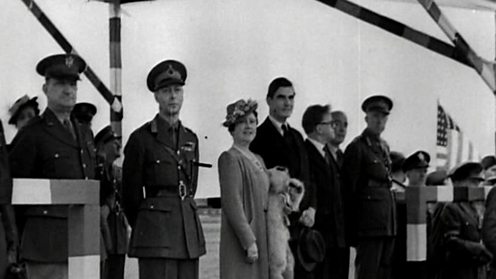 You need to have JavaScript enabled to view this clip.
Arriving on HMS Phoebe, King George VI and Queen Elizabeth travelled to Northern Ireland to meet the newly arrived US troops.
At the start of WWII King George VI was only three years into his reign and both he and Queen Elizabeth decided to stay in London for the duration of the war. Their refusal to move out of the capital and their commitment to visiting people and troops on the homefront and abroad won them many admirers. This visit to Northern Ireland was characterised by 'the absence of stiff formality' and was reported to "demonstrate their majesties friendly regard for the troops of our great ally".
King George VI
tremendously impressed by what they saw, particularly the appearances of men, messes, quarters and so on
August 1942
Langford Lodge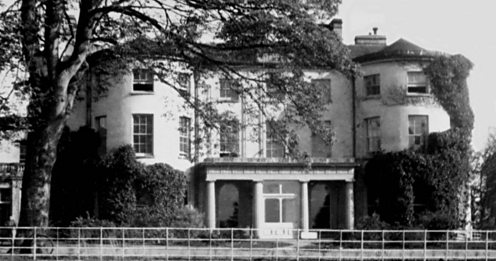 Langford Lodge played an important role in the US's bombardment of Europe and was their second biggest Air Depot outside of the United States.
A stately home beside the banks of Lough Neagh, Langford Lodge was requisitioned to create a base for processing thousands of United States Air Force aircraft en route to active service in the war. Set up and ran by the Lockheed Overseas Corporation, the base employed 6000 civilian and military personnel - responsible for receiving and servicing the planes as they arrived from the United States.
March 1944
Patton's passage to Europe
Time Life Pictures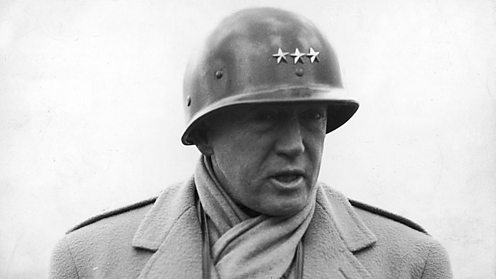 General George S Patton, the legendary American military commander paid a visit to Armagh and Down to rally US troops stationed there in March 1944.
Patton first inspected the 5th Infantry Division in the Mournes. Then on 1st April the 2nd Infantry Division, along with various other units, formed up in The Mall in Armagh to be inspected by the General. A few days later on 3rd April he visited Derrygally House and complimented Colonel Martz on the appearance of the camp and battle readiness of the men. He was known for his 'colourful' speeches, and women were not allowed in the vicinity when he was giving these talks because of his language.
May 1944
Eisenhower visits Bangor
NARA/US National Archives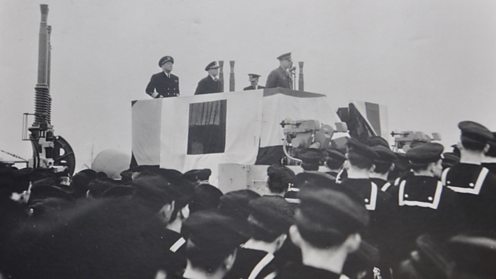 General Dwight D Eisenhower, Supreme Allied Commander, visited the large armada of ships that had gathered from Belfast Lough to Bangor Bay.
Eisenhower set out from Bangor on the 20 May and went aboard the cruiser USS Quincy. Over the ship's loudspeaker he told the men "I am looking forward to the day when we can be together again and have a big party in some port … which the enemy now claims his own." He boarded the destroyer USS Baldwin and circled the USS Arkansas and USS Nevada, then gave a rousing speech to the assembled crew of the USS Texas, plus several hundred guests from the Allied ships.
BBC History: Dwight Eisenhower
Without Northern Ireland, I do not see how the American forces could have been concentrated to begin the invasion of Europe.
May - June 1944
Amphibious assault
NARA/US NATIONAL ARCHIVES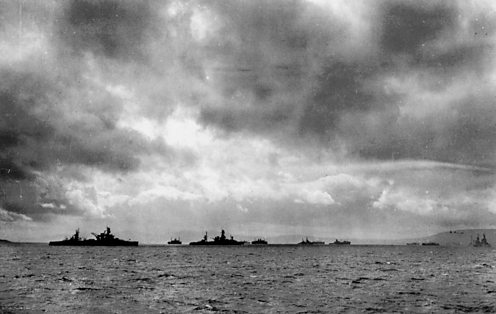 The battleships, USS Texas, USS Nevada and USS Arkansas arrived in Northern Irish waters in early May to bolster the US's Western Naval Task Force.
Some 30,000 Allied forces waited in Belfast Lough to become part of the 14,000 strong, vessel bombardment fleet. The role of the Task Force was to embark, land and support Assault Forces at 'Omaha' and 'Utah' beaches on D-Day in France. Ordered to begin on 3 June, rough seas meant Eisenhower had to postpone D-Day. However, with the weather far from perfect but aware of losing the crucial element of surprise, he gave the order on 4 June to go and so began the largest seaborne invasion in history.
It was immediately evident to the sailors when they arrived at Bangor on 27th April 1944 that they were to participate in history's greatest drama.
July 1944
Welcomed with open arms
You need to have JavaScript enabled to view this clip.
During World War Two the USS Mason was one of two US Navy ships to be manned almost exclusively by an African-American crew.
Before WWII, African-American's had only been permitted to join the US military in auxiliary roles. Under pressure from the government the US Navy allowed two of its ships to be crewed by black servicemen. Although now fighting for their country these sailors were still subjected to segregation and discrimination at home and in the military. That's why the welcome they received in Belfast made headlines in an African-American newspaper back home – 'Irish first to treat USS Mason as Americans'.
August 1944
Music maestros entertain the troops
Felix Mann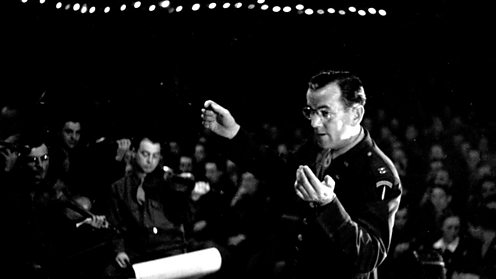 Belfast's Plaza Ballroom was requisitioned by the American Red Cross and served as a meeting and resting place for some of the GIs during the war.
As well as a home from home for many US servicemen – the American Red Cross centre was the venue for many dances and performances during the war. Glenn Miller, arguably one of the most famous musicians of the 1940s, played with his Army Air Force Band to ecstatic crowds at the Red Cross Club and at Langford Lodge. Only four months later the plane the charismatic captain was travelling in disappeared while flying over the English Channel.
March 1946
War brides leave NI's shores
Fox Photos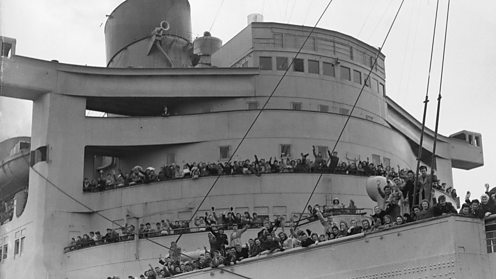 The US military saw active service in many countries and continents during WWII and approximately 65,000 women married American servicemen.
In NI where a vast number of US Military were stationed during WWII, around 1,800 marriages took place between GIs and local women. The first wedding was on 13 April 1942 - just three months after the official arrival of US troops onto Northern Irish soil. At the end of the war 664 Northern Irish GI Brides departed on two ships for New York and a reunion with their American husbands. Some, disillusioned and homesick returned to Northern Ireland but most embraced their new life and country.