The rise and fall of David Lloyd George
The man who won the war?
With Winston Churchill and Margaret Thatcher, David Lloyd George is commonly viewed as one of the 20th century's three foremost British leaders. After becoming Prime Minister in 1916 the Liberal politician led Britain to victory in World War One.
Here some of the BBC's best known presenters – Huw Edwards, Andrew Marr and Jeremy Paxman – explain how Lloyd George transformed the nation in both peace and war before falling from power.
1890
From humble origins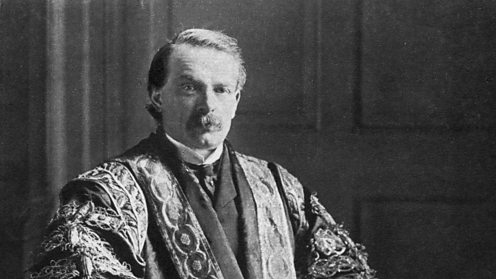 You need to have JavaScript enabled to view this clip.
Forceful, confident and determined, Lloyd George worked his way up from a small village in north Wales where he had been brought up by his uncle.
He was born in 1863 and qualified as a solicitor in 1884, earning a reputation for defending the individual against the establishment. In 1890 he was elected Liberal MP for Caernarfon. David Lloyd George's 1908 appointment as Chancellor of the Exchequer under Herbert Asquith marked the start of his years in power.
Llanystumdwy and the making of a prime minister
We cannot feed the hungry with statistics.
1909-1910
The People's Budget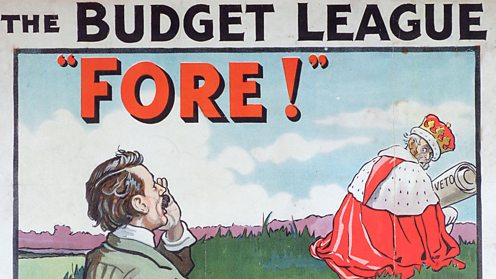 You need to have JavaScript enabled to view this clip.
Upon reaching office Lloyd George hit the ground running with a budget including social insurance for the poor, partly financed by taxes on the rich.
The so-called People's Budget imposed increased taxes on luxuries, liquor, tobacco, incomes and land, to make money available for new welfare programmes. When the budget was rejected by the House of Lords, Lloyd George took on the upper chamber and won. His star was rising. Emboldened, Lloyd George introduced the National Insurance Act 1911, which made provision for sickness and disability, and a system of unemployment insurance.
How Lloyd George's budget spawned political posters
1914
Converted war sceptic
Popperfoto/Getty Images
At the outbreak of the First World War in 1914, Lloyd George was still Chancellor of the Exchequer.
Herbert Asquith's cabinet waited to see how Lloyd George, a staunch opponent of the Boer War, would react to conflict with Germany. In a typically rousing speech in London in September the great orator left no one in any doubt: "It will be a terrible war," he said, "but in the end we will march through terror to triumph."
Discover Lloyd George's power as an orator
The heroic deeds that thrill humanity through generations were the deeds of little nations fighting for their freedom.
1915
Building the war machine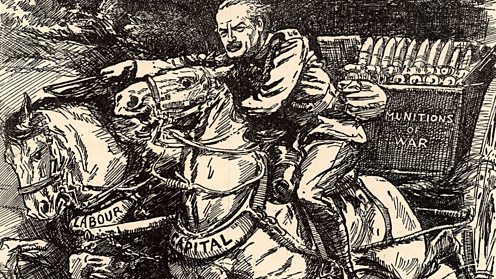 You need to have JavaScript enabled to view this clip.
From 11 Downing Street Lloyd George began to galvanise the British population for full scale war.
By May he had become Minister of Munitions, and immediately set about addressing serious problems with the supply of shells and ammunition to the Western Front. The introduction of women workers in the nation's factories and on its farms was an important move which Lloyd George later hailed as a crucial part of the victory effort.
What did World War One really do for women?
1916
Prime minister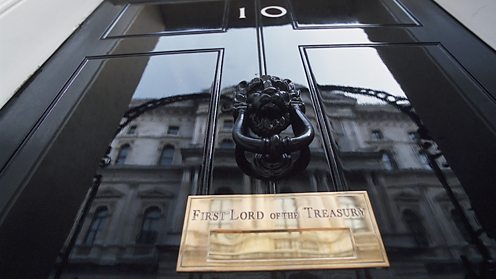 You need to have JavaScript enabled to view this clip.
Increasingly seen as the man leading the war effort, Lloyd George was appointed war secretary in July 1916.
With the support of the Conservative and Labour leaders, the ever shrewd political operator ousted a hesitant-looking Asquith and took control himself. The split in the Liberal party would keep it out of power for the rest of the century. Lloyd George led a five-man war cabinet, effectively the first parliamentary dictatorship since the days of Oliver Cromwell.
Nick Robinson on Lloyd George's presidential approach
June 1917
No appetite for destruction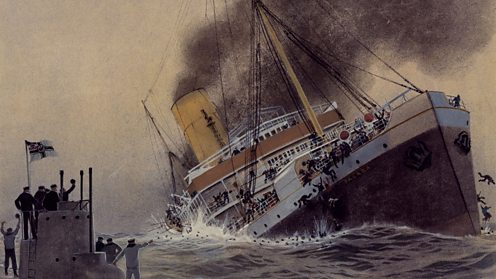 You need to have JavaScript enabled to view this clip.
Britain and her allies were in danger of being starved out of any chance of victory by the war at sea.
April 1917 saw 373 ships sunk by German U-boats. In June the Royal Navy succumbed to pressure, from Lloyd George and others, to introduce a convoy system to enable a safe passage across the Atlantic, and the damage caused by submarine attacks fell away sharply. Food once again made its way to Britain, and Lloyd George's actions helped save the country from defeat.
Discover more about the war at sea: 1914-1918
Haig does not care how many men he loses. He just squanders the lives of these boys.
1917-18
Battles with Haig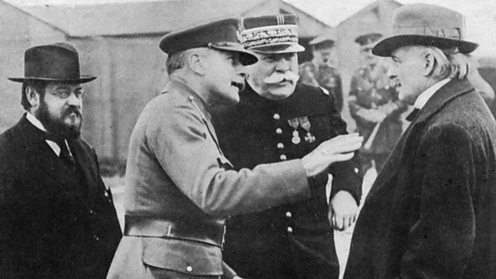 You need to have JavaScript enabled to view this clip.
With his mind set on an active role in war strategy, Lloyd George regularly clashed with his commander on the Western Front, General Douglas Haig.
The prime minister attempted to stem the loss of British casualties by sidetracking Haig and encouraging the French take the lead on the battlefield. This met with little success and alienated Haig.
How a journalist opened Lloyd George's eyes to the war
The thing is horrible and beyond human nature to bear and I feel I can't go on with this bloody business.
1918
Winning the war
Popperfoto/Getty Images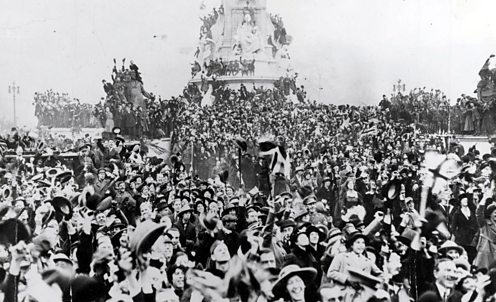 After a German offensive in the Spring, the Allies united on the Western Front.
From August, under Haig's command, the Allied forces chalked up a succession of victories against the Germans which forced an end to the war in November. A month later Lloyd George was re-elected, the country returning him to 10 Downing Street as 'the man who won the war' and who would 'make Germany pay'.
What is our task? To make Britain a fit country for heroes to live in .
1919
Winning the peace?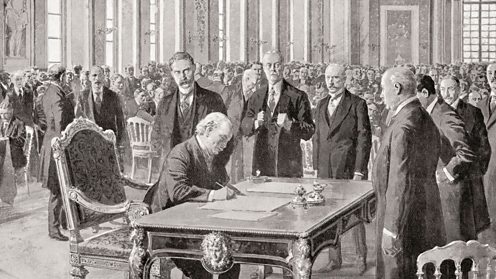 You need to have JavaScript enabled to view this clip.
Delegates from 32 countries met in January near Paris to negotiate the postwar settlement with Germany.
French premier Georges Clemençeau, USA president Woodrow Wilson, Italian premier Vittorio Orlando and Lloyd George all differed in their aims. But in June, cajoled by Lloyd George, they fell in behind a plan for a League of Nations and a peace treaty that would not destroy Germany.
Read more about the peacemaking process at Versailles
October 1922
Fall from power
Print Collector/Getty Images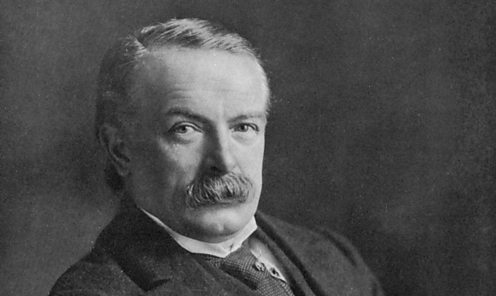 Lloyd George's time in office came to a sudden close in 1922.
In June it emerged he had been selling knighthoods, peerages and other honours. Months later his post-war coalition government crumbled after the Conservatives chose to break off his post-war coalition. Some historians argue that his wartime leadership, when added to his domestic reforms, elevate him above Churchill as a statesman. But others have cast doubt on his war record, suggesting his leadership was heavy-handed and questioning his distrust of his generals.
Look at Lloyd George's life in pictures
A politician is a person with whose politics you don't agree; if you agree with him he's a statesman.