Nine astonishing ways David Attenborough shaped your world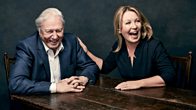 Presented by Kirsty YoungBroadcaster
CelebratingAttenborough at 90on the BBC
Naturalist and pioneer
Sir David Attenborough has inspired millions by bringing the natural world into our homes. But thanks to a life marked by a tenacious desire to explore, innovate and enlighten, his impact is even more surprising than you might expect.
We look back at some of the incredible ways Sir David has helped shape our lives.
1954
Wildlife for the masses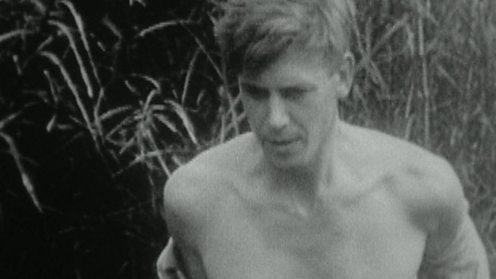 You need to have JavaScript enabled to view this clip.
Sir David Attenborough joined the BBC as a trainee in 1952, having only ever watched one television programme.
His early career included the high octane round-table debate, Animal, Vegetable, Mineral? But the tenacious 28-year-old was seeking new ways to make films and a life outside the television studio. The result was the hit series 'Zoo Quest,' which combined live studio presentation with footage shot on location for the first time. It brought rare animals - including chimpanzees, pythons and birds of paradise - into viewers' living rooms and proved wildlife programmes could attract big audiences.
Watch: Zoo Quest
Watch: Attenborough shares his memories of Zoo Quest
Watch: Discovery of Zoo Quest colour footage
Certainly the most important natural history programme of its time, Zoo Quest is arguably the father of the entire genre.
1965
Civilisation – in colour!
BBC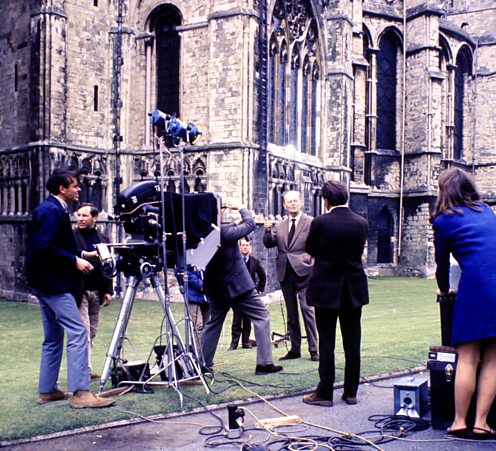 We can't attribute Western civilisation to Attenborough, but we can give him the credit for one of its greatest achievements: colour television.
As Controller of BBC Two, he oversaw the first ever-colour broadcasts in Europe, rushing to beat rival German broadcasters by three weeks. He then commissioned the critically-acclaimed series Civilisation, written and presented by art historian Kenneth Clark. The Ascent of Man, presented by humanist scientist Jacob Bronowski, soon followed. These landmark series helped inaugurate a new kind of television documentary, putting history, culture and science on screen in ways never seen before.
Watch: Clips from ground-breaking series Civilisation
A brief history of BBC Two
I was most proud of the dynasty of [programmes] that started with Civilisation...they were innovative and enriched people's lives.
1969
Monty Python's Flying Circus
BBC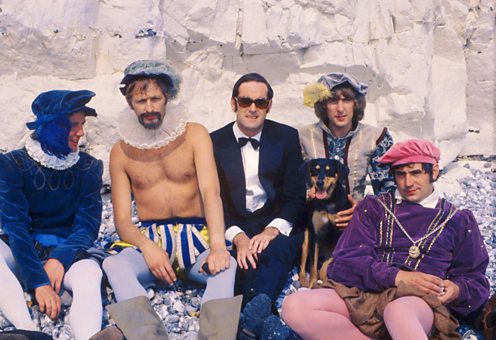 By now BBC Director of Programmes, Attenborough continued to innovate and reinvent television – but this time in the world of comedy.
He commissioned Monty Python's Flying Circus, a cult sketch show which made stars out of John Cleese, Michael Palin, Terry Jones, Eric Idle, Graham Chapman and Terry Gilliam. The show was a global phenomenon, inspiring generations of comedians around the world. In Britain, Python became part of the nation's cultural DNA, encapsulating a recognisably British eccentricity and spawning popular catchphrases and figures of speech.
Watch: David Attenborough - The Early Years
1975
Back to nature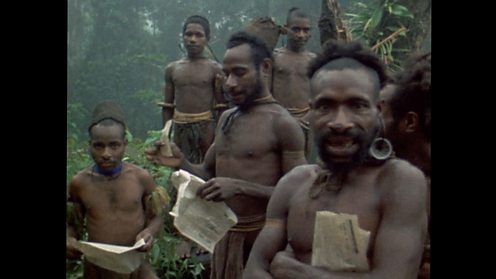 You need to have JavaScript enabled to view this clip.
Long before Bear Grylls slept in a camel carcass, Sir David was trekking through uncharted wilderness to film some of the remotest people on earth.
Freed from his role as a BBC executive, Attenborough went back to nature to become an explorer. He made a series of programmes about tribes, some so isolated it's thought they hadn't been contacted by Europeans before Sir David's arrival. He immersed himself in their cultures, wearing nothing but a loin cloth while filming in the Solomon Islands. In showing us ways of life so different from our own, Sir David helped us understand both the diversity and universality of the human experience.
Watch: David Attenborough's The People of Paradise
Watch: David Attenborough's A Blank on the Map
It is not the differences between us that are important - it is the similarities.
1979
Inventing epics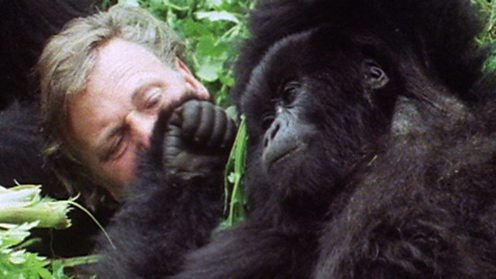 You need to have JavaScript enabled to view this clip.
Now a staple of any self-respecting Brit's television diet, Sir David helped invent the natural history documentary as we know it today.
In the late 1970s, he took inspiration from series like Civilisation and The Ascent of Man and travelled the globe to deliver his definitive take on the wonders of the natural world. A natural history programme of this scale and ambition had never been attempted before. The result was Life on Earth, a televisual feast which used stunning photography and innovative camera techniques to show animals in their natural habitats. It's estimated that 500 million people watched the series worldwide.
Watch: Attenborough's famous encounter with gorillas
Watch: Clips from Life on Earth
1994
A rose by any other name...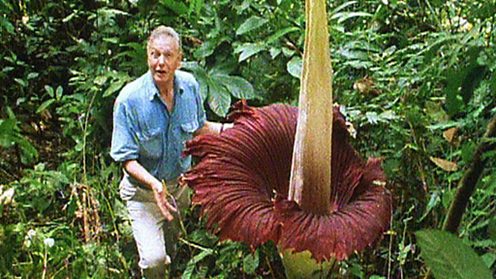 You need to have JavaScript enabled to view this clip.
While filming The Private Life of Plants, Sir David noticed the world's largest flowering plant had quite a racy name – the Amorphophallus Titanum.
Instead, he gave it another name in his script - titum arum - coining the plant's common name in the process. But as well as naming species, many plants and animals have been named after Sir David. They include a flightless beetle, a species of hawkweed found only in the Brecon Beacons and a long-necked dinosaur called the Attenborosaurus.
In pictures: Species named after Sir David Attenborough
2001
Your first glimpse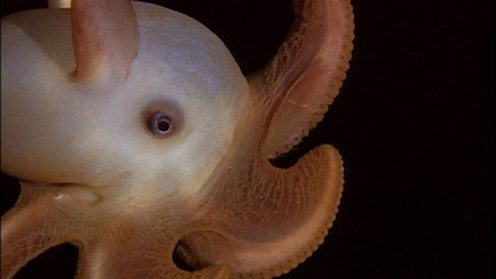 You need to have JavaScript enabled to view this clip.
Without the ambition and persistance of Attenborough and his collaborators, millions of us may never have seen some of the world's rarest creatures.
It's been a constant theme throughout his career, beginning with Zoo Quest in the 1950s, when he famously caught the elusive Komodo Dragon on film for the first time. But in 2001, we were given an insight into a strange new world, when Attenborough narrated The Blue Planet. The series introduced millions to the wonders of the deep sea and was the first time some species, including the hairy angler fish and the Dumbo octopus, were captured on film.
Watch: Rare footage of chimpanzees on the hunt for meat
No living person has done more to make the people of Planet Earth aware of the world around them.
2015
Pushing boundaries
BBC/Atlantic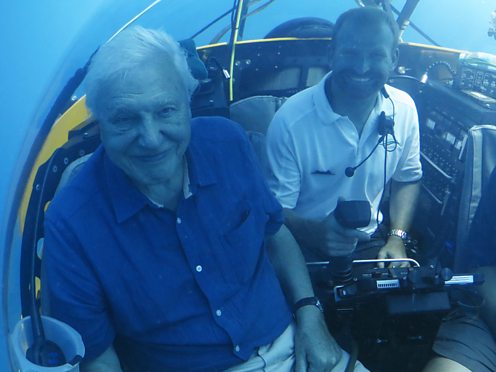 From colour broadcasts to 3D television, Sir David has always been at the forefront of pioneering technology in broadcasting.
In 2015, he dived 1,000ft in a submersible off the Australian coast to film previously unseen parts of the Great Barrier Reef, breaking the record for the deepest ever dive on the reef. He also recently collaborated with the Natural History Museum on a virtual reality project, and is filming his next BBC series – Planet Earth II – in Ultra HD. Next time you tune into a major Attenborough documentary, you can be pretty sure you're witnessing a breakthrough in future broadcasting technology.
Watch: Sir David comes face to face with sharks
360 video: Attenborough and the giant dinosaur
It is an extraordinary period in natural history film-making... there is almost nothing I can think of that we can't do.
2015
Saving the world
BBC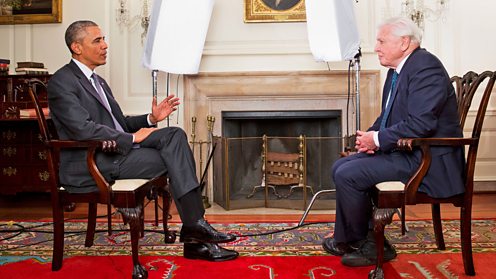 Sir David has always said he didn't start making programmes with conservation in mind - he simply enjoyed observing the natural world.
But as time passed, he became aware that the animals and habitats he was filming were under threat. He's authored documentaries which overtly tackle environmental issues but prefers a subtler approach, showcasing the natural world in the hope we might be inspired to preserve it. Counting President Obama among his biggest admirers, Sir David has done more than almost any other person to help millions of us understand and appreciate the wonders of the world around us.
When President Obama met David Attenborough
People won't care to save something they don't know anything about.