The top of the world: A timeline of climbing Everest

ConsultantEd DouglasWriter and climber
Top of the world
Mount Everest towers above the Earth and is a lure to thrill-seekers. But it is fraught with danger as avalanches, exhaustion, altitude sickness and deep crevasses lie in wait.
Pioneering mountaineers have spent decades gaining knowledge about routes and developing equipment that has opened the door to the top of the world. So what are the feats of human endurance and ingenuity that have enabled us to conquer Everest?
1852
Discovery
Getty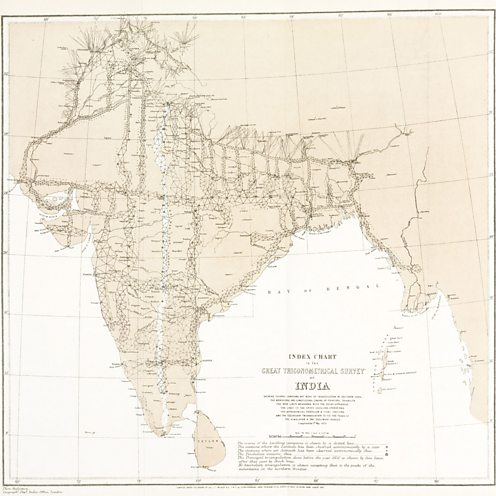 We have only known Mount Everest is the highest place on Earth since the middle of the 19th Century.
In the days of the Empire, British civil servants, soldiers and traders needed accurate maps of the Indian subcontinent. During their epic survey they worked out that Peak XV, on the border between Nepal and Tibet, was the tallest mountain in the world. The man in charge of the mission, Andrew Waugh, decided to name it in honour of his predecessor, George Everest. But to the Tibetan people who live in its shadow, it is Chomolungma – Goddess Mother of the Earth.
BBC News: The man who 'discovered' Everest
BBC Wales: Sir George Everest
Survey History: Sir George Everest and Survey of India
I do not for a moment say that it would be wise to ascend Mount Everest, but I believe most firmly that it is humanly possible to do so.
1913
Towards Everest
Getty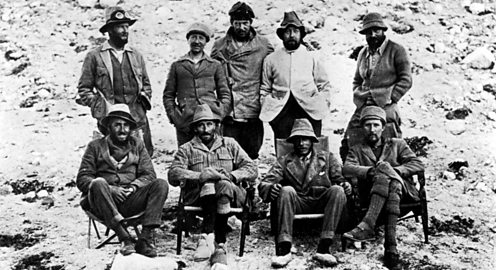 The Tibetans had no interest in climbing Everest until European mountaineers, who had honed their skills in the Alps, came looking for new challenges.
One of those interested in climbing Everest was a British army officer, John Noel. Both Nepal and Tibet refused entry to access the mountain but he ignored the ban and slipped into Tibet dressed as a Buddhist pilgrim. He managed to get within 40 miles of Everest's "glittering spire" before being turned back by the Tibetan authorities.
BBC News: Tibet profile
1921
First attempts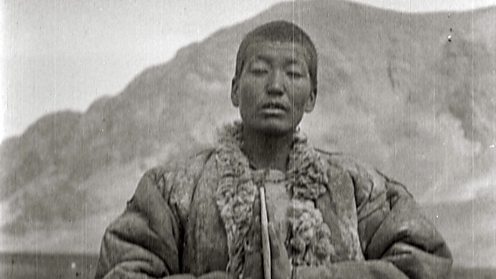 You need to have JavaScript enabled to view this clip.
After WW1, an agreement was reached to allow British climbers into Tibet and the first attempts to go up Everest were made.
In 1921 a reconnaissance team was sent to find a route up the mountain. With information gained from this trip, an attempt was then made in 1922. It failed to reach the summit but set a new world record height of 27,316ft (8,326m). The 1924 trip pushed even further, getting to 28,116ft (8,570m). Thirteen men died on these expeditions, including George Mallory who disappeared during a summit attempt in 1924. Despite these heavy casualties, interest in climbing Everest was a strong as ever.
BBC News Magazine: Should we solve Everest's mystery?
1935
Thwarted 30s
Getty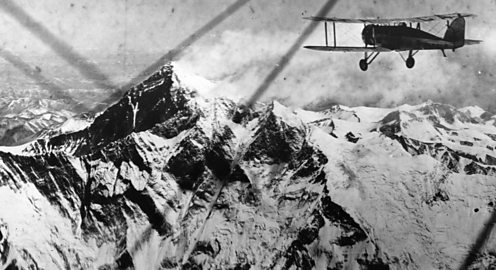 During the 1930s, climbers kept striving for the summit and discovered a new route to help future attempts.
On the 1935 reconnaissance expedition Eric Shipton came up with the idea of reaching the summit of Everest from the Western Cwm – a bowl-shaped valley on the south side. This route would be used by the first two men to successfully climb Everest nearly two decades later. During this period, mountaineers also experimented with oxygen, learning more about when to use it as well as improving the equipment itself.
The Guardian: The first flight over Everest
1951
Closer
Getty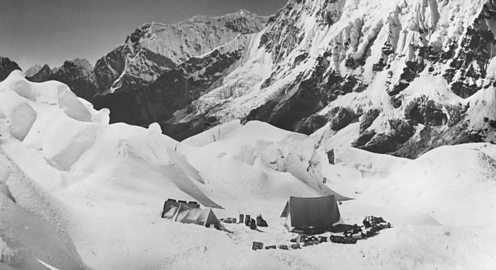 Eric Shipton led a reconnaissance trip back to Everest in 1951 and put his theory to the test by actually reaching the Western Cwm.
However their progress was blocked by a huge crevasse and they were forced to turn back. But the next year a Swiss team rigged a rope bridge across the crevasse and became the first mountaineers to enter the Western Cwm. They pushed further on but had to stop when their oxygen equipment failed. Despite this, they got further and higher than anyone had done before, reaching 8,595m. But one member of the team – the Sherpa, Tenzing Norgay – went on to reach the top of the world two years later.
BBC Newsround: What does a Sherpa at Mount Everest do?
Swiss Info: Swiss team praised as Everest pioneers
It is not the mountain we conquer, but ourselves.
1953
Success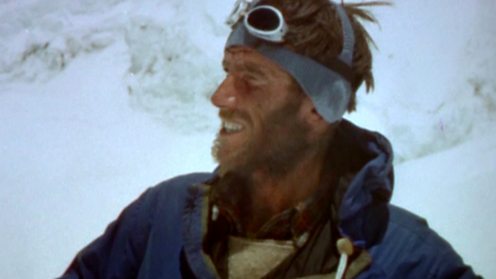 You need to have JavaScript enabled to view this clip.
Everest was finally conquered in 1953 by Tenzing Norgay together with New Zealander Edmund Hillary.
Hillary and Tenzing were in better physical condition than the Swiss and more able to tackle the final arduous metres to the summit. Their success was partly due to a different leader of the expedition, John Hunt, who had taken over from Eric Shipton. Hunt's military experience meant he was a thorough planner. He also took greater notice of scientific advice including how climbers should acclimatise to high altitude, when to use oxygen and what to eat and drink.
BBC News: Hillary and Tenzing conquer Everest
1975
Women at the summit
John Van Hasselt/Corbis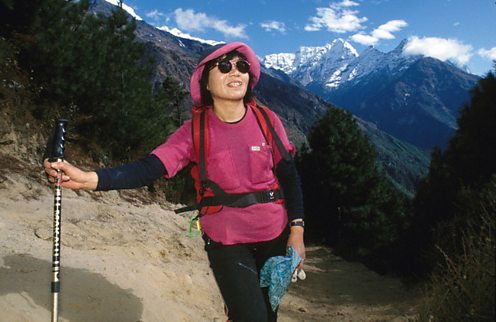 In 1975 the first woman, Junko Tabei of Japan, climbed to the summit of Everest.
Since then there have been many others, including Rebecca Stephens who became the first British woman to reach the top. Another famous British success was Alison Hargreaves who reached the summit in 1995 without bottled oxygen and unsupported by Sherpas. As a mountaineering achievement it illustrated women can be as strong as men at altitude. However Hargreaves died on the descent from the summit of K2 later that year.
BBC On This Day: Alison Hargreaves
1975
The hard way
Getty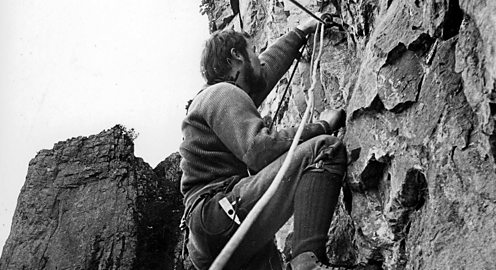 By the 70s, mountaineers were looking for new and harder ways to get to the summit. A British pair succeeded on the most difficult route yet.
Chris Bonington led a team aiming to climb Everest 'the hard way' on the south-west face. Two team members, Doug Scott and Dougal Haston, were successful and became the first Britons to climb Everest. Bonington himself had to wait until 1985. The team used the previous ascent strategies of fixed ropes, large camps and porters. But these large expeditions felt like cheating to many who wanted to climb without support or bottled oxygen – by so-called 'fair means'.
The Guardian: Everest beaten - the hard way
When we proposed climbing Everest without oxygen… they said we would lose our brains up there.
1978
Pushing harder
Getty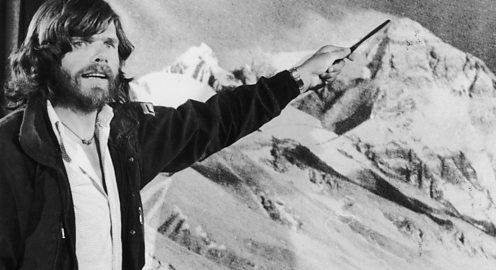 In 1978 Reinhold Messner, one of the greatest mountaineers ever, climbed Everest without supplemental oxygen alongside Peter Habeler.
Two years later Messner pushed the boundaries even further and climbed Everest completely alone by the north face. From this point on, Everest became big business and commercial climbing companies have brought in more and more people to Everest. Elite mountaineers have turned to other peaks for their thrills.
National Geographic: Reinhold Messner
2015
Deadly price
Christian Kober/Getty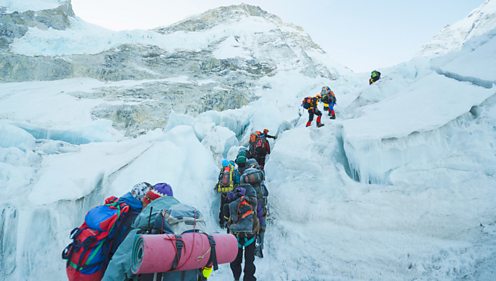 Avalanches in the last two seasons have led to a huge loss of life on Everest and cancellation of the climbing season.
In April 2014, 16 Sherpas and other high-altitude workers were killed in an avalanche while carrying loads up the mountain for their clients. In 2015 a massive earthquake hit Nepal and triggered an avalanche on Everest, killing at least 18 climbers and tourists. The deaths in 2014 started a debate as to whether there are too many people trying to climb Everest. But with guiding companies already taking bookings for 2016, there is clearly still an appetite to reach the top of the world.
Khumbu Icefall, Everest – Making of
Now everybody wants to buy the ticket to the summit and the Sherpas do all their work.