Nelson Mandela: The last great liberator?
From racial segregation to global inspiration
Nelson Mandela lived one of the most remarkable lives of the 20th Century. Born in an era of racial segregation and oppression in South Africa, he made it his life's mission to fight for an equal and democratic society in his country.
After 27 years in jail, Mandela helped prevent civil war and became South Africa's first black president. By the time of his death he'd become a renowned statesman and global icon. Discover how Mandela went from prison cell to presidential office.
18 July 1918
One of many children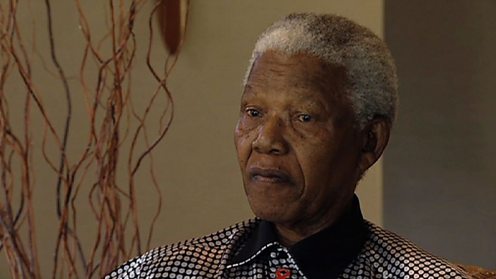 You need to have JavaScript enabled to view this clip.
Rolihlahla Mandela was born in the village of Mvezo, Transkei, South Africa on 18 July 1918. His name meant 'trouble maker'.
Mandela's father, Hendry, was an advisor to the Thembu royal family. He was a polygamist with four wives. Mandela was one of 13 children, the youngest of four boys. He was the first in his family to go to school; the English name 'Nelson' was given to him by a teacher, as was the custom. As a child, Mandela said his ambitions were to eat well and be a champion stick fighter.
1930
Gaining a sense of identity
Carl da Souza/AFP/Getty Images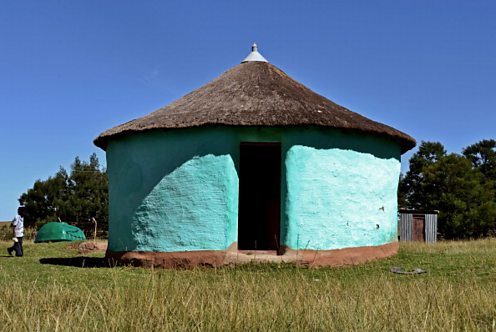 When Mandela was around 12 years old his father died and he was entrusted to the regent of the Thembu people. Here he learned the art of leadership.
He watched the regent lead council meetings and run the village's business. The older men in the village taught him about his cultural heritage, and he dreamed of being a hero in another age. His eyes were also opened to the inequality of life in South Africa. The minority whites enjoyed political supremacy at the expense of the black population who were denied basic rights. The contrast became even more evident to him when he went to Healdtown College.
Mandela's cousin recounts his rebellious early life
1937
Stirrings of discontent
Luyolo Stengile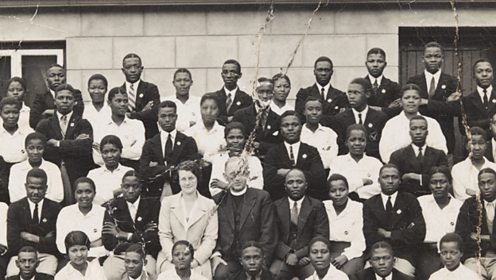 At Healdtown, the 19-year-old Mandela first learned of the existence of the African National Congress (ANC).
They sought to defend the voting and land rights of black Africans. After finishing college, Mandela went to Fort Hare University. He was expelled in his second year, for refusing to join the students' council because of a dispute over the canteen food. He returned to his village Mqhekezweni in disgrace. The regent, his guardian, was furious at the expulsion and arranged a marriage for Mandela. Mandela was determined to choose his own wife. Feeling trapped, he fled to Johannesburg.
I knew it was foolhardy of me to leave Fort Hare, but at the moment when I needed to compromise, I simply could not do so.
1944
Joining the ANC Youth League
Keystone/Hulton/Getty Images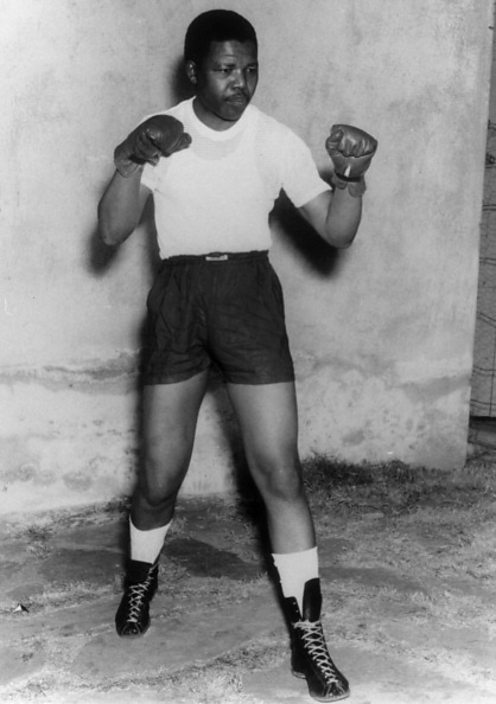 After a dramatic journey, including being fined for carrying his father's old gun, Mandela settled in Alexandra township.
He began attending ANC meetings in 1941 and made his made mark by helping to manage the newly founded Youth League in 1944. More radical than the main party, the Youth League increasingly rejected passive resistance to the government in favour of a more confrontational approach. In the same year Mandela also married Evelyn Mase, a nurse he met through his friend Walter Sisulu. They had two sons and two daughters, one of whom died in infancy.
ANC at 100: Thousands attend celebration rally
1948
Apartheid begins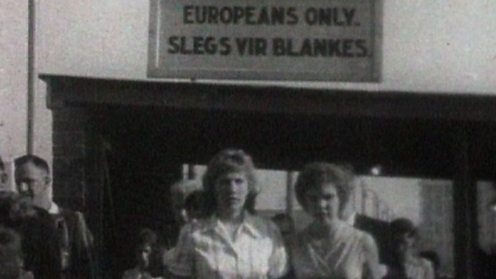 You need to have JavaScript enabled to view this clip.
At 29, Mandela's star was rising within the ANC. He wasn't yet one of its foremost leaders, but was elected executive of the Transvaal Provincial ANC.
In 1948, the extremist National Party was elected to government. It quickly began to implement a policy of apartheid, extending racial segregation and introducing other racist measures. Mandela sensed that South Africa would become a place of 'tension and strife' for black South Africans. Their rights immediately came under sustained attack. Among other measures, every individual was categorised by race and it became illegal to marry across the colour line.
Photographs of apartheid South Africa
They dressed in beautiful suits, silk shirts and silk ties, but they were like a grave – beautiful outside and full of evil inside.
1950
The start of mass civil disobedience in South Africa
Jurgen Schadeberg/Getty Images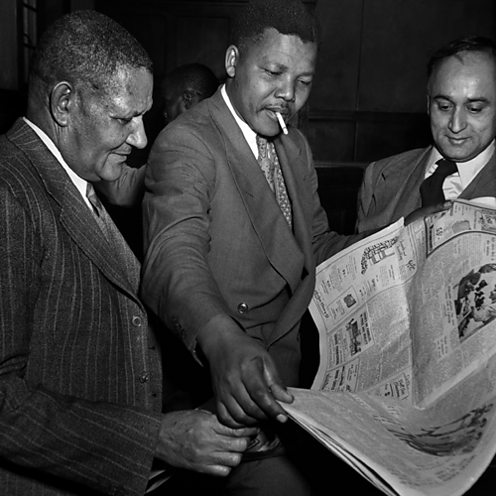 In 1950 Mandela became a member of the ANC's National Executive Committee, as well as president of its Youth League.
Two years later he became deputy president of the ANC. Its hitherto cautious policies were replaced with an agenda of mass civil disobedience. Segregation laws were deliberately broken to overwhelm the criminal justice system. Mandela became volunteer-in-chief of the 'defiance campaign' and began to be widely recognised in public. Consequently, he was arrested, convicted and declared a 'banned' individual. He could no longer leave Johannesburg or meet with political compatriots.
1956
On trial for treason
Keystone-France/Gamma/Getty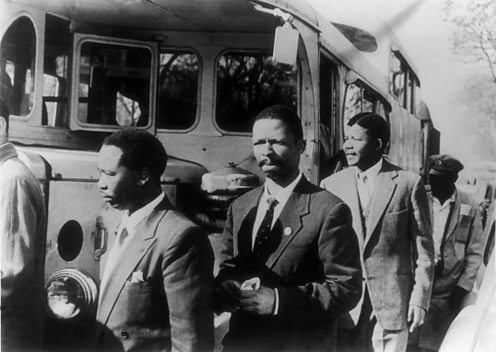 Having long been a thorn in the side of the government, Mandela was finally arrested on charges of high treason in December 1956.
He went on trial with 155 other political leaders, including ANC colleagues Walter Sisulu and Oliver Tambo. The trial dragged on for nearly five years. Mandela often stayed in prison at night and worked in the day at his law firm. His marriage to Evelyn, meanwhile, was slowly disintegrating. Finally, in May 1961, along with all the other remaining defendants, he was acquitted. The judges ruled there wasn't enough evidence to prove the defendants intended to overthrow the state by violence.
Mandela reunited with co-accused
1958
Mandela marries Winnie Madikizela
OFF/AFP/Getty Images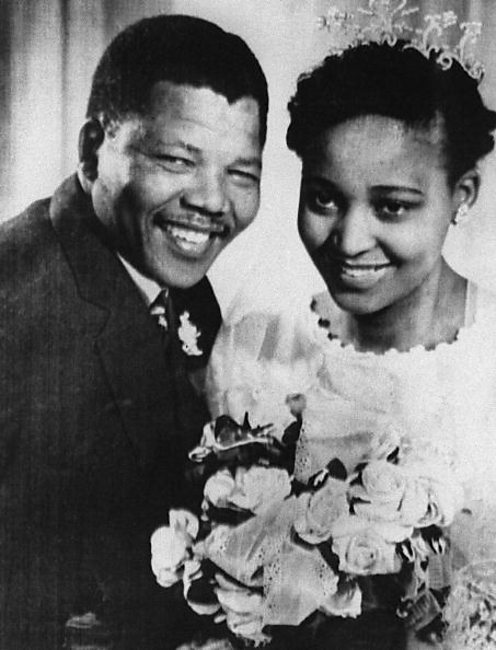 By 1958, his marriage to Evelyn had come to an end, and they divorced.
Later that year, Mandela married Nomzamo Winnie Madikizela, a social worker originally from a rural area of the Transkei. They first met when she visited the law firm in Johannesburg where he was working. He said the moment he saw her he knew he wanted her to be his wife. She quickly became an active member of the ANC and they went on to have two daughters.
Profile: Winnie Madikizela-Mandela of South Africa
1960
Sharpeville: A turning point?
Universal History/UIG/Getty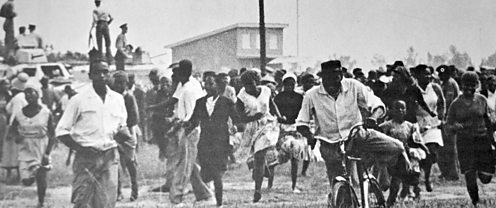 In March 1960 there was worldwide revulsion when 69 black anti-apartheid demonstrators were killed by police in Sharpeville, south of Johannesburg.
The protest centred around the 'pass laws' which required identification to be carried by all black men and women, controlling their movement from one area to another. The government went on to declare a state of emergency and banned the ANC. Mandela knew that change was needed and was pivotal in convincing the ANC to drop the policy of non-violence. He helped establish its military wing – Spear of the Nation.
South Africa's Sharpeville massacre remembered
1961
The Mandela legend starts to grow
World History Archive / Alamy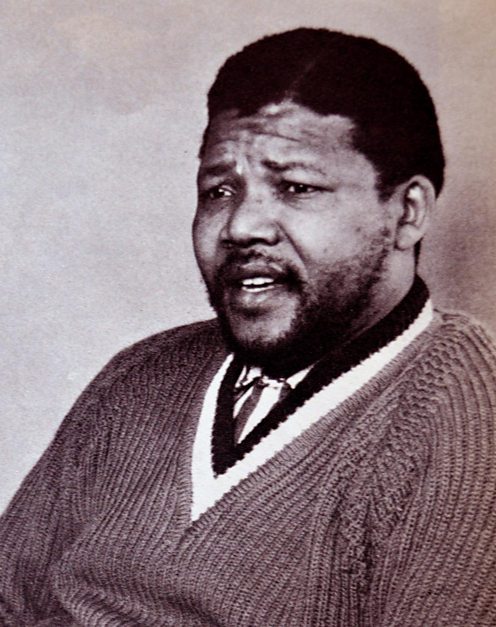 In 1961 Mandela went underground and became referred to as the `Black Pimpernel' by the press.
This was because of his audacious appearances in public and the police's inability to catch him. That year Spear of the Nation launched its first attacks. Power lines, railways and government buildings were all blown up in 200 actions from 1961 to 1964. Loss of life was accidental or incidental – there was no policy of deliberately killing people. For Mandela and the other leaders, the purpose was mainly symbolic and intended to bring the government 'to its senses'.
There are many people who feel that it is useless and futile for us to continue talking peace and non-violence.
1963
The Rivonia trial
Sipa Press/REX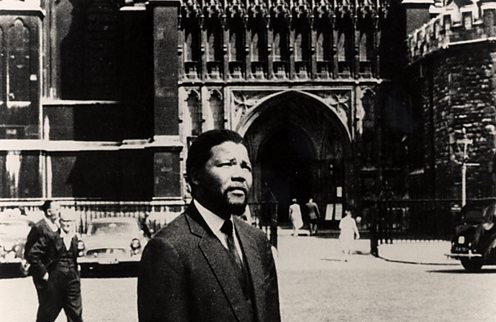 In January 1962 Mandela secretly went abroad for military training and to raise funds for an armed fight. He visited Morocco, Europe and London.
Shortly after returning to South Africa in July 1962, he was captured and jailed for five years for leaving the country illegally. While he was in prison in 1963, the police captured most of the senior ANC underground who were finalising plans for armed resistance against the state. They and Mandela pleaded not guilty during the 'Rivonia trial' but he was convicted and sentenced to life on Robben Island. His speech from the dock has gone down as one of the great speeches of the 20th Century.
Excerpts of Mandela's Rivonia speech
I have cherished the ideal of a democratic and free society in which all persons live together in harmony and with equal opportunities.
1964
Life in prison on Robben Island
AFP/Getty Images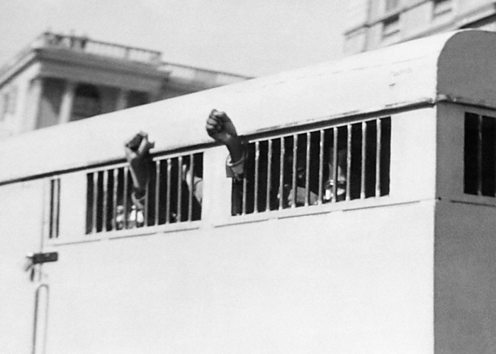 Mandela's 27 years in prison were largely spent in Robben Island's newly built political wing, in a tiny cell with a slop bucket and no proper bed.
The system was designed to humiliate prisoners, reminding them of their powerlessness. He was frequently in solitary confinement, which he found challenging. Regular visitors, letters and books were strictly controlled. He often had to break rocks in a nearby quarry. He led protests against indignities like poor food, exercised every morning and played chess. His lowest points were the deaths of his mother and eldest son, and the maltreatment of his wife Winnie by South African authorities.
Obama 'humbled' to visit Mandela's Robben Island jail
It is only my flesh and bones that are shut up behind these tight walls.
1970
International sanctions against South Africa
TCI/EyeOn/UIG/Getty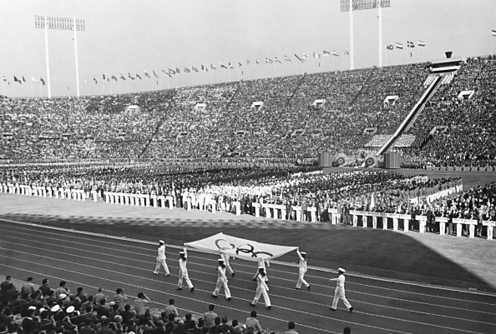 After decades of racial oppression and the jailing of ANC and other political leaders, South Africa was being rejected by the international community.
While Mandela was in jail, there were boycotts by musicians and cultural figures, including Dusty Springfield, who refused to play to segregated audiences. In 1970 the 'Stop the Tour' movement was launched, preventing white South African rugby players and cricketers from playing in test matches. The country had already been banned from the Olympics. In the mid 1970s, economic sanctions and policies of disinvestment followed. The trade in arms with the apartheid state was also prohibited.
1976
Mandela in prison
Hoberman Collection/UIG/Getty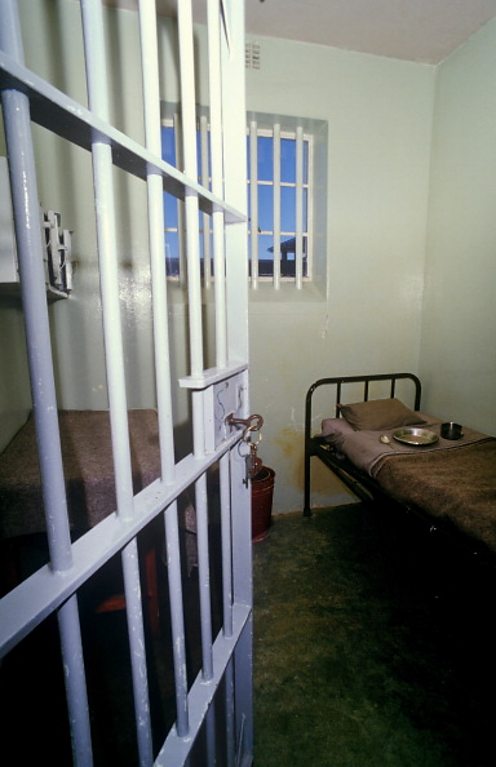 Mandela's prison conditions had begun to ease a little by the 1970s and he began to consider the possibility of political negotiation over violence.
Mandela studied Afrikaner history to understand his oppressors better, and encouraged other ANC prisoners to do so too. In 1976 he started to secretly write his autobiography. It was later published and called the Long Walk to Freedom. He was becoming a famous political prisoner, but few outside the prison knew what he looked like. In South Africa it was illegal to print photos of him. From around 1978 Mandela gradually became the focal point for the global campaign against apartheid.
Nelson Mandela memoir to be published next year
1988
The Mandela legend spreads across the world
Peter Still/Redferns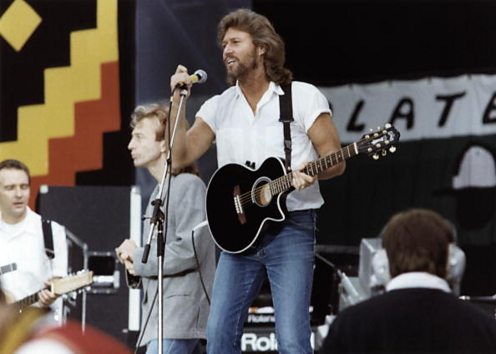 As Mandela's fame grew throughout the 1980s, pressure from internal and external forces to release him increased.
High profile events were held, such as Nelson Mandela's 70th birthday concert in 1988, when artists including Stevie Wonder performed to a packed Wembley Stadium. Watched by 600 million viewers worldwide, it raised awareness of his imprisonment and the anti-apartheid struggle. Meanwhile, South Africa, facing growing internal difficulties, had declared a state of emergency. The government gradually brought Mandela into informal discussions to find a solution to the political crisis.
11 February 1990
Release from prison and the dawn of a new era
Allan Tannenbaum/LIFE/Getty
In 1990, the South African government finally responded to internal and international pressure and released Mandela, lifting the ban on the ANC.
After 27 years in prison, his release was a global news event, watched by millions across the world. The apartheid laws were repealed by President FW de Klerk, and in 1991 Mandela became the ANC's president. The period after 1990 was marked by a major escalation in violence and fighting amongst rival political and ethnic groups. As the situation worsened, Mandela's call for calm revealed him as a key advocate of reconciliation and a respected voice of leadership.
Nelson Mandela Freedom Concert in 1990
10 May 1994
Mandela becomes president of South Africa
Per-Anders Pettersson/Getty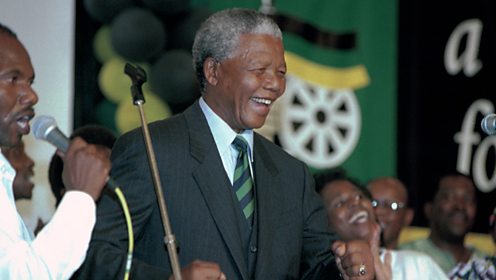 Mandela was awarded the Nobel Peace Prize together with FW de Klerk, then president of South Africa, in 1993.
The following year, South Africa held its first non-racial, democratic election and Mandela was elected as its first black president. Throughout his presidency Mandela took on the role of global statesman, seeking to rebuild the international image of his country and attract investment. Public figures clamoured to be seen with him – from popstars and supermodels to royalty and politicians.
Mandela accepts Nobel Peace Prize
We will do what we can to contribute to the renewal of our world.
1996
Dawn of a different life
Hrvoje Polan/Getty Images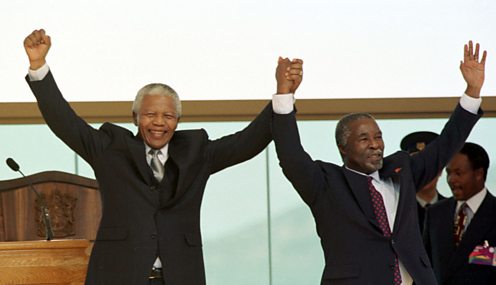 In 1996, after nearly 40 years of marriage, Mandela divorced Winnie.
In 1997 he stepped down as ANC leader. The following year, on his 80th birthday, he was married to Graça Machel, the widow of the former president of Mozambique. In 1999 Mandela's presidency of South Africa came to an end when he stepped down after one term, and the final chapter of his life began.
Mandela announces retirement
The reason the world puts him at that level is because you need to feel greatness and goodness...and that greatness is possible within a human being.
1 June 2004
Acknowledgement and reflection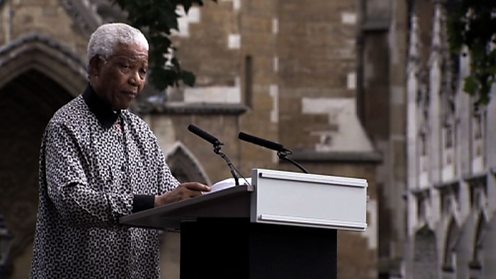 You need to have JavaScript enabled to view this clip.
In 2004, Mandela announced his retirement from public life, although his charitable work continued.
His intention was to spend more time with his family and friends and in 'quiet reflection'. "Don't call me, I'll call you," he said. On 29 August 2007, a permanent statue of him was unveiled in Parliament Square, London, around 50 years after he'd been in the city seeking political support for the ANC. However, he was not always able to resist the call to perform certain public roles, such as his appearance at the finals of the football World Cup in South Africa in 2010.
The world remains beset by so much human suffering, poverty and deprivation. It is in your hands to make of our world a better one for all.
5 December 2013
Death of an icon
Alexander Joie/AFP/Getty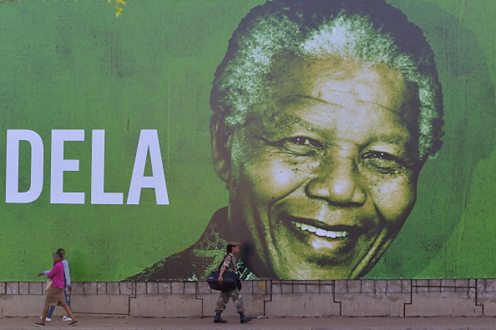 Nelson Mandela died on 5 December 2013, aged 95.
He had been suffering from a series of worsening respiratory problems said to have been caused in part by working in the prison quarry. His final months were covered in detail by the international press. His death was marked by an outpouring of grief and 10 days of commemorations in South Africa. He was buried in Qunu, his ancestral home, the ceremony marked by a military flypast and attended by local villagers and guests including His Royal Highness the Prince of Wales.
Hardtalk: Makaziwe Mandela, daughter of Nelson Mandela
The world is grateful for the heroes of Robben Island, who remind us that no shackles or cells can match the strength of the human spirit.