Break a leg: A history of British theatre

Academic consultant Dr Victoria PriceTheatre studies lecturer
The bright lights of the British stage
British theatre has a rich history, from playwrights like William Shakespeare to actors like Laurence Olivier. Today audiences still love to go to the theatre to be entertained and challenged, hearing ideas that may not be expressed anywhere else.
But it wasn't always like that. Initially theatre was used by the church and royalty to spread their ideas. Gradually it became a vehicle to make everyone's voice heard. So how did this come about?
1350
Religion and the beginning of British theatre
Bridgeman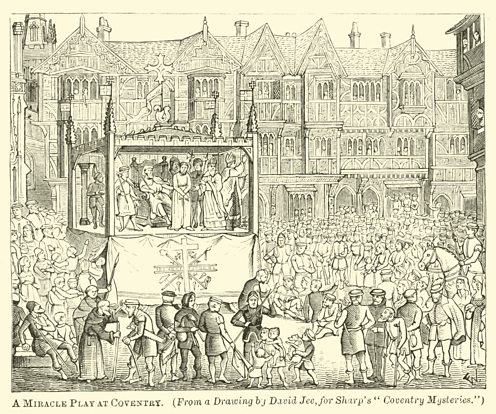 During the upheaval of the medieval period the church used religious stories as a way of controlling and distracting the country.
Theatre essentially grew out of this religious storytelling. Entertaining the public became necessary especially after the trauma of the Black Death. Plays took the form of mystery cycles and miracle plays. Mystery cycles dramatised stories from the Bible, while miracle plays told stories about the lives of saints. Parishes created these plays in order to communicate moral lessons to society. Through these organised performances, the concept of theatre began to take root in Britain.
V&A Museum: Early theatre
1576
Royalty and entertainment
Bridgeman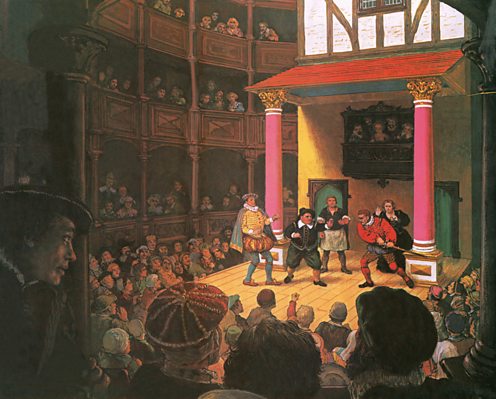 After centuries of religious inspiration for theatre, Henry VIII banned all religious performances to prevent plays from spreading Catholicism.
He had set up his own church – the Church of England – and demanded his people follow this faith instead. Post Reformation plays instead aimed to entertain influential people and foreign VIPs. Theatre flourished in the 16th Century and The Theatre, one of the first purpose- built playhouses, opened its doors in London in 1576.
1599
The Globe Theatre
Bridgeman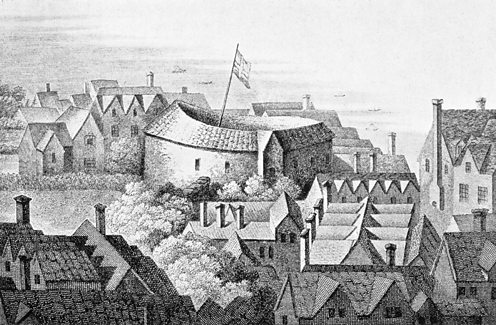 Although theatre thrived during the Elizabethan era it was still under royal control and playwrights faced imprisonment if they went too far.
However, the possible repercussions playwrights faced from the elite did not stop the industry from growing and in 1599 the iconic Globe Theatre was built. The theatre was constructed for the Lord Chamberlain's company and amongst its members was William Shakespeare. He wrote some of his most famous plays for the Globe – including Hamlet. Instead of taking inspiration from religion, as was the method before the Reformation, Shakespeare's plays tended to explore the human condition.
Shakespeare's Globe: The first Globe Theatre
Shakespeare's Globe: The rebuilt Globe Theatre
All the world's a stage, And all the men and women merely players
1660
More royal restrictions
V&A Images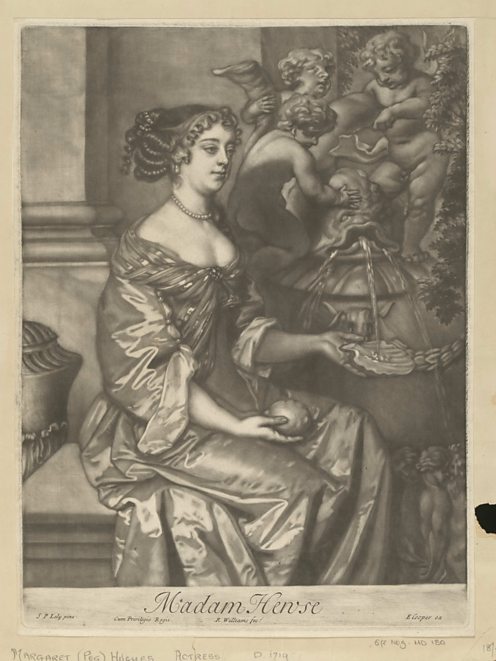 After the English Civil War, theatres experienced more restrictions. King Charles II saw theatre as a way to establish control over the country.
While in exile he saw how Louis XIV managed and controlled French theatre and Charles copied his approach by issuing royal patents to just two theatres. This restricted dramatic opportunities as only these two could perform serious drama and the remaining theatres had to perform comedy or melodrama instead. Patented theatre became known as legitimate theatre and non-patented theatre as illegitimate theatre. But progress was seen when Margaret Hughes became the first woman on stage in 1660.
Encyclopaedia Britannica: Patent Theatre
V&A Museum: 17th Century Theatre
Oxford Dictionary of National Biography: Margaret Hughes
1737
Censorship
Getty Images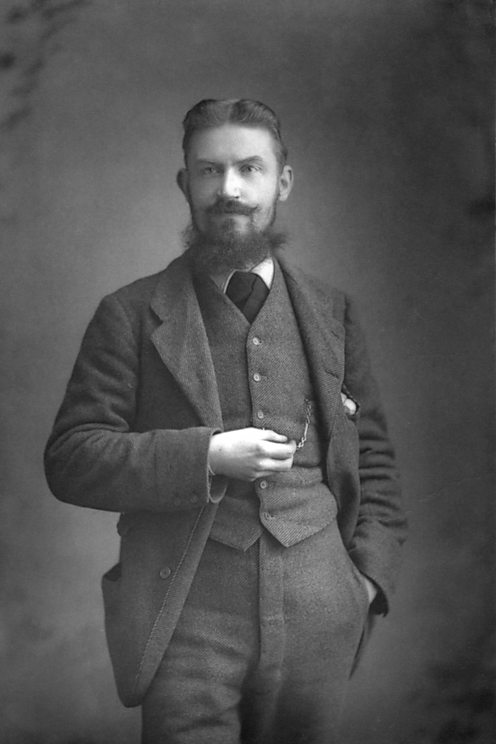 Despite the restrictions of the royal patents, theatre began to satirise the government. In response politicians tightened theatrical censorship.
Tipped over the edge by plays attempting to ridicule him, Robert Walpole, the first ever Prime Minister, introduced the 1737 Licensing Act. It gave the Lord Chamberlain – a senior government adviser - the power to stop plays being performed. With dramatic creativity effectively stifled, writers turned to novels or illegitimate theatre for creative freedom. Despite an amendment in 1843, the act remained in place and in use until 1968.
BBC Radio 4 Today: Censorship
Encyclopaedia Britannia: George Bernard Shaw
A History of Government: Sir Robert Walpole
1747
Innovations in acting
You need to have JavaScript enabled to view this clip.
Ten years later, David Garrick's theatrical innovations marked the point when actors, writers and other theatre makers began to take control.
David Garrick was an actor and manager who introduced sweeping changes. Actors were subjected to new and intensive rehearsal techniques and audiences were discouraged from sitting on the stage, as the rich used to do. He was also a champion of Shakespeare and his debut performance on the London stage as Richard III made him an overnight star. Garrick was responsible for radical stylistic advances in acting. He brought more emotion and realism to the exaggerated expressions of the time.
Whilst posterity shall behold him [Garrick] as an inimitable actor, they will no less admire him as a good man.
1867
Naturalism on stage
V&A Images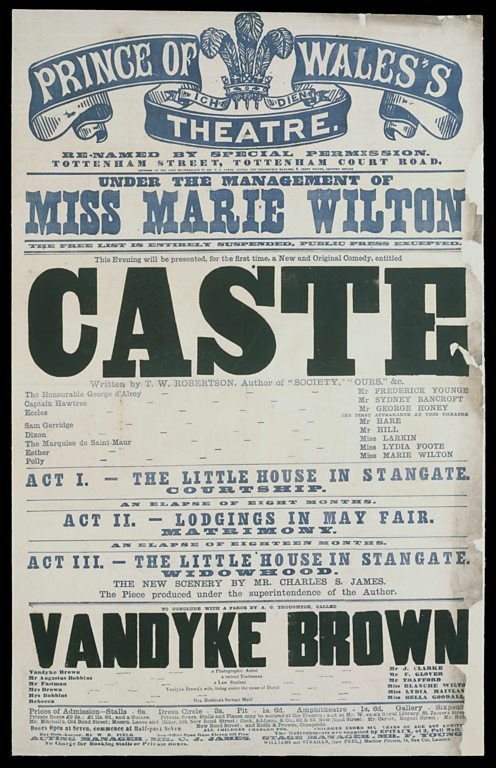 In the Victorian era theatre's popularity meant the patent system no longer worked. So it was ended in 1843 allowing more opportunities in drama.
TW Robertson was one playwright to benefit from this. He presented the audience with realistic sets, everyday stories and natural dialogue. His representations of domestic realism became known as 'cup and saucer dramas': one of his greatest successes was Caste, a play about rank and social classes. The end of the patent system allowed theatre to develop artistically. It set the stage for playwrights such as Oscar Wilde who like Robertson tended to focus on the lives of the privileged.
Encyclopaedia Britannica: Thomas Robertson
V&A Museum: 19th Century Theatre
Encyclopaedia Britannica: Sir Squire Bancroft
1947
Kitchen sink dramas
Corbis Images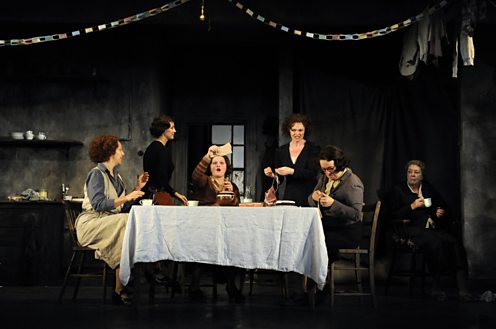 Interest in the arts grew in post-war Britain and audiences were keen to see stories that they identified with. 'Kitchen sink' dramas provided them.
Almost a century on from Robertson's naturalist plays, this new style of play, showed working class life in a level of detail that was still unusual. Men Should Weep by Ena Lamont Stewart premiered in 1947 and told a bleak tale of poverty in 1930s Glasgow. Also in the 1950s writers like John Osborne and Shelagh Delaney were acclaimed for the social realism of their work. The success of Lamont Stewart and Delaney helped pave the way for other women to make their voices heard on the stage.
1955
Power of the director
Getty Images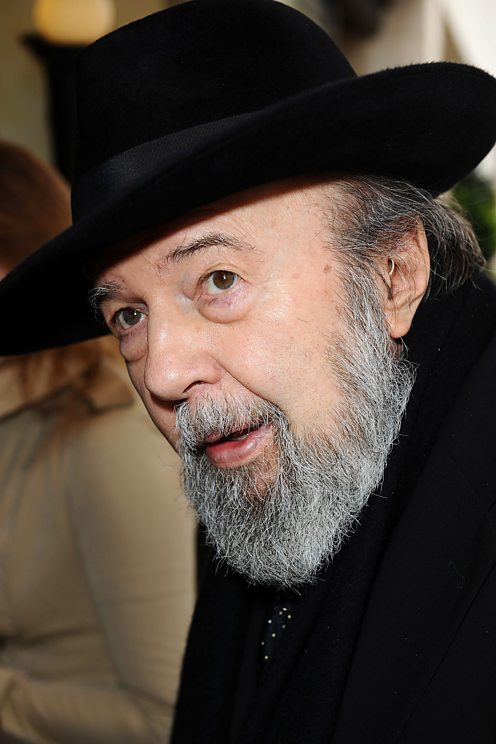 During the 20th Century, more changes happened off stage when the role of the director became the key creative force.
The notion of a directors' theatre began in Europe and spread to Britain. Sir Peter Hall is one of Britain's most celebrated directors. In 1955 he directed the first English language production of Samuel Beckett's Waiting for Godot, which cemented his reputation. His vision also created the blueprint for the Royal Shakespeare Company, a defining moment in British theatre history. Despite his creative innovations he was still restricted by the censorship laws.
National Theatre: Interview with Sir Peter Hall
Independent: And some have greatness thrust upon them...
Encyclopaedia Britannica: Sir Peter Hall
1963
Club theatres and end of censorship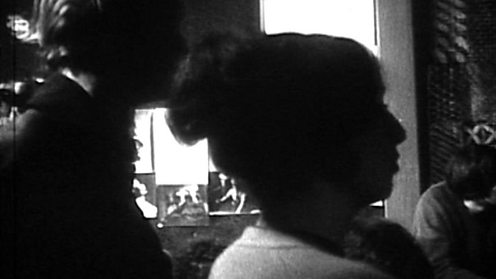 You need to have JavaScript enabled to view this clip.
By the swinging 60s, not only was the power of theatre in the hands of theatre makers, but it had begun to challenge authority.
Until it ended in 1968 theatres avoided the constraints of government censorship by trading as private clubs. The freedom this gave them allowed much more challenging and radical subject matter to be tackled. Plays such as Sartre's Huis Clos – which was set in Hell and featured a homosexual character – were staged. One of the leading theatres of this movement was Edinburgh's Traverse theatre.
Traverse Theatre: History of the Traverse
2006
Contemporary theatre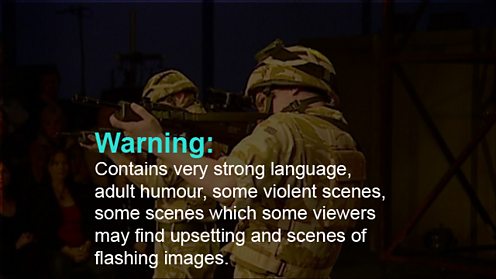 You need to have JavaScript enabled to view this clip.
As the 21st Century dawned, theatre continued to evolve as a vehicle for challenging the establishment and pushing boundaries.
Black Watch, which premiered at the 2006 Edinburgh Festival Fringe, told the story of the Iraq War through the eyes of soldiers from the Black Watch regiment. The play did exactly what the government feared in 1737 and challenged those in power by holding British politicians accountable for the suffering of the soldiers. It was theatre at its controversial and arresting best – a far cry from the restrictive and controlling theatre of the past.
A thrilling verbatim theatre piece with an ensemble of precision and passion.
2015
Contemporary controversy
Corbis Images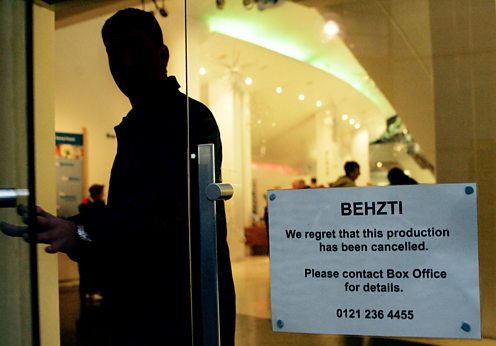 While playwrights have more freedom than ever before, some issues around race and religion have proved problematic for theatres to navigate.
Religious outrage forced the closure of Behzti at the Birmingham Repertory Theatre in 2004. The play sparked riots due to the staging of a rape and murder in a Sikh temple. And in 2015 a National Youth Theatre play called Homegrown, about Islamic radicalisation in a London school, was cancelled days before opening. But despite the difficulties, British theatre continues to reflect modern life, telling stories and challenging taboos.
The Guardian: C is for Censorship
The Telegraph: Censorship in the Theatre