How art went pop: Pop Art timeline

ConsultantKerry WatsonArt librarian and writer
Setting the scene
In the 1960s a new kind of art took the world by storm. Pop Art's colourful creations were based on American images everyone recognised like cars, film stars, as well as everyday products.
Some of these works, such as Warhol's portraits of Hollywood icon Marilyn Monroe, have become instantly recognisable in their own right. But Pop Art did not appear out of nowhere.
1912
Collages and readymades
While Pop Art has been shaped by American culture, its roots can actually be found in the work of the experimental European artists.
Pablo Picasso led the way by making abstract and fragmented collages from bits of newspaper. But Marcel Duchamp would take recycling to a whole new level in 1917 when he displayed a urinal in a gallery. The practice of reusing everyday objects in provocative ways was picked up on by Pop artists in the 1960s. While Picasso and Duchamp may have been the grandfathers of Pop Art, the next innovator was an Edinburgh artist called Eduardo Paolozzi.
MoMA: More on collage art
MoMA: Marcel Duchamp's readymades
1947
The allure of America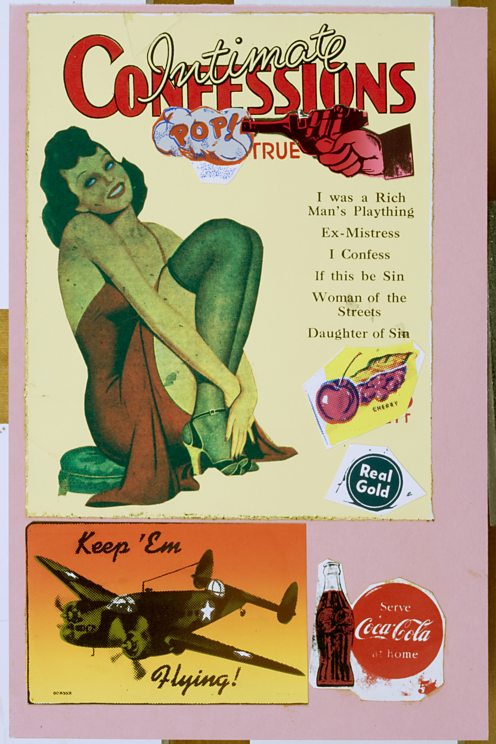 Eduardo Paolozzi is called the father of Pop because of collages he made from American magazine adverts.
He was inspired to create these after seeing work by Picasso and Duchamp in Paris. But he was doing something new by using images from American magazines, readily available from the US soldiers stationed in Europe after World War Two. Paolozzi was attracted to them because their "food and automobile ads spoke more eloquently and economically of dreams than any conventional art was able to do". And in the 1950s American artists would also catch on to this artistic potential.
Tate: Gallery of Paolozzi's work
The Guardian: Paolozzi's biography
I tend to like things that already exist.
1954
Stars and Stripes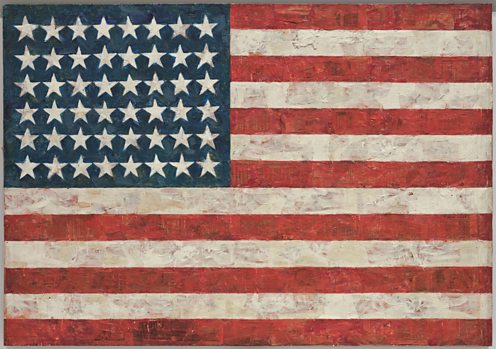 In 1954 Jasper Johns painted an image that everyone knew – the Stars and Stripes – and kick started the Pop Art revolution in the USA.
Johns had been an Abstract Expressionist – a style of art that focussed on communicating emotion without painting anything recognisable. But one night he dreamt he painted the American flag. He got up the next day, bought the materials and got to work. By using intense brushstrokes to recreate this iconic image, Johns bridged the gap between Abstract Expressionism and Pop Art.
Art History: More on Abstract Expressionism
Independent: Abstract Expressionism weapon for the CIA
The artist's job is to be a witness to his time in history.
1955
Combines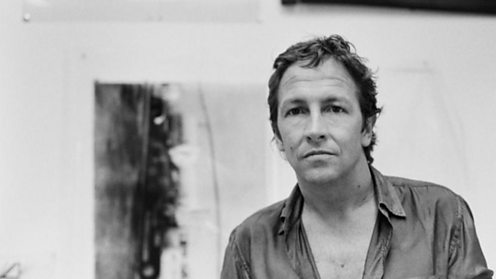 You need to have JavaScript enabled to view this clip.
While Jasper Johns got a creative injection from his subconscious, another American artist got his from poverty.
Robert Rauschenberg began to use everyday objects in his art out of necessity – he could not afford a canvas and so painted onto his pillow and blanket. Even when he could afford materials, he continued to use real objects, paper and fabric instead of a conventional canvas, bringing the everyday into his paintings. But back over on the other side of the Atlantic a group of British artists were moving into new territory.
Artsy: Rauschenberg's work
NY Times: Biography of Rauschenberg
Popular, transient, expendable, low cost, mass-produced, young, witty, sexy, gimmicky, glamorous, big business.
1961
Royal College group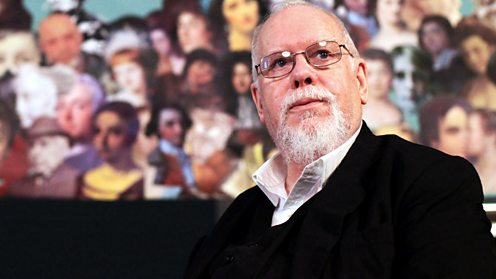 You need to have JavaScript enabled to view this clip.
British artists like Peter Blake, who came to fame in in the early 1960s, were shaped by the images they saw from America.
Blake was part of a group of artists based around the Royal College in London. His fascination with American culture was clear in his 1961 self-portrait where he wears baseball boots and holds an Elvis magazine. David Hockney was also part of this scene. He had been attracted to the glamour of American popular culture since childhood and would go on to great win great acclaim for his Californian pool paintings in the late 1960s.
Central Illustration: Gallery of Blake's art
Hockney Pictures: The work of David Hockney
Pop Art looks out into the world. It doesn't look like a painting of something, it looks like the thing itself.
1961
Comics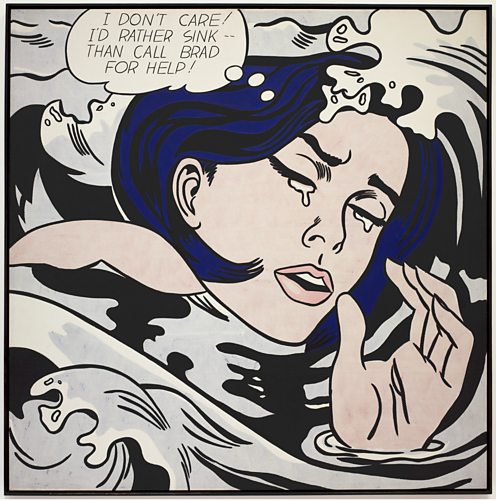 On the other side of Atlantic, American artists were also discovering the artistic potential in the everyday. Roy Lichtenstein saw it in comic books.
Lichtenstein had been incorporating scribbled versions of cartoon characters like Mickey Mouse into his abstract works. Then he had the brainwave to paint these images in a style that imitated the printing technique used in comic books. He was accused of plagiarism but argued that his pieces always made changes in colour and composition. Lichtenstein wasn't the first artist to use comics though – Andy Warhol painted superheroes before he found fame with soup cans and celebrities.
MOMA: Roy Lichtenstein collection
Tate: Roy Lichtenstein collection
Roy Lichtenstein foundation
Once you thought Pop, you could never see America the same way again.
1962
Soup and celebrities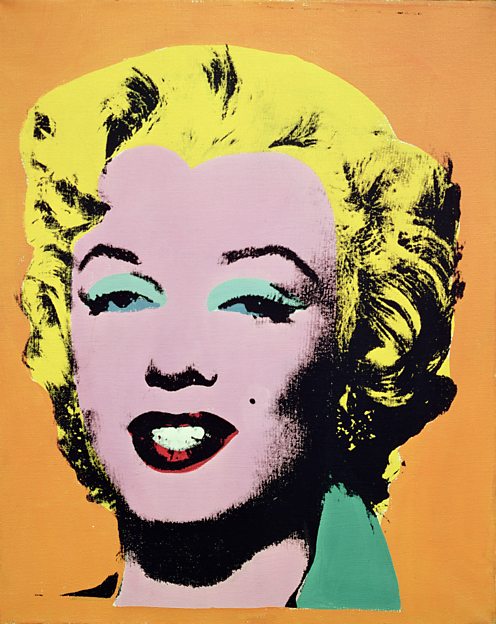 Lichtenstein's success meant Warhol had to look elsewhere for inspiration. He found it in his kitchen cupboard – the soup he had every day.
He painted Campbell's soup because it was recognised by all Americans. It can be viewed as a celebration, or criticism, of the consumerism in post-World War Two America. Working from his studio, the Factory, Warhol's assistants would make multiple versions of the soup cans, as well as images of iconic stars like Elvis Presley and Marilyn Monroe. But Warhol was not the only Pop Artist whose work commented on American society's new obsession with things they could buy.
iWonder: Andy Warhol timeline
Your Paintings: Andy Warhol
Andy Warhol Museum
We don't copy the objects we use, we try to transform them and we hope they go on transforming as you look at them.
1969
Giant sculptures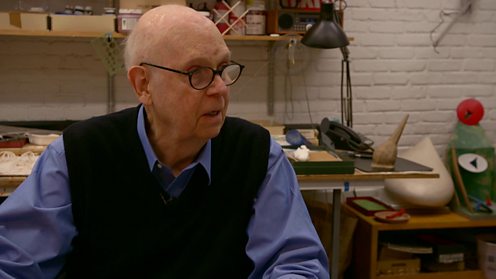 You need to have JavaScript enabled to view this clip.
Claes Oldenburg initially responded to the booming economy by making giant, soft sculptures of household objects, clothing and food.
These offered a humorous take on the increasing consumer culture, similar to that taken by British artist Richard Hamilton in his 1956 poster for This is Tomorrow. In the mid-1960s he began making plans to take his oversized objects out of galleries and into the real world. In 1969 one of these sculptures, Lipstick (Ascending) on Caterpillar Tracks, was installed at Yale University. But in 1970s Pop Art would push even further by breaking through the Iron Curtain into the Communist USSR.
Artsy: Gallery and biography of Oldenburg
1982
Sots art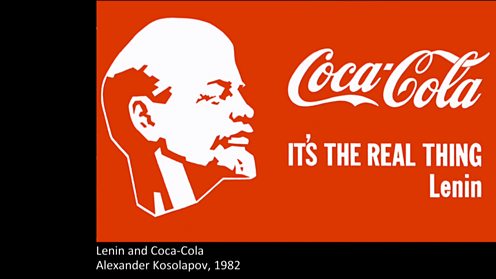 You need to have JavaScript enabled to view this clip.
In the early 1970s a pair of Russian artists took the idea of Pop Art but gave it a unique Communist twist.
Komar and Melamid adapted the propaganda posters that were common in the USSR. By subverting this style of art, which was known as Soviet Realism for its heroic depictions of workers, they were able to criticise the Communist regime. Then in the 1980s Alexander Kosolapov went further by combining Soviet and Western imagery together. His most famous work was formed by combining Lenin's face alongside the Coca-Cola logo and marketing slogan "It's the real thing".
Sotsart by Alexander Kosolapov: Lenin Coca-Cola
2007
Pop legacy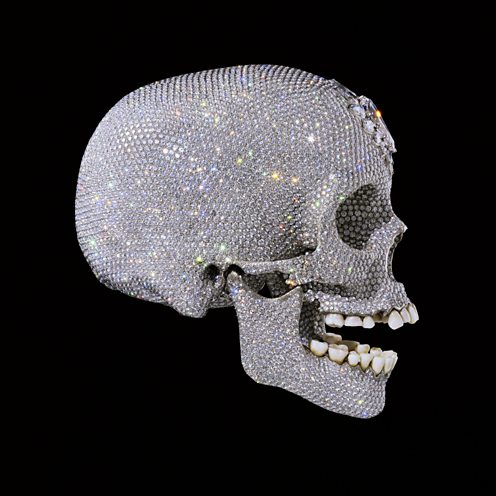 While Pop Art peaked in the 1960s, its legacy can be seen in some of the 21st Century's best known artists like Jeff Koons and Damien Hirst.
Like Warhol, both artists employ large teams to help to execute their visions. With pieces like his diamond encrusted skull, Hirst has picked up on a theme explored by 60s Pop Artists by making art out of the goods we desire. Jeff Koons has also ventured into classic Pop Art territory – celebrity. In the late 1980s he made a sculpture of one of the most famous people on the planet, Michael Jackson, showing the singer sitting alongside his pet chimpanzee Bubbles.
Damien Hirst: For the Love of God
Jeff Koons: Michael Jackson and Bubbles